Discover How To Use The Power of Authority Marketing To Make You Money While You Adventure!

No Experience, Existing Product Or Technical Skills Are Required
DO YOU BELIEVE ADVENTURES ARE WORTH CHASING?
We're an affiliate.
We hope you love the products/services we recommend on Just Van Life! So you know, there is the possibility we will collect a commission should you make a purchase via any of our links. This will in no way affect the purchase price. Thank you for your support, we really appreciate it!
3,2,1 blast off. The choice of celebrities, rockstars, politicians and yes, you, the everyday hero. Class A motor homes are the behemoth spaceships of the group. Commonly a bus-like vehicle and quite literally a luxury home on wheels. In some cases, over 40 000 lbs and 45ft long. With this much size, space and elegance these vehicles come at a high price. Often starting at the six figures mark these nomadic mansions are for a specific demographic. We've all witnessed the scene; Rockstar pulls up to the venue in their customized Class A touring bus. The crowd goes crazy, a compartment opens on the side of the bus and an entire Sportscar is parked inside. Here in the rarefied air a few family-run manufacturers and others like Coachmen, Tiffin, Newmar and Newall Coach, have constantly met consumer demands and introduced innovations that frankly, leave one speechless.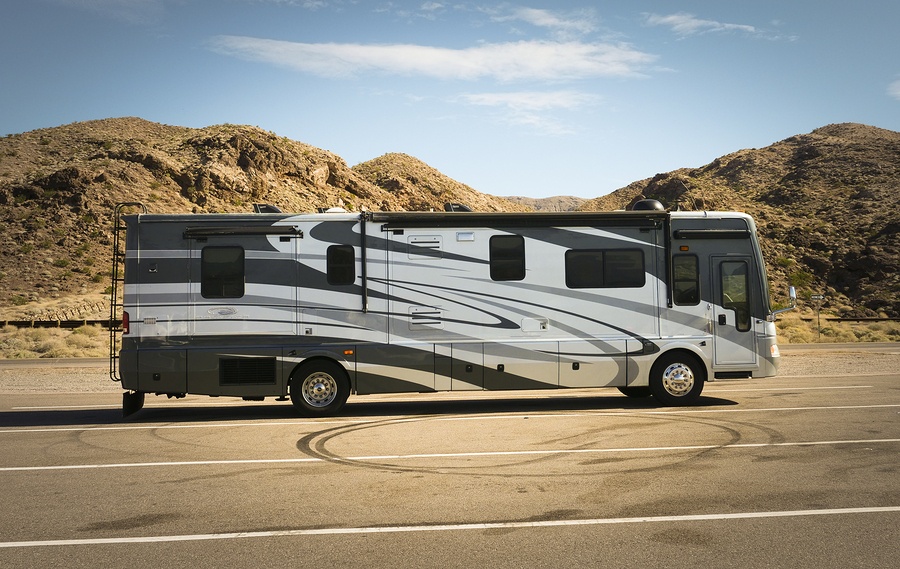 A mobile utopian paradise
Being the gigantic mothership option of the group, usually a specific type of license to drive a Class A is required. Contact your municipal, local or federal DMV to find out for sure, as it does vary from country to country and even state to state. Class A can sleep anywhere from 6-10 occupants and offers an unlimited amount of options concerning one's specific floorplan needs. The class offers gasoline and diesel options, the latter offered at a premium. Now let's cruise into the world of opulence, high craft, and timeless tradition.
Immediate advantages of Class A motorhomes
The largest most luxurious mobile home in the world
Offers the most amount of floorplan options if the price is not an issue
Security. These are mobile command centers. Manufacturers offering 24/7 roadside assistance
Modern high-tech camera and app systems that can allow you to keep track of what's going inside and outside your van from your cell phone.
Independence. Have the money and want the solitude without sacrificing luxury? Class A is for you.
Resale value. The majority of top manufacturers will agree. Class A motor homes can be resold for approximate value years later.
A few disadvantages of Class A motor homes
Size. Finding parking spots can be tough and one must be attentive to road routes and campsites size regulations. The majority of parks are a class A compatible.
Fuel economy. The no brainer. We figure if you're in the market you'll likely already anticipate the cost.
Cost. Once again, an obvious one. As said above the class usually starts at 6 figures can go up. If you're in the market for a used Class A vehicle one can be had for under 6 figures.
The Class contains a variety of top manufacturers a few of which have been in the game for over 50 years. You as the consumer are in a position of power as it is in the fine details this Class is judged. While the costs of some of these vehicles is extreme, there are Class A vehicles that are more budget friendly, however here we'll be showcasing the absolute top-notch vehicles. These motor homes belong to a class of their own. Presenting the line-up.
The Cream of the Crop Class A Vehicles
Newmar King Aire 2020
Newmar is a family run company that loves the RV game. Starting at a million dollars this is heaven on wheels. Ultra high-quality hardwood cabinetry throughout. Top of the line stainless steel electronic suite. Plush leather sofas and armchairs. Sliding barn doors into a master bedroom that contains a full bath suite, king size bed and full down filled bed accessories. A retractable 4k TV allows you to watch Netflix or the big game. The entire rig is Wi-fi and Bluetooth ready. A spacious wardrobe offers plenty of room for your finest ware and on-board two-piece washer and dryer for your convenience. The list is endless and one can tell a lot of time went into the general floor plan and fine details. The driver's cabin resembles a cockpit of an airliner. Possessing Automatic Headlights On/Off, Glass Dash Instrument Panel, On Guard Collision Mitigation Adaptive Cruise System with Adj. Following Distance Control, Tire Pressure Displayed on Glass Dash, Memory Settings for Driver Seat Pedals, Steering Column & Mirrors, Mobile Eye Displayed on Digital Dash via Xite Radio Interface on Spartan Chassis, Mobile Eye Speed Limit Sign Recognition and Dash Display, Power Tilt & Telescope VIP Smart Steering Wheel. One can see why King Aire rules the road and most likely the galaxy.
Newmar Dutch Star
Another entry from our friends at Newmar the Dutch Star much like the above is an extravagance in motion. Offering 15 different floorplans it is hard to look past this model. It sleeps up to 6 and is between 37-43ft. With 3 slide outs in every floorplan, this model offers more than enough space for couples and families alike. It's as spacious as it gets. A rear hitch for towing your vehicle along. The Dutch star is built upon a Star Foundation assuring durability and a smooth silent ride. It comes complete with a 450HP Cummins diesel engine. The interior is plush and the attention to fine details once again is astonishing. A master bedroom, full wardrobe, a full kitchen with two pantries! A designer ceiling and high-grade leather and hardwood through-out. And! if it's raining, no problem, a remote-controlled outside power awning will keep you and your fellow RV friends happy and dry.
Entegra Aspire
Entering into our list with a whopping 40 different floor plans! 4 slide outs. This model is perfect for couples and tailgaters alike. Offering an outdoor kitchen and outdoor entertainment system there is nothing this Aspire can't do. Spartan K2 rail chassis and a Cummins 450HP keep you safe and secure. This almost puts the Aspire on the same level as the Dutch Star. The cabin experience is similar, boasting a 9-inch touch screen control panel, camera control, JBL audio system, and wrap-around windshield. For you winter explorers no need to worry the Aspire has a 1000-watt block heater feature always making sure you don't get stranded. Boosting a Reyco granning suspension you will experience the smoothness and driving dreams that Aspire can offer. Entegra offers 3-year roadside assistance assuring you'll never be left out there alone and unsafe.
Tiffin Allegro Bus
Another company under the family-owned banner. 51 000lbs and 45ft! The Allegro Bus holds its own in the heavyweight division. In certain circles, this is the go-to mobile home on the market. The Bus was chosen over other solid Tiffin builds simply due to the amount of floor plan options for couples and campers alike. The Bus also enjoys 4 slide outs and an outdoor entertainment option that will have you being the talk of the grounds. The Bus is 4 seasons ready carrying floorplans with two fireplace options, one in the living quarters and one in the master bedroom! The exterior is gel-coated fiberglass with a durable aluminum roof. The interior is 2-inch thick sidewalls and encompassed by high-performance thermal insulation. You'll be all warm and cozy by the fire, gazing out through your double pane windows. The ride is like your floating on air with the bus owning the trademark Tiffin PowerGlide Chassis system and a 450HP Cummins diesel engine. The workaholic in you will be enthused to find out the dinette comes equipped complete with the computer work station. When it's time to wash up before dinner head into the dual entry bath with double sink! The master bedroom boasts the finest handcrafted hardwood finishing and King-sized bed. The dinner can be prepared with ease with the Tiffin designed to expand an island providing more counter space. The cockpit possesses an in-dash navigation system and ensures your family's safety, a vision monitoring system. Plush ultra leather driver and passenger seats. The under-cabin storage is functional and well lit. If it's raining there are an electric door and awning to keep you dry.
Entegra Anthem Class A
The beauty of the Anthem is the number of unbelievable specs that are available for a bus that will likely only be housing two occupants. The model is known for its longevity and durability. Look into user blogs and you'll soon find out most don't have any issues whatsoever with the Anthem for 7 years. Now that's craftsmanship. The key features include 5 different floor plans which will assure you can find the exact blueprint that you require. The Anthem carries an Allison 6 speed transmission. Roof insulation with reflective flexfoil and three 15 000 BTU low profile AC's with heat pump. The front windshield has a 3m protective film mask. This is a great RV for the winter months at the price point. The Anthem has everything one can desire from a 50-inch LED TV to the JBL sound system. The 44B floorplan contains an L shaped sofa, free-standing table, fireplace, bath and a half and an exterior Tv for entertaining during the next big game or family BBQ! We saved the best for last. The anthem is a driver's dream. Harnessing the patented E-Z steer technology and 15-degree digital dash with famous Rand Mcnally RV navigation. Lounging in the 6-way plush leather seats while listening to the JBL sound system. It's no wonder the Anthem has stood the test of time Cruising down the thruway, parked at the campsite or the lake, the bus continues to deliver excellence in the category.
We hope you enjoyed our look at some of the best Class A RV's on the market, we'll be publishing individual reviews of many of these vehicles in the coming weeks & months so stay tuned! (At some point this page will also be updated to feature a list of said reviews!)
JUSTVANLIFE
Discover How To Use The Power of Authority Marketing To Make You Money While You Adventure!

No Experience, Existing Product Or Technical Skills Are Required
DO YOU BELIEVE ADVENTURES ARE WORTH CHASING?