Discover How To Use The Power of Authority Marketing To Make You Money While You Adventure!

No Experience, Existing Product Or Technical Skills Are Required
DO YOU BELIEVE ADVENTURES ARE WORTH CHASING?
We're an affiliate.
We hope you love the products/services we recommend on Just Van Life! So you know, there is the possibility we will collect a commission should you make a purchase via any of our links. This will in no way affect the purchase price. Thank you for your support, we really appreciate it!
The relatively new kid on the block. The surprisingly luxurious and economical class B motorhomes fall in between the larger and more expensive Class A and C categories. Nature abhors a vacuum. The poor fuel mileage and reputation for a not so friendly driving experience of the larger A and C class' has provided a window. Class B is a mid-size option the van life community subconsciously manifested through need, the need to fit into parking spots, not kidding. Companies like Winnebago, Airstream, 5 Mars, Wildax and Pleasure-way have raised the bar. Taking Mercedes Sprinter and Ram Promaster Chassis and innovating the most progressive floorplans and amenities the community has witnessed thus far.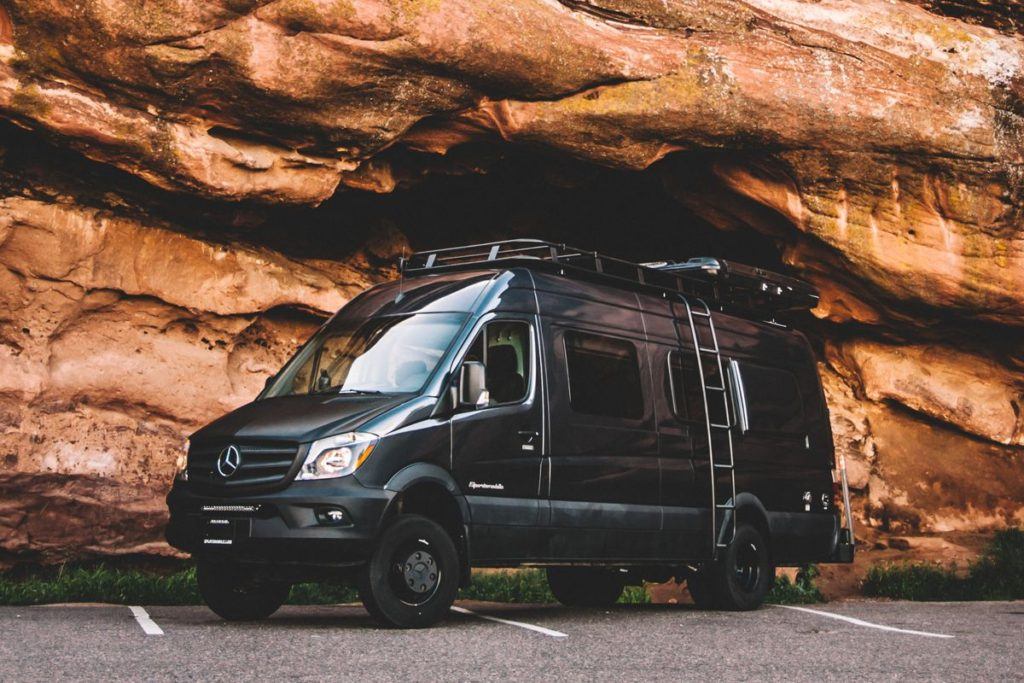 Immediate advantages of Class B motorhomes
Better fuel economy
Easier to park
Compact design allows for a driver-friendly experience
4 x 4 feature (optional) and narrow chassis make off-roading a reality
The efficiency of campsite set and takedown. Just park up and enjoy
Multi new options on the market due to popularity
In the past, the selection in this category was limited and on the pricey side.
Manufacturers have heard the word on the street and adapted.
The Class now possesses a wide range of smart options for every van life enthusiast no matter what your budget. Let's skim through our list of the top-Class B RV's in 3 budget categories.
The Cream of the Crop
What would you buy if money wasn't an option? The Class has a wide range of luxury motorhomes. This is for a professional vagabond. If you wish to make big waves at the next campground you park up at, the following is our choice to impress.
Winnebago Revel
The 4 x 4 innovation, Mercedes Benz chassis and turbo diesel engine for better fuel mileage. A no brainer for the pro that wishes to enter at the top of the heap. Very few destinations will have terrain nasty enough to keep you out. The 4-wheel drive has a high low hill descent and all-terrain tires. The interior innovation is spectacular with a push-button removable bed that you have to see to believe. The revel contains many features you'd expect from a larger A or C class motorhome. Full wet bath, induction cooktop and plenty of storage. The drivers' cabin is the ultimate in luxury with a vast array of Bluetooth and modern electronic capabilities. Everything from a 6-inch touch entertainment screen to a read view camera. Your spaceship has arrived. Winnebago added a built-in electronic awning with a built-in LED and every other options one can think of. Outside 200 watt mounted solar roof panels power the operation.
Allstream Interstate Nineteen
Allstream has been around forever and knows the market like no other. Entering into the 144inch wheelbase and built on a Mercedes Benz 2500 Sprinter Chassis this RV packs a punch. 19 ft long. The size decrease was to increase the driving experience. What they've done is outfitted the Allstream Interstate with a 3.0 L turbodiesel V6 which impressively gets 18 mpg out there on the open road. You won't be missing out on the Mercedes driving experience. This van contains all the bells and whistles. Stability control, side, rear, front cameras, and lane-keeping assist for those long late coffee less nights. The interior is top of the top featuring converting beds to power rear sofas. Power shades, adjustable LED lighting, wet bath, Ultraleather plush furniture. HD and smartphones are compatible. A full multimedia entertainment system and mini kitchen will have you engrossing in delightful parties and conversations over dinner for years to come.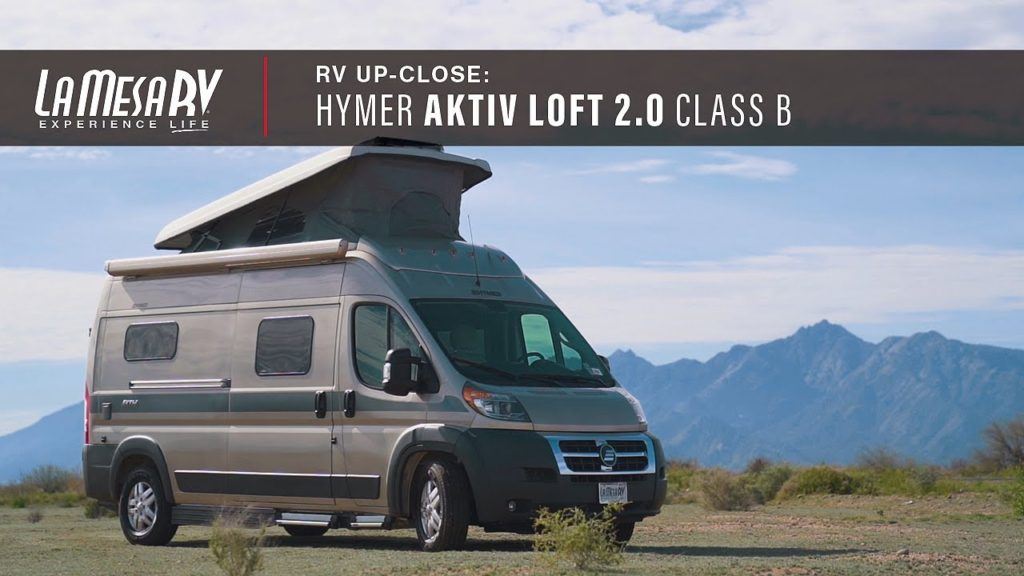 Hymer Aktiv S
Finally, a fully integrated European roadster. This German engineered van comes equipped on a Mercedes Benz Chassis. Hymer recently switched from the Ram Promaster series to the German-based Mercedes Benz. Although the floorplan is a touch smaller than the Winnebago revel, it feels quite spacious. The all-terrain performance is equally unmatched. Precisely engineered to tackle the toughest environments. Comes complete with a full-size kitchen and beautifully designed living quarters with a sleeping area that's surprisingly roomy. The driver's cabin now has a 10.3-inch HD touchscreen and multiple interior technology innovations. Optional popup roof raises sleeping compacity to 4. This all-star European motorhome is class personified.
The Best of the Rest
The largest subsection of the bunch. Generally, half the cost of the above list. The vast majority of vans you see on the road come from this group. You will notice a difference in cabin size and luxury amenities but overall performance doesn't suffer as much as you think. Excellent options for those wishing to stay in the game, all the while, possessing the potential for a strong resale value.
5 Mars Imagine
From Quebec-based newcomers. This smaller sized RV has you thrilled from minute one. The Canadian outfit also has contracts with Fiat Chrysler to modify the grand Caravan and Pacifica. This RV comes pulls out all the stops for the price range. Built on the Ram Promaster Chassis it won't back down from an all-terrain challenge. The interior is modern, ergonomically designed and practical. You can tell a lot of thought went into the layout. Which includes cabinets, a two-burner stove, refrigerator, table, sink, and 7-gallon water tank. The color scheme is modern and adventure-minded. A well-earned place on our list.
On a budget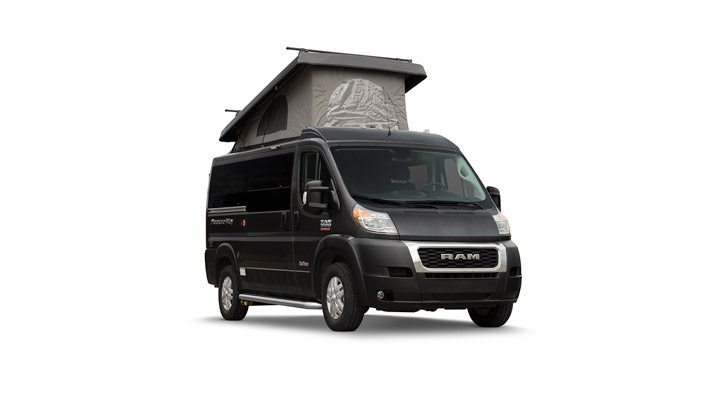 Pleasure-Way Tofino Camper Van
Constructed on a Ram Promaster 1500 Chassis. Roughly 18 ft in length, a touch smaller than other models. The Tofino features a pop-up roof with overhead bunk for increased sleeping space. Winter campers Pleasure-Way has you covered. All plumbing lines and tanks are located inside making year-round road tripping a possibility. Equipped with a 3.6-liter V-6 Pentastar engine, this van boots with roughly a 200 lb cargo compacity. Modern technology such as solar power, 100Ah Lithium coach batteries, and a 2000-watt inverter. The front seat swivel and all cabin control panels are easy to use with touch screen features.
There you have it. An all-star lineup from the industry pioneers and newcomers. A class B rig to fit every van lifer dream. The future must be green, we urge you to keep this in mind when choosing your next home on wheels!
We hope you enjoyed our look at some of the best Class B Vans on the market, we'll be publishing individual reviews of many of these vehicles in the coming weeks & months so stay tuned! (At some point this page will also be updated to feature a list of said reviews!)
Discover How To Use The Power of Authority Marketing To Make You Money While You Adventure!

No Experience, Existing Product Or Technical Skills Are Required
DO YOU BELIEVE ADVENTURES ARE WORTH CHASING?