Discover How To Use The Power of Authority Marketing To Make You Money While You Adventure!

No Experience, Existing Product Or Technical Skills Are Required
DO YOU BELIEVE ADVENTURES ARE WORTH CHASING?
We're an affiliate.
We hope you love the products/services we recommend on Just Van Life! So you know, there is the possibility we will collect a commission should you make a purchase via any of our links. This will in no way affect the purchase price. Thank you for your support, we really appreciate it!
Quite possibly the best part about van life is the ability to experience all the different ideal temperatures and climates for outdoor fun. Whether you're stopping by a beach for a day in the sun or parking near a steep hiking trail, there's always something to do and see while outside. The experience of outdoor activities though can be better prepared for with certain products that allow you to make the most of your time in that area!  Today we'll be talking about some of the best ways that you can have the most fun while enjoying the outdoors.
7) kizh Kite Octopus Large Frameless Soft Parafoil
If you want an activity that you can do all by yourself outside, then something like a foldable kit could mesh with your van life pretty easily! The Kizh Large Frameless kite is foldable, so it won't take up too much space in your van while in storage! This kite is easy to fly and great for beginners. It's made of durable material that won't be ruined after one flight and is really long while in flight! Flying this thing on the beach in the breeze is sure to draw attention, as it's legs span over 150 inches! Flying a kite is a relaxing and fun way to spend a quiet afternoon after a long day of traveling or exploring the new area. One of the best ways to kick back and relax is flying a kite and watching it drift peacefully in the wind! 
If you want a simple and lightweight activity to do outside with a friend, then something as small as the Fun-Air Scoop Ball set is great for you! It's super affordable, so it won't break the bank. It puts a neat spin on the regular game of catch and can lead to some pretty wacky games that you can make up on the fly. It's a simple tool that won't take up much space in your van, so it's definitely worth considering adding to your outdoor arsenal! 
Kan Jam is a game that combines the fun of playing frisbee with the action of hitting a slam dunk! The rules are a bit more complex, with different point values being determined based on where your partner or you is able to send the disc. If you are able to throw it into the hole, then you instantly win! The game is played with two teams of two, which might make it a bit harder to find enough players for a game. However, if you plan on holding a get together of friends or hanging out at the beach, there will always be enough people willing to play with you! This version may be slightly challenging to find space to store it away in your van, but if you're able to make the room, it will be a great addition to your outdoor activities list! 
4) GoSports Giant Wooden Toppling Tower
If you can manage to store the carrying bag somewhere between uses, this giant toppling tower is the perfect way to spend an evening outside with friends hanging out around your van! Making smores, talking and playing this oversized Jenga make for a memorable night with friends new and old. This set is made with real wood and is sturdy enough to withstand the inevitable fall that happens in every game of Jenga! It also comes with a score board, to help keep track of who has won and lost the most. The price is pretty fair as well, and it comes with a nice carry bag that makes cleaning up and storing this game much easier! 
Ring toss is a pretty easy game to play, if not the easiest of our list. The whole point is to throw your rings across the playing field and make them land the poles setup on the other side. Each pole has a different point value, so wherever ends up with the most points wins the game! Alternatively, you can play to see who can get all their rings on a certain pole first. This is a game that is great for people young and old. There isn't a person who isn't able to understand it, and it's a great way to make friends while on your van life travels! This set comes with 16 rings and an easy to store ring toss board that can be taken with you wherever you go! It's great for basically any time of year and will insure you have a great time meeting new people!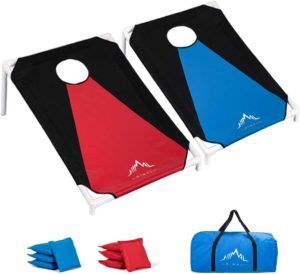 2) Portable PVC Framed Cornhole Game Set
The game of Cornhole is pretty simple. Two teams take turns trying to toss a few bean bags through a hole across the playing field. The team who gets their bean bags in the holes first, or gets the closest to getting them all in, wins the game! It's a great time for everyone involved and for people of all ages! This particular set from HIMAL is a great portable set that can be taken with you anywhere you go. If you're looking to make friends or play with the ones you already have, you can set this up virtually anywhere! If you go down to the beach and park your van there for a while, you can easily make some friends and get people playing with you in no time! It's not too expensive and is well made. Overall, it's a great way to have some more fun outdoors!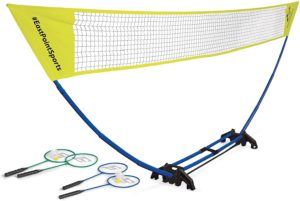 1) EastPoint Sports Easy Setup Regulation Badminton Set
If you want to be able to take sports with you on the go, the EastPoint Badminton Set is a great way to do just that! This is perfect for meeting up with old friends or making new ones that you meet along your travels! It's easy to set up and store away when you're done with it! The small design of it makes it the perfect addition to your van life. Everyone loves the sport of badminton, and now you can take it with you as you make your way through any environment! Not only is this set easy to store and set up, but it's also cheap! It won't break the bank and it's an easy and fun game to play with strangers you just met on the trails or on the beach! It also comes with the rackets and birdies to play with, so it's a great all in one cheap package! 
Wrapping things up…
The whole reason that many of us choose them to embark on the adventure of van life is to be able to enjoy the outdoor activities that come along with this lifestyle. In an age where we're so dependent on technology, it's nice to know that there are so many different products out there that allow us to have fun in the outdoors without always needing to be attached to a computer screen. It's important to note of course that being safe is the first and most important rule of enjoying the outside. Always make sure you're wearing the proper safety equipment and taking the proper precautions when hiking or playing outdoor sports. Your well being is extremely important especially if you plan on going off on these adventures by yourself!
JUSTVANLIFE
Discover How To Use The Power of Authority Marketing To Make You Money While You Adventure!

No Experience, Existing Product Or Technical Skills Are Required
DO YOU BELIEVE ADVENTURES ARE WORTH CHASING?