Discover How To Use The Power of Authority Marketing To Make You Money While You Adventure!

No Experience, Existing Product Or Technical Skills Are Required
DO YOU BELIEVE ADVENTURES ARE WORTH CHASING?
We're an affiliate.
We hope you love the products/services we recommend on Just Van Life! So you know, there is the possibility we will collect a commission should you make a purchase via any of our links. This will in no way affect the purchase price. Thank you for your support, we really appreciate it!
 When living your best Van life, it's pretty probable that you'll spend at least 1 or 2 nights outside of your Van. Being able to lay down under the stars is a beautiful experience. However, it's an experience that can be ruined if you pick the wrong sleeping bag for the wrong environment. It's important not only be mindful of the climates of where you go, but of what Temperatures that your sleeping bag is meant for exactly!  Sleeping bags are not only for outside use though of course as sometimes there will be nights in your Van that you can't afford to turn on the heat or keep the AC running! Whatever the case may be it's important that you have a sleeping bag that's ready and able to take on any environment that you're in!
7) oaskys Camping Sleeping Bag
Having an all purpose sleeping bag can be beneficial if you don't have the storage space to have more than just a few different kinds of sleeping bags. The OASKYS 3 season sleeping bag is perfect for those who aren't looking to do any kind of camping out in winter weather. The sleeping bag comes in many different colors, meaning it will be easy to find one that fits your particular style! The OASKYS sleeping bag is very affordable, easy to roll up and store and comes with a carrying bag that makes carrying it around with you easy! It's pretty lightweight, so don't expect it to replace the need for a winter sleeping bag! 
The SOULOUT sleeping bag is one that is made to withstand the 4 seasons. It's a good choice for those that are in need of an emergency sleeping bag, but don't want to get one for every single season. This sleeping bag comes in a variety of colors to choose from, so finding one you like should be easy! While it's name implies it can be used in all 4 seasons, it will struggle in temperatures that dip below freezing. The material is of a good quality that's soft and super comfortable. It even comes equipped with a built in pocket and a neck pillow to help keep your head and neck supported and warm! . It's best to have some spare blankets that you can pile into it to help keep you warm on cold nights! Overall, it's a great emergency sleeping bag that can be used in a pinch! 
5) WINNER OUTFITTERS Mummy Sleeping Bag
The Mummy Sleeping Bag may look strange at first glance, but once you've used one you'll understand why it's made the way that it is. THese sleeping bags are some of the most comfortable options available on the market! This particular bag from WINNER OUTFITTERS is a great quality bag made for temperatures that hover around the freezing point. These bags come in a multitude of colors and also come with a storage bag that can be used to easily carry it when not in use. This bag is equipped with several different zippers all around to help keep as much of the heat from your body insulated as possible. The shape of the bag is one of the main reasons that it works so well to keep you warm! The price is very fair and is well worth every penny! 
4) ECOOPRO Warm Weather Sleeping Bag
While staying warm in the cold weather is important, it's also important to have the right sleeping bag for when the weather is closer to summer temperatures. There are a multitude of reasons why you may need to sleep outside of your van on a warm summer night, whether it be from some kind of odor you're airing out or maybe you just want to lay under that stars. Whatever your reason, having a good, lightweight sleeping bag on you at all times is just as important as a heavy sleeping bag! The ECOOPRO Warm Weather Sleeping Bag is perfect for temperatures that range closer to 70 degree fahrenheit! This sleeping bag is waterproof, so you don't have to worry about being caught in a slight drizzle and having your whole bed soaked! It's made of durable and breathable materials that are comfortably thick but not overly warm! The zipper is placed perfectly to allow good airflow and provide just the right conditions for a comfortable night sleep. It's very small when rolled up and easy to carry around. Even if you don't intend on sleeping in it, it can make for a great throw blanket when on a hike! 
3) Sleepingo Double Sleeping Bag
Sometimes it isn't just about what kind of temperature the sleeping bag is made for. If you intend on traveling along with a companion or maybe just spend the night with a friend under the stars, you'll want to have a sleeping bag that's big enough for two people! The Sleepingo Double Sleeping Bag is perfect for just such an occasion. THis sleeping bag is big enough to fight two grown adults and is meant for cold climates that are near freezing temperatures! This sleeping bag is made of super comfortable and high quality materials that will last for a long time! It's super affordable for the amount of quality you'll be getting. It is, of course, slightly more bulky than a single sleeping bag would be. You'll need to not only find a bit more storage room for it in your van, but also a way to carry it around with you if you intend on using it away from your van on a hike. 
2) ALPS OutdoorZ Redwood -25 Degree Flannel Sleeping Bag 
In what is quite possibly one of the most comfortable sleeping bags on the market, the ALPS Redwood Flannel Sleeping Bag is worth every penny. It's not the most affordable of the list, but what you pay for this sleeping bag will make sense after spending one night in it's comfortable blankets. This sleeping bag is rated for an incredible -25 degrees, meaning you can take this thing virtually anywhere you want to nap or spend the night. The quality is amazing, the feel is just like that of one of the most cozy flannel shirts imaginable. If you want a sleeping bag that could replace your own bed, then this is surely the way to go! The other cool feature is that you can unzip two of these sleeping bags and actually zip them together to create an even bigger sleeping bag with the two! It's design is as near perfect as you could possibly get!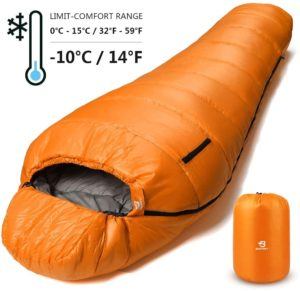 1) Bessport Mummy Sleeping Bag
The Bessport Mummy Sleeping bag is made for winter weather sleeping. It's design is made to specifically handle the coldest of weather and keep the user warm throughout the night! With it's sleek design and several styles to choose from, it can fit right into your arsenal of cold weather camping gear with ease! This sleeping bag is made of high quality material and has dual zippers to help trap in heat in the best way possible. If you're looking for an affordable option to have an emergency winter sleeping bag on hand, then the Bessport Mummy is the perfect choice for you! 
Wrapping it up…
As you can tell by the list above sleeping bags come in all different shapes and sizes and are meant for all different kinds of environments! Choosing the right sleeping bag for your situation is one of the most important decisions that you can make when you need to sleep outside or in certain climates. Always remember to check the temperature that the sleeping bag is able to handle as well as what temperatures it's intended to be used in. Using a sleeping bag that's too heavy in an area that's very hot and humid can be just as detrimental to your health as using a sleeping bag that is meant for summer weather on a snowy mountain!
JUSTVANLIFE
Discover How To Use The Power of Authority Marketing To Make You Money While You Adventure!

No Experience, Existing Product Or Technical Skills Are Required
DO YOU BELIEVE ADVENTURES ARE WORTH CHASING?