Discover How To Use The Power of Authority Marketing To Make You Money While You Adventure!

No Experience, Existing Product Or Technical Skills Are Required
DO YOU BELIEVE ADVENTURES ARE WORTH CHASING?
We're an affiliate.
We hope you love the products/services we recommend on Just Van Life! So you know, there is the possibility we will collect a commission should you make a purchase via any of our links. This will in no way affect the purchase price. Thank you for your support, we really appreciate it!
One of the real joys of camping is watching the stars come out at night.
Total darkness is excellent for stargazing, but not so good when you want to move around. But nothing can kill the serene camping mood as quickly as the glare of a flashlight.
Camping bucket lights are an elegant, and incredibly simple, solution to the problem.
Using just a 5 gallon white bucket and a flashlight, you can create a gentle glow that adds to the vibe and can be used to navigate a campsite. Literally, all you need to do is put the flashlight in the bucket!
In this guide, we'll cover some tips and tricks to making the perfect 5 gallon bucket light for camping.
What Are Camping Bucket Lights?
Bucket lights have become a popular camping hack, and once you get a look at them, it's easy to see why. A bucket light is basically a light up bucket, and it provides a wide-reaching and low level of light that's perfect for illuminating a campsite.
Camping bucket lights are cheap and simple to make. Even the least crafty among us can make a camping bucket light! You need limited items to make the bucket light, and you can get them all for just a few dollars. If you have a suitable white bucket, this hack gets even cheaper.
And the bucket light is versatile! It can be used as a seat at night with the addition of a cushion (or no cushion, if you don't mind roughing it). The next day, the bucket light is just a bucket, and can be used for regular storage and transport.
What Do You Need To Make A Camping Bucket Light?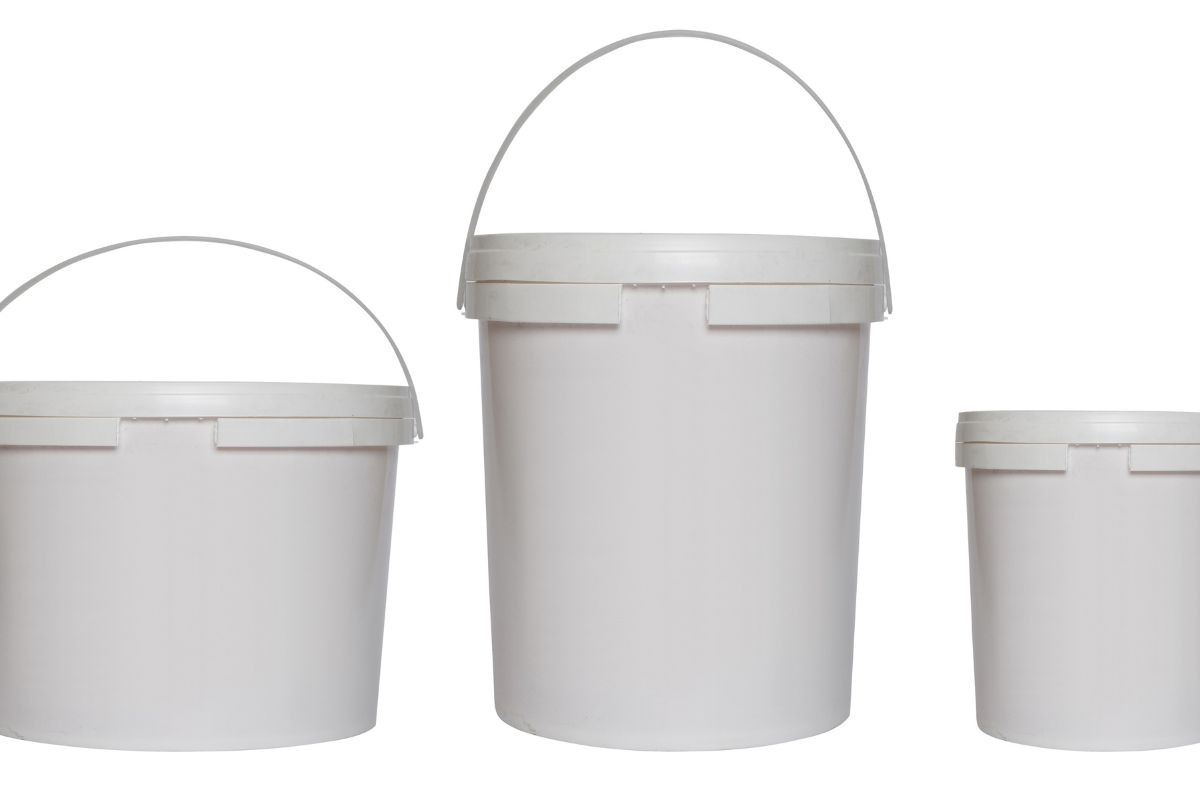 At the heart of it, all you need to make a camping bucket light is a bucket and a light. Turn the light on, put it in the bucket, and close the lid — your camping bucket light is ready! If you have a flashlight and a white 5 gallon bucket with a lid, then you have all the essentials.
For a more interesting bucket light, you might want to decorate the bucket with a vinyl sticker. This adds to the overall appeal of the light, and makes it stand out from your standard bucket.
To make a camping bucket light, you need:
A 5 gallon white bucket with a lid. The bucket has to be white, so the light can come through properly.
A battery operated LED light. A simple flashlight will do, but remote controlled lights are an excellent choice.
A vinyl decal. This is used to decorate the bucket, transforming it into an attractive light.
Application tool. To be used if you add a vinyl decal.
Command strips. Depending on the lights you use.
What Light To Use For A Camping Bucket Light?
The major components of the bucket light are the bucket itself, and the light. Choosing the bucket is easy: it should be white, 5 gallon size, with a fitted lid. However, when it comes to picking the light, you have a little more freedom to choose.
A standard flashlight is fine to use in your bucket light. In the bucket, the brighter light of the flashlight should diffuse nicely, creating a gentle glow. If you want an easy bucket light, this is an excellent solution.
Alternatively, you might prefer to use a puck light or strip light. These can be stuck to the bucket using a command strip.
An even better option is a submersible light. These are LED lights that often change color, but they can be bought in a single shade. The major advantage to these lights is that they are typically controlled via remote.
This means you can seal up your bucket and use it as a seat, and still be able to adjust the lights as needed.
Some of our favorite submersible lights include the Sunyel LED lights and the Topsolid LED Pool Lights.
How To Make A 5 Gallon Bucket Light For Camping
How to decorate your camping bucket:
To decorate your camping bucket, you will need a vinyl decal. These can be purchased online from places such as Etsy. If you've purchased a premade vinyl decal, simply position it on your bucket, smooth down the back with an application tool (or your fingers), and peel away the backing.
Alternatively, you may prefer to make your own vinyl decal. To do this, you need a Cricut maker, or another cutting machine.
Download your decal image and connect your cutting machine and computer. Place your vinyl sheet on a light grip mat, place the mat in your cutting machine, and cut.
Weed away the excess design while the vinyl is still on the mat.
Take the sheet off the mat, and smooth transfer paper on top of the design, sticky side facing down.
Rub across the back of the design with an application tool, so the transfer paper attaches to the vinyl. Lift the transfer paper away, and the vinyl design should come away with it.
Position the vinyl on the bucket, and press the paper down evenly. Rub over the entire design with the application tool, and lift away the transfer paper.
With the design in place, you can add your light. Use command strips to attach puck or strip lights to the base of the bucket. Alternatively, place a flashlight inside.
Turn the lights on, and place the lid on top. You should now have a camping bucket light! If you're using puck lights, you may need to add more than one, depending on their power level.
To use your bucket light as a seat, look for a seat cushion that's roughly the same size as the lid.
Final Thoughts
Camping bucket lights are incredibly simple to make, and many of us will already have the basic items in the shed! You can dress the bucket up with decals and a cushion, or you can keep it simple, and appreciate the glow of the light.
They don't just have to be used for camping. This hack is great for summer evenings at home.
Discover How To Use The Power of Authority Marketing To Make You Money While You Adventure!

No Experience, Existing Product Or Technical Skills Are Required
DO YOU BELIEVE ADVENTURES ARE WORTH CHASING?