Discover How To Use The Power of Authority Marketing To Make You Money While You Adventure!

No Experience, Existing Product Or Technical Skills Are Required
DO YOU BELIEVE ADVENTURES ARE WORTH CHASING?
We're an affiliate.
We hope you love the products/services we recommend on Just Van Life! So you know, there is the possibility we will collect a commission should you make a purchase via any of our links. This will in no way affect the purchase price. Thank you for your support, we really appreciate it!
Henley-on-Thames, also known as Henley, is one of the most beautiful places in Oxfordshire. The Times recently voted the town of Henley as one of the best places to live in England's countryside.
Henley also happens to be one of the best places to camp! There are a few great campsites in Henley, as well as some wonderful sites in nearby towns and cities that we recommend checking out.
Read on to find out more about the best campsites in Henley, as well as what you can do in Henley during your camping trip, and other sites to consider in the surrounding areas!
This family-owned campsite is one of the most popular locations for camping in Henley.
In fact, Swiss Farm Touring and Camping has won several awards, including the Platinum Award for Quality and the AA Campsite of the Year Award, which is given out to the best campsite in South East England.
Swiss Farm Touring and Camping is equipped with many facilities to make your getaway in nature as comfortable as possible.
The four camping pitches are equipped with showers and flushing toilets, and you can use the swimming pool and get groceries from the shop during your stay. Accessible facilities are available at this campsite.
We love that Swiss Farm is pet-friendly, and there's a designated trail for dog walking. And speaking of walking, there are plenty of locations in the surrounding area within walking distance, so you can easily go exploring.
Whether your idea of fun is having a drink at a traditional country pub or watching the Regattas on the river, you can do all of this while staying at Swiss Farm.
If you'd like to explore further afield, this is easy, too.
That's because there's a bus route with a stop directly at the park's entrance, and the walk to the nearest train station, from which you can get to Reading or Marlow, is not long.
The Henley Four Oaks Club Campsite is another very popular camping spot in this Oxfordshire town.
Facilities at Henley Four Oaks include a toilet block, laundry facilities, dishwashing, a motor home service point, and Wi-Fi. You can also fill up on gas. There is an accessible shower room as well as baby changing facilities.
The campsite is family-friendly, so children are welcome, and dogs are allowed within a designated area of the site.
Electric and non-electric tent pitches are available, as well as camping pods. Serviced pitches can also be requested.
The beautiful area of the campsite itself makes all the facilities even more enjoyable. The area is very green and surrounded by trees, so the site feels private and is the perfect place for reconnecting with nature.
We recommend visiting this campsite in June and July specifically, because this is when the Regatta takes place every year.
Then, just a week later, you can enjoy the yearly boat rally and music festival. Just be aware that demand is high during these months, so booking in advance is advisable.
Have you ever wanted to camp right next to the River Thames?
In that case, we recommend reserving your spot at Embers Campsite, which is directly outside Henley and provides the perfect balance between getting back to nature, and doing so in comfort.
The tent-only campsite has bathrooms equipped with flushing toilets and hot showers. Then, when you're showered and ready to face the day, the site also offers plenty of amazing activities.
You can feel free to bring your own outdoor game equipment to take advantage of the enormous space. Otherwise, you can take part in numerous on-site activities arranged by Embers Camping.
Wood for campfires is supplied on-site, and there's even a pizza oven, so you can cook your own pizzas every night. The Embers Snack Bar also provides delicious snacks, hot food, and refreshments to keep you going during your stay.
The location of the campsite means that you can easily go on several stunning local walks, take a boat or paddle board out on the river, or venture out to see the Re-Wind Festival or spectate the Henley River Regatta.
River Meadow Campsite is a pop-up campsite available for reservations during the yearly Henley Royal Regatta.
The campsite is in a very convenient location, directly on the riverbank, which means you can easily walk from your tent to the event in a few minutes. It's also within walking distance of several bars, including the Redgrave Bar and the Barn Bar Garden.
This is a family-friendly campsite, but anyone under the age of 18 needs to be accompanied by an adult guardian.
You can camp in a tent, camper van, or caravan at River Meadow Campsite, and there's also River Meadow Motor Home Park, which is suitable if you have a larger camping vehicle.
Bear in mind that if you choose to camp in the tent area, you won't have access to any electricity hookups.
Campsites To Check Out Near Henley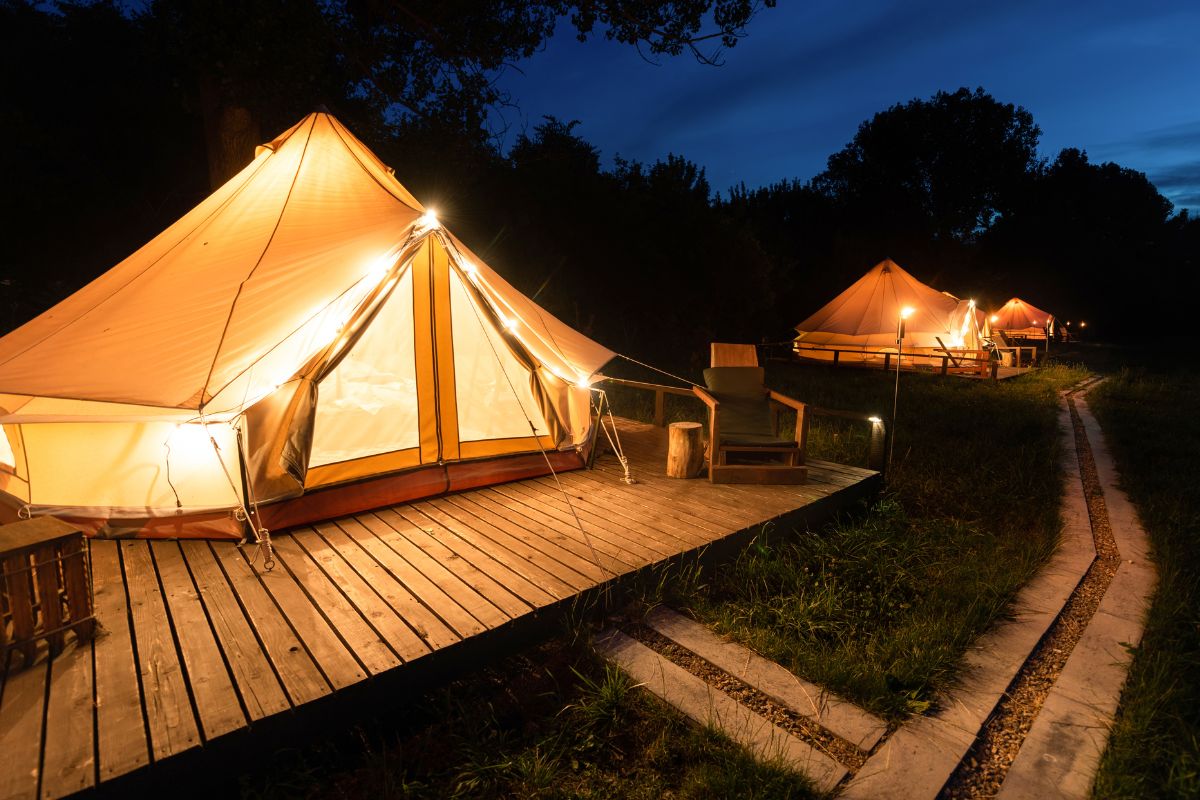 The Chilterns are an area of South Oxfordshire that encompasses Henley. Therefore, if you'd like to explore Henley while reconnecting with nature, Chiltern Retreat Rural Camping is the perfect campsite.
You can choose to camp in the Park Field camping area, the Woodland campsite, Broadfield Meadow, or Lower Court Farm. Other areas of the campsite are available for exclusive hire, although these are subject to availability.
Chiltern Retreat Rural Campsite offers many incredible opportunities that most campsites in the area do not, including equestrian camping, clay pigeon shooting, and much more. Electric hook-ups, however, are not available.
If you're looking for a luxurious camping experience near Henley, then White Mark Glamping, which is located in Oxfordshire, is the ideal spot for you.
The camping field is fenced off for privacy, and facilities include toilets and hot showers, as well as the family-run store, which provides fire starter kits, free-range products, homemade cakes, jams, ice creams, snacks, books, and tourist information to help you navigate the surrounding area.
High Wycombe is just a short drive from Henley.
The site provides electric hook-ups and taps, as well as toilets and showers, and can accommodate up to 10 tents and 5 caravans. While availability at this campsite is limited, it's worth booking in advance.
Dogs are permitted as long as they are kept on a lead while on the premises. You can buy fire pits and firewood from the site, and there is also plenty to do in the surrounding area.
From restaurants and pubs within walking distance to Legoland, the River and Rowing Museum, and Thorpe Park all within an hour's drive, you'll never get bored staying at Bella Vista!
Final Thoughts
Henley is not a large town, and because of this, there are only 4 campsites within the town itself.
However, these campsites are furnished with convenient facilities and are sure to provide a comfortable and fun-filled experience for the whole family.
You can also check out some of the campsites in the nearby area, including some in Oxfordshire, High Wycombe, and the Chilterns.
Remember to book ahead of time if you're planning a camping trip in Henley for the music festival or Regatta, since this time of the year is in high demand.
Frequently Asked Questions
Is It Worth Visiting Henley?
Henley is definitely worth visiting, especially if you have never been there before.
The Times voted Henley as one of the best countryside towns to live in the UK, but if that's not enough to convince you, there are plenty of great reasons to spend a few days, or even a few weeks, in this Oxfordshire town.
Depending on the time of year, you can enjoy Henley as a quiet place away from the hustle and bustle of city life.
On the other hand, during the summer, Henley can be a hub of activity, with music festivals and other events drawing crowds of people to the town.
So, no matter what kind of experience you're looking for, visiting Henley is definitely worth it.
What Can I Do When Camping In Henley?
There are so many different options for activities when camping in Henley.
First, we recommend taking a look at the activities provided by your chosen campsite. These vary from campsite to campsite, but often include things like campfires, swimming, and water sports.
With that being said, there are plenty of things you can do outside the campsite, such as visiting traditional English country pubs, going boating or paddleboarding on the river, attending festivals or the Regatta, and taking long, scenic country walks.
Is Wild Camping Permitted In Henley?
No, wild camping is not permitted anywhere in the United Kingdom, with the exception of Scotland.
This means that wild camping in Henley is prohibited. If you wish to camp in Henley, you will need to book a spot at one of Henley's authorized campsites, as listed in this guide.
Discover How To Use The Power of Authority Marketing To Make You Money While You Adventure!

No Experience, Existing Product Or Technical Skills Are Required
DO YOU BELIEVE ADVENTURES ARE WORTH CHASING?