Discover How To Use The Power of Authority Marketing To Make You Money While You Adventure!

No Experience, Existing Product Or Technical Skills Are Required
DO YOU BELIEVE ADVENTURES ARE WORTH CHASING?
We're an affiliate.
We hope you love the products/services we recommend on Just Van Life! So you know, there is the possibility we will collect a commission should you make a purchase via any of our links. This will in no way affect the purchase price. Thank you for your support, we really appreciate it!
Holding off boredom on the road!
Van life is a lifestyle that is worth quitting your job and throwing everything to the wind. Living in a campervan allows you to drive across several continents of the world and also learn much along the way. Perhaps you have seen the stunning photos and exciting videos of van life on Instagram, and you would love to enjoy such actions as well as events. Here is a comprehensive entertainment guide which contains what to do, activities and events to participate in, where to visit while on the trip, what to eat and drink, how to avoid problems mostly encountered by campers or people who live on the road. This post will help you make your van life trip fresh with you.
Enjoying an entertaining van life trip entails more than riding your van around different places in the world There are many essential tips to make your life on the road unforgettable. Some of these tips or guides include…
1. Picking the Right Van
An amusing van life trip all begins from riding the perfect van for your life on-road experience. This decision is one of the toughest to make, especially if you are going on the trip for the first time. Van life travelers must choose between hiring or purchasing a 4WD or 2WD van. 4WD van is a perfect campervan for areas or cities with snows as well as seasonal changes. A 2WD van is ideal during warm seasons or to regions of Mexico. The 2WD van is built to ensure any kind of road condition.
Likewise, campers need to choose between getting a high top van or low top van. Many van life travelers often opt-in for the high top van that allows them to stand up in the van. However, these models are more likely to hit trees, and sometimes, you would have difficulties parking them in some space. For van life travelers who would love to travel around often, low top vans are the right models. Although choosing between an old and new van is not a tough decision to make, many van life travelers still have difficulties selecting between the two. Aside from the fact that old vans come with lots of issues, it is also not ideal for long trips. More importantly, hire or buy a van with Windows or, better still, install them.
2. Consider your Comfort
Your comfort has a lot of influence on your amusement. Van life travelers who are uncomfortable enjoy little or no thrilling moment. Here, we explain the essential items to bring along on your van life trip to make yourself comfortable. Of all the pieces for a van life trip, a bed or couch is the most important. Van life travelers should come along with a stationary bed that can be easily folded every morning and night. Aside from the bed, the fan is another vital device for your comfort on the road. Having a fan is most important during warm or summer times as vans or RVs get pretty stuffy most of the time.
Moving on, hooking up a fridge will make your stay on the road comfortable. Like the domestic fridge, a slew of van lifers come with a built-in refrigerator in their campervans. However, the most common of these fridges are the chest style fridge. Getting a stovetop, especially the removable one, makes your van life trip convenient and exciting. These products can be set up in less than ten minutes. The stovetop enables you to make dishes within a short period. Van life travelers can also opt-in for the permanent stovetop, which is less expensive than the removable ones.
3. Focus on Hobbies
Not only focusing on your hobbies gives you a lot of fun time but also provides a plethora of events and activities to engage in. Van life is a lifestyle that enables you to incur a lot of time in developing your hobbies. Probably you are a van lifer who loves to surf all day after you wake up or you like to write or create world-renowned artworks, living on the road makes it a more significant part of your life. This lifestyle creates a lot of time for your musical career and, at the same time, allows you to spend more time skiing, climbing, boating, or hiking. Whatever hobby you have, van life is the best way to make it your day to day activities.
Nothing entertains you more than making your dream of surfing the beautiful beaches of California a reality. Van lifers should know that there won't be an endless amount of free time for you on the road, even if you have more time to explore what interests you. There are still a lot of things that you would spend more time on rather than your hobbies. While you spend some time exploring the unique cities in the Northern region of the United States, you will also spend some time getting places to sleep as well as setting up and breaking down camps.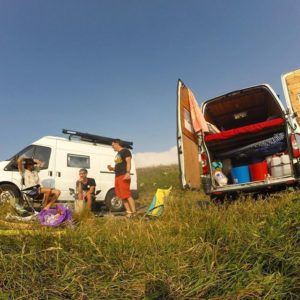 4. Meet New People and Join Incredible Community
Van life trips do not only allow you to see new places and visit unique national parks but also enables you to meet new people as well as join an awesome community. Since you are not the only one on the road, this trip allows you to meet people with the same lifestyle who understands your life in ways that others do not. In the world today, like-minded people are best to be with. This is because you share the same belief system, interest as well as intentions with them. You can quickly establish connections with other van lifer travelers who are also on the road.
Nothing amuses you more than having another bunch of nomads with you at a big van gathering. These people may also be in a community group; you would love to be a member. By interacting with them, you will learn the nature of their van life trips, places they have visited, and how they survive in many difficult times. Therefore, connecting with new people is an essential tip for van life entertainment you need to know. Social media, as well as the internet, is the best place to connect yourself with other nomads.
5. Getting a lot of Podcasts and Audiobooks
Since you will be spending much time driving on the road, music is the best thing to entertain you with during these moments. Therefore, it is essential to have a library of downloaded audiobooks as well as Podcasts. Podcasting is an excellent alternative to videos you often enjoy while you are home. Aside from the fact that podcasts and audiobooks are easy to create, they are so highly engaging. These items help in building a better relationship with the people around you. Podcasts and Audiobooks also help to develop public speaking skills.
These units are a must-have for van lifers who would love to drive on a long-distance van life trip. Audiobooks are the best friends to ride with while on the road. They are available in hundreds of thousands. However, some of the best Podcasts includes the Intelligent Entrepreneur, Startup, Harry Potter, and the Sorcerer's Stone, Book 1, Tumble Science Podcast for Kids, The Tim Ferris Show, Charlotte's Web, A song of Ice and Fire, Adventure of Huckleberry Finn and many more.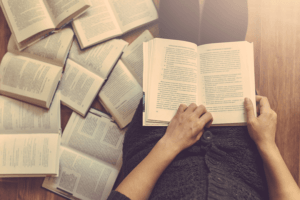 6. Kindle or Real Books
Getting interesting books is one of the best ways to kill boredom while you ride in your van across continents. Van lifers can choose to partner with Kindle books or real books. Unlike the Kindle books, real books take much space. Real books are known to be the compilations of lead sheets for jazz standards. They are the first volume of a series of books transcribed and collated by Berklee College of Music students in the 1970s. These books are also lovely to hold in hands.
Kindle books, on the other hand, are books that take almost no space. They are a line of Android-powered portable e-book reader devices designed by Amazon. These devices allow users to search for, download and read blogs, websites, magazines, newspapers as well as electronic versions of books. Overdrive app will enable you to borrow and read Kindle books from your local libraries for free. Many people see real books as a traditional way of reading stories as well as blogs. As a result of this, a plethora of van life travelers opt-in for the Kindle books, which are not only easy to access but also cost-effective.
7. Download Netflix Movies and Shows
Enjoying your favorite movies while you explore different cities is one of the best ways to entertain yourself while on the road. Since you would be fine with no TV, your smartphone is the best alternative. For van life travelers who have a Netflix account, the right time to enjoy your membership is on the road. Netflix is a perfect place to download movies as well as shows on your smartphones, Windows laptops, or tablet via the Netflix app. You can later access them using your Wi-Fi. Netflix also allows you to watch your favorite show, especially for van life travelers who would have no time watching it then.
For campers with no Netflix account, all you need to do is to visit www.netflix.com your smartphone or tablet and sign up for a free one-month trial membership. Then, you choose your plan and keep your login details for future use.
8. Enjoy minimalist life and appreciate the simple things
You don't have space for needless things when you are on the road. So, you need to know the things you have and get rid of items with little or no importance on the way. With small items on your van, you can carry out several actions, whether you are in a high top van or low top van. Getting rid of unnecessary items significantly boosts your psychological well-being. You are worry-free when you have a few things in your van. Also, when you only have what you need in your van, everything comes within arm's reach, so you don't have to spend hours looking for your hammock straps.
Therefore, van life travelers need to learn to be content with what they have and use the little items to make their experience memorable.
9. Visit historical sites or parks
Apart from the fact that you will learn about the rich and unique history of your visiting city at the ancient site, you will also see a lot of old structures as well as buildings. The national park is the best place to know everything about the area you are exploring. While some national parks are designated for conservation purposes, others serve as a reserve of natural, semi-natural, and developed land and resources. There are also some national sites constructed in honor of heroes of the state.
While you learn about the culture and history of the state, national parks also allow you to view a plethora of animals, birds as well as species. Likewise, you can also enjoy activities such as hiking, climbing, biking, and many more in the park.
10. Weather
Even if you have all the previous tips right in your hand, the weather is also a significant influence on your van life entertainment. This is why it is essential to have adequate knowledge of the weather forecast in the city you are visiting. The summer and winter are the two basic weather types known in many states of the world. Each weather type comes with its ups and downs. Winter season is the best period to travel for van lifers who would love to enjoy winter sports.
On the other hand, campers who love to enjoy picnic parties at the lake or beach tend to kick-start their trips in the summertime. Other weather types include the spring, fall, and many more. Also, occurrences such as earthquakes, tornados, and others should be forecasted before you travel to another state for your van lifestyle.
Conclusion
Van living is a lifestyle that offers you the entertainment that you will find tricky getting somewhere else. Living on the road enables you to see the world in different shapes and allows you to acquire more ideas and knowledge. Here is a comprehensive van life entertainment guide, and we are sure you have learned one tip or the other on how to make your van life trip amazing as well as amusing.
 JUSTVANLIFE
Discover How To Use The Power of Authority Marketing To Make You Money While You Adventure!

No Experience, Existing Product Or Technical Skills Are Required
DO YOU BELIEVE ADVENTURES ARE WORTH CHASING?