THE COMPLETE HOW_TO_GUIDE TO
THE THREE STEPS TO VANLIFE
There are three main obstacles to overcome before beginning your vanlife adventure..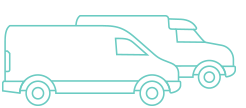 Choosing a vehicle home is just about as difficult as buying a house. There's a multitude of factors to consider in this guide and series of posts we'll help you decide!
We're not all engineers, but neither do you have to be one to complete a van build. In this guide, we'll walk you through the process of designing the blueprint to your own home!
CONSTRUCTION OF
NEW VAN HOME
Complete the construction
Finally once you've purchased your vehicle, drawn up your schematics and purchased all your materials we'll walk you through the toughest part of all, the construction!
LOOKING FOR A JUMPSTART TO YOUR VANLIFE?
We've complied all the knowledge gain in our vanlife journey  and have woven it all together to build one massive PDF guide.
The guide is designed to take you from start to finish of your van build, it comes jam-packed with all sorts of bonus content such as pre-made blueprints and & electric schematic, travel guides, valifer maps and so much more. Build to be used not only in the build but as a reference guide along journeys think of it as the hitchhicker's guide to the vanlife!
For only $19.95 you get over 100+ pages full of informatie and entertaining vanlife content all while supporting our brand at the same time!
WE RUN A WEEKLY VANLIFE NEWSLETTER HERE AT JUST VANLIFE. ONE AMAZING LETTER EVERY WEEK FULL OF THE BEST VANLIFE ARTICLES!