Discover How To Use The Power of Authority Marketing To Make You Money While You Adventure!

No Experience, Existing Product Or Technical Skills Are Required
DO YOU BELIEVE ADVENTURES ARE WORTH CHASING?
We're an affiliate.
We hope you love the products/services we recommend on Just Van Life! So you know, there is the possibility we will collect a commission should you make a purchase via any of our links. This will in no way affect the purchase price. Thank you for your support, we really appreciate it!
There's nothing more comfortable than being able to store all your favorite food while you're on the road. Having a refrigerator means you can store fresh vegetables, fruits, dairy, and your best booze, and even though purchasing the right refrigerator may be a brainer at first, but it will be one of the best investments you'll ever make for your home on the road.
Being on the road is harder than expected and thus having efficient essentials is a huge part of building your Vanlife. A portable refrigerator is your thing to go for. Portable fridges are best for campervans as they draw very less power, are durable and will definitely save all the costs you have to incur on an everyday basis for food. 
Types of portable fridges and how they work
There are three different types of portable refrigerators: thermoelectric, absorption and compressor. For vanlifers, it is very important to choose the type which perfectly suits there type of van and the type of power source they use.
Thermoelectric Refrigerators
These fridges are a great choice for road trips or short camping retreats where you don't need to keep the food items cold for a long time. 
The concept of thermoelectric fridges is typically very similar to a thermos- the idea being able to maintain the temperature of food of drinks that are already hot or cold.  These fridges use the electricity to get rid of the hot air from inside the fridge, making it cold or vice versa. In other words, it creates a temperature difference through transferring heat between two different materials by applying electric current to them.
Pros of using a thermoelectric cooler is that they are much lower in price as compared to other types of portable fridges and aren't heavy to cart around. These fridges can be used fairly efficiently because they are small in size. Thermoelectric fridges do not come with any moving parts; thus, they last longer.
There are a few drawbacks to using thermoelectric fridges too. These fridges are usually unable to get down to very low temperatures as other fridges and cannot freeze food items. Since they depend a lot on the environment's temperature, they only function well in climate-controlled environments, like air-conditioned camper vans.
Absorption Refrigerators (Three-way refrigerators)
Mostly seen in Rv's, some vanlifers consider these fridges the best and if you do not mind the cost of gas, these fridges are your go-to option.
A 3-way fridge, as the name suggests can be used either with propane (LPG0, 120V AC or 12V DC.
These fridges use the heat by propane gas or electricity to create a chemical reaction that cools down the fridge and are not temperature controlled, therefore get much colder than thermoelectric fridges. They run silently and have a longer lifespan.
But there are still a few cons associated with using absorption refrigerators. The first one is that they need to be leveled completely to function properly. Secondly running them on gas means you constantly have to deal with more fuel lines and of course need to spend money on the gas.
Compressor refrigerators (Two-way fridges)
Compressor fridges are highly recommended and the perfect ones for Vanlife. These refrigerators are efficient and durable, both efficiency and durability being the most important off-grid essentials. 
They are relatively affordable, safe and easy to install. Compressor refrigerators cool down more consistently and work really well regardless of the terrain. So, whether you're a full-time Vanlife enthusiast or on the road very often, this is the best option. These refrigerators use either 12V or A/C power which means that it can be powered from solar panels too.
These fridges are designed to run off your vehicles electrical system without drawing too much current, thus they work much more efficiently. That being said, there a few downsides to compressor fridges too. There is mostly some audible noise when the compressor runs but it is very similar to that of your basic home refrigerator.
But if you aim to live a comfortable life in your van while being on the road, investing in a high-quality compressor fridge is worth all the cost. 
With tons of options floating in the market right now, it might seem difficult for all you vanlifers out there to make a viable decision, but this guide will narrow your dilemma down to the best portable refrigerators for your house on wheels.
From the list below, you surely will be able to find one best refrigerator that will meet all your demands.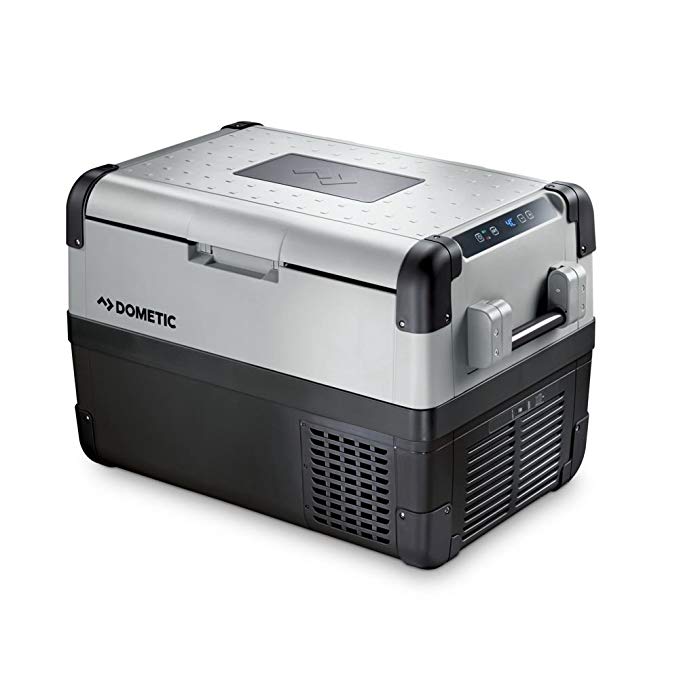 The Dometic CFX 50W is everything you could want from a powered cooler for your perfect and easy Vanlife. This portable fridge weighs 20.4 kilograms/45lbs. and is 72.4 x 45.5 x 47 cm in size. 
With a minimum power consumption of 1.5 Ah/h this portable refrigerator gives excellent cooling even at extreme temperatures in the environment. This fridge can be used for both freezing and standard refrigeration. This energy-efficient fridge is very sturdy and can endure heavy loads. 
Vanlifers can enjoy the clean heavy-duty features that this refrigerator comes along with- reinforced corners, stainless steel hinges, and a strong lid lining. Easy to transport as the Dometic CFX is, the models ranging between CFX 35W to CFX 100W come with a very exciting feature of controlling the cooling temperature through the Wi-Fi app. 
These fridges are suitable for freezing items down to -7 degrees Fahrenheit / -22 degrees Celsius and operate on 12/24 Volts DC and 120 Volts AC. They also have a digital temperature display. These quietly running fridges come with a USB port for charging smartphones or small electronic devices and also an energy-efficient LED interior light. 
The only real downside of this refrigerator is that the cords are a bit short but the incredible performance definitely makes it a worthwhile investment. All these features maximize its functionality and suit all your full-time Vanlife needs. With no hassle, now you can get rid of a soggy sandwich and melting ice problems.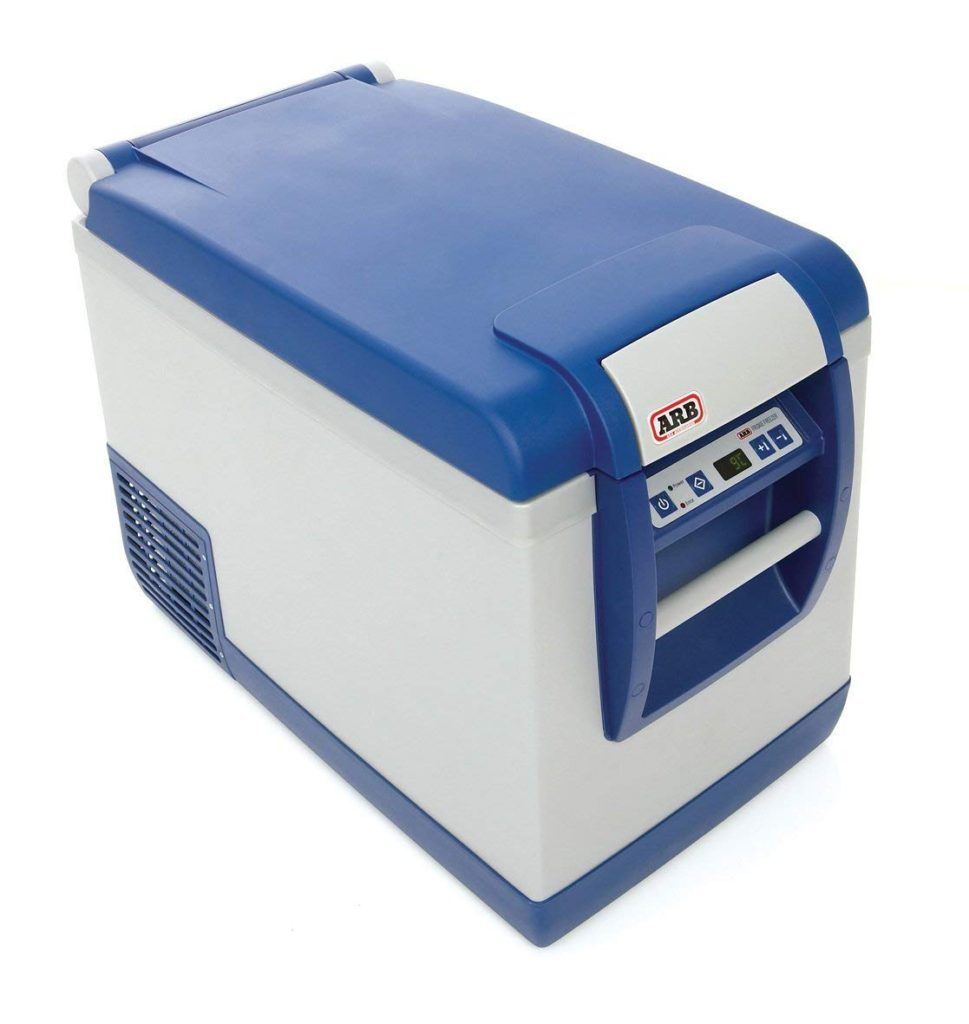 ARB is another perfect fit for all overlanders. This highly durable refrigerator has been designed to safely operate at 30 degrees of tilt and in all kinds of weather conditions, making it a very good option for van life. Weighing 50lbs, the 50-quart model is the most popular size among all. This fridge is 12.7 x 12.7 x 12.7 cm in dimensions.
ARB is solid in build and is dependable. The fridge comes in a very thorough manner making it easier to install and has a long warranty. This is one of the few models that has a spot-on claim to match its actual dimensions, so you can for real fit 72 cans inside this spacious fridge. It comes with various other features like a drain and internal light and hardware on the bottom for easy mounting.
It also comes with AC and DC cords and an AC adapter with which you can extend the length of the DC cord. It also has a removable top which makes cleaning and loading easier. There are two major downsides to the ARB- first is the asymmetrical basket which becomes very hard to get out when full and second it is a very heavy fridge.
Their motto, "A Legend in Reliability" says it all. This portable top opening AC/DC compatible freezer weighs 48lbs and the interiors are 14.5" x 10.5" x 14.4" in size. The Engel MR040 is a very durable and rugged refrigerator with a volume of 40/qts suiting the needs of your adventurous Vanlife. This refrigerator offers an incline operation up to 30 degree of level and works on Sawafuji Swing Motor compressor, that has been the customer preference for decades. 
It is a highly efficient fridge which draws around 1.5A per hour in 95-degree F ambient temperature with the control knob set to '1' and that is almost 40% less than any traditional compressor. Engel not only is one of the best affordable option for road, but it's safe to use in every environmental dimension that you'd like to explore. 
Though these fridges draw a little more power than the Dometic and ARB fridges, they are still a very convenient and efficient option. Unlike most other new-age portable fridges, they do not have the feature of a digital display so you will have to use the manual control knob. So, if you're looking for a reliable and durable fridge for your van, you cannot go wrong with Engel. 
If you're looking for a basic essential portable refrigerator for your van, the Whynter Portable Fridge Freezers are a very viable option. This fridge is also available in two other sizes: 65 quart and 85 quarts. Whynter fridges are your least expensive option and they are very popular among a lot of budget-conscious vanlifers like you. These cost you much less than the other big brands and still are able to provide a lot of similar features.
This 45-quart fridge can hold up to 60 cans and is 18.5" in width, 11" in length and 15" in height including a compressor step which is 7.5" x 11.25" x 8" in size. This portable fridge which operates both as a refrigerator and a freezer has a LED temperature display too. Weighing 20.4 kg, Whynter FM45G is made out of stainless steel.
It is designed for easy access and whether you are on a day trip, a major expedition, a fishing trip, a boat trip or even just a camping trip, it will cater to all your refrigeration needs. It is essential that you do not confuse the Whynter portable freezer with some less effective 12-volt novelty and beverage type cooler, rather make a note that this portable fridge is true to its name. It can cool down between -8 degree F to 50 degree F.
A cost-effective portable fridge as this is, it also includes a fast freeze mode that helps to rapidly cool contents all the way to -6 degree F. Whynter fridge comes with two removable wire baskets, an 8'AC power cord, and a 5' DC power cord. Whynter does offer a warranty, but it's only a short 1-year warranty. These series of fridges are undoubtedly one of the cheapest available, though might be a little bit inconsistent at times. If you're just starting with your Vanlife and are on a budget, this is a more than a decent deal.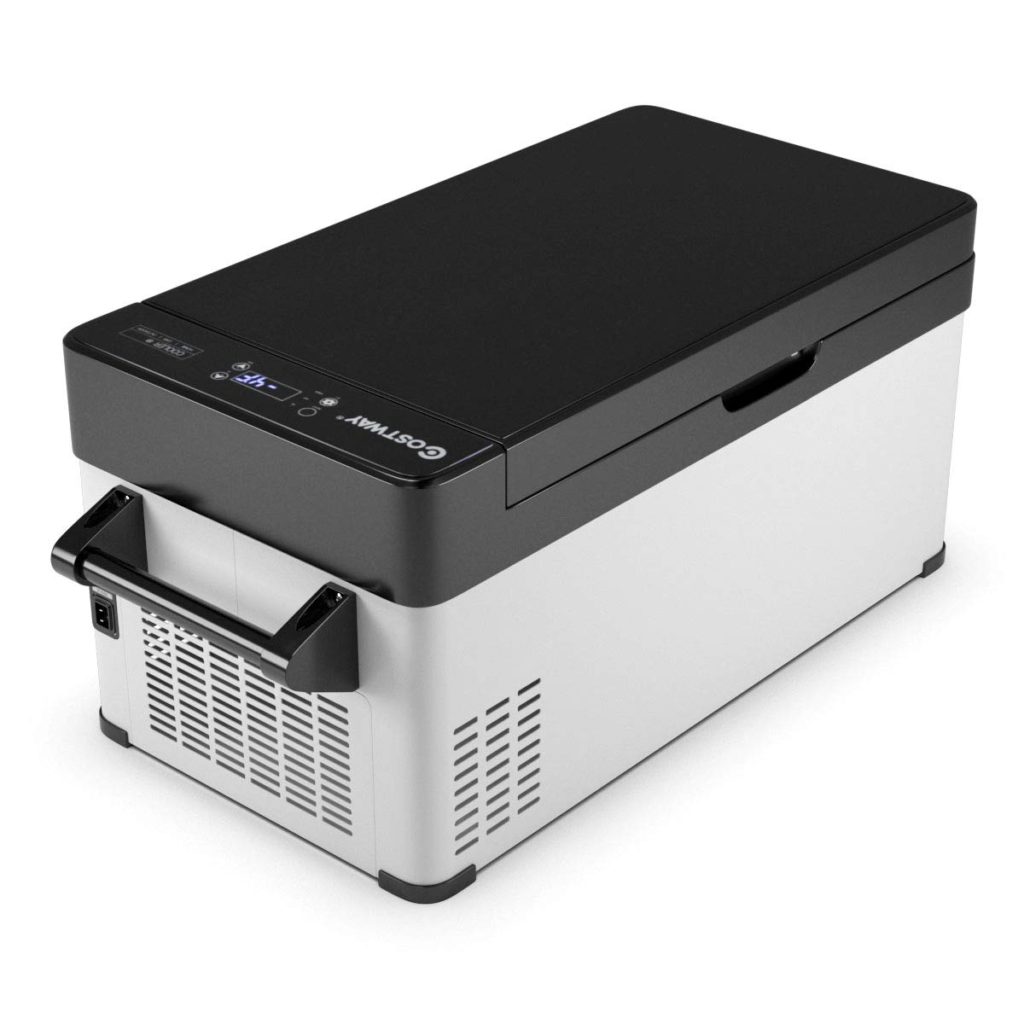 Are you living the van life and looking for an extremely miniature portable refrigerator for your van? Costway 54 Quart Portable Refrigerator is definitely what you should be taking into consideration. This fridge weighs 36 pounds and is available in a very aesthetic black and grey color. With a very large storage capacity, this fridge can easily store a large amount of drink, snacks, and food altogether.
Wait, not only this, but you can also choose the appropriate and constant temperature for storing cosmetics and medicines. This refrigerator provides very impressive performance for a lot less money as compared to the competitive brands. It might not be the quietest model, but is very energy efficient and also has an energy-saving mode.
The Costway is a compressor powdered cooler and it cools from -4 degree F to 50 degree F. Also, it comes with a DC cord and DC to AC adapter. It has proven to work in every defined climate, so you can very easily take it along on any and every trip. Costway, just like other compressor coolers has three levels of battery protection that you can set. It also has a handy LED light inside which helps you to easily find what you're looking for. 
 This cooler has some of the longest cords which increase the required proximity to the power source. The DC cord is 7'9.5" and if you decide to add the AC adapter and the cord to the mix, you get an amazing length if 14'7". On top of all that, if you decide to store a big bottle of your favorite wine for a special off-grid adventure, there are circular indents in the floor and the lid of this fridge to fit just an item. And if you decide to go off-roading, this unit can operate perfectly at angles of up to 30 degrees. The Costway is like a pleasant surprise for your Vanlife if you're looking for something really tiny!
The most common complaint regarding any feature of this portable fridge is the very short 3-month warranty.
A very versatile portable refrigerator, Norcold NRF 60 weighs 25.4 kg. it has both freezer and refrigerator compartments and has been designed not only for short trips during your Vanlife journey but for your big family, long trips and big appetites too. This very durable fridge is made out of the corrosion-proof plastic interior and has heavy-duty removable handles and an easily reversible and removable hinged lid, specifically designed for your ease. 
NRF 60 comes with a stainless-steel interior which makes it very easy to clean. Also, this interior prevents stains and improves the cooling effect a lot. The wire basket too is easily removable which makes the cleaning easier, the separate refrigerator only section prevents freezing of the particular selected items. Norcold has been in the market for a long time now, and the NRF series is definitely worth the look.
This fridge comes with all the basic features including digital controls, low voltage cutoff, interior light, and a drain plug. It is a technology-driven product and the user has full control over the temperature. Norcold NRF 60 comes with additional safety features. It has CFC- free insulation foam and refrigerant. It also comes with Hermetically Sealed Compressor with built-in low voltage protection and the indicator lights signals any installation issues. This fridge too comes with battery protection with three levels and prevent drainage of battery.
Providing a 2-year-warranty, it is the best among most of the budget fridges. These energy-efficient fridges have only one prominent drawback that they do not come with an AC wall adaptor, thus you need to get your own add-on AC converter to plug into a standard three-pronged outlet. So, unless you plan to power the fridge with 110V AC you're all set to for your Vanlife in an amazing cost.
For all you vanlifers going for a road trip on a budget, the Wagan Thermoelectric Cooler/Warmer is your go-to fridge. With a cavernous interior, this 46 Quart 12V cooler is always ready to carry all the food and drinks you got. Long trip? large family? or just in a habit of carrying lots of food? this 46 quart 12V cooler/warmer solves all your problems.
The Wagan portable fridge looks like a cooler, but also has the capacity to keep your food piping hot. This family-sized convenience offers both cooling and warming modes and comes with a folding handle and built-in wheels. So, now it's super easy to go to picnics and campsites in your van, all you got to do for food is roll this cooler/warmer to your favorite spot and also you never again have to worry about hurting your back while trying to carry a loaded fridge.
Another great feature that cooler/warmer comes with is removable dividers. This makes it very easy to organize and find what you are looking for while increasing the airflow efficiency. This cooler weighing 22 pounds with the size 17.2 x 9.2 x 13.5 inches has a removable magnetic lid with a sealing gasket to ensure that the food remains cold. 
It's cooler/warmer is large but compact at the same time. The Wagan 46 Quart 12V can hold up to 60(12oz.) cans and cools up to 36-degree F below ambient temperature. It can also heat up to 140 degrees Fahrenheit. this cooler/warmer supports CFC- free cooling too. This is a budget-friendly option, but for shorter trips, and even with the cheap price it comes with a 1-year warranty. 
 IndelB, an Italian company that serves as the American branding for TruckFridge has been the manufacturer of mobile 12V compressor fridges since the sixties. IndelB/TruckFridge has become a leader in refrigeration for truckers, and their fridges have recently been making inroads into the Vanlife community as well. The Indel B TB51A weighs 45.2 pounds and is 24 x 14.8 x 22.8 inches in dimension. This portable console top opening refrigerator/freezer has been designed for both AC and DC operation and is supplied with both a 12VDC cigarette lighter type power cord and a 120V/60hz AC power cord. 
Featuring a highly efficiency secop (formerly Danfoss) compressor, an energy-saving function (ECO), a turbo Cooling function (max) and multifunction electronic thermostat this fridge allows a very easy temperature control with minimal energy consumption. In other words, this series of fridges offer an energy-saving function to extend battery life and the Max function helps to cool things as fast as possible when the power is available. With an average input of 50 Watts the electronic AC/DC circuit board allows for both 12-24 VDC or 115-230 VAC operation. Switching between DC and AC is automatic as well!
The main features of the refrigerator include standard three-level battery protection along with a sturdy Injection-molded lid with the integrated closing system. This makes it very convenient to use in every environment be it cars, vans, trucks, off-road vehicles, caravans: every place where mobile refrigeration is needed. It comes with a 1-year warranty but only on the Cooling system, fan, electrical and trim which turns out to be a downside for some of the vanlifers. 
This proves to be a drawback because any failure due to improper installation does not come under warranty and thus you have to be very careful while installing the fridge. The warranty specifically covers manufacturing defects only, not damage. TruckFridge Travel Box is a solid and inexpensive choice for your Vanlife.
The Alpicool C15 is a very inexpensive option to consider. C15 weighs 9.6 kg and works on 12/24V DC and 110V to 240V AC. It freezes without ice, down to – 4-degree Farhenheit and it also runs great with the small solar system. This is one of the best products in a lot of ways. It's efficient and has an inbuilt system for protecting your van's battery. 
Its vibrational resistant body is designed to protect itself from jerky roads, thus you do not have to worry carrying it along on off-road trips. The Alpicool C15 is controlled digitally and the user has full control over it. This is a type of compact fridge and has 15 liters of capacity. Made out of solid plastic exterior, it is very lightweight and can be transferred from one place to another with ease. The high-density foam provides proper insulation to the fridge and thus the food items that are stored can stay fresh for longer periods of time. 
The power cord for DC and adaptor for AC is provided along with the product. This portable refrigerator can also be used as a freezer. All you need to do is control the temperature through the digital control panel and voila! Your ice cream will be ready. All that being said, this refrigerator does have some cons too. You might definitely have to put a bit more effort than just going through the instruction manual to understand its working.
Sometimes the temperature might not work according to your expectations, so just be patient. Sometimes the compressor can get locked up for which you have to plug out the device from the switchboard. Leaving aside these small problems that can be solved with ease, Alpicool is a low power consumption device which even when unpowered can provide a cooling effect. It is by far the most inexpensive 12V refrigerator. 
One refrigerator that you cannot miss while finding the right match for your van is the SMAD Mini Fridge. Smad has designed this mini-fridge in a manner that can fit in any space. This 3-way absorption fridge is a free-standing refrigerator that comes with a reversible hinge and is easy to install.
It has a compact size of 1.7 cubic feet and it offers a very quiet operation because it is made with whisper-quiet technology. This mini-fridge is very long-lasting due to its heavy-duty components- designed for all rough and tough requirements. It can run on propane or electric 110V and 12V. 
The best part is its easy operation with the piezo ignition and safety valve that is located on the front side of the unit. Its features include adjustable racks and shelves with tall container storage and easy to adjust the temperature settings. It also comes with a 1-year warranty. 
Want to be able to wheel a big box of chilled beverages to the end of a pier and also keep your food and drinks cold for an extended time? The Coleman Xtreme 5 Wheeled 100 qt got your back. This portable 100-quart fridge, keeps the ice up to 5 days at temperatures up to 90 degrees Fahrenheit and the antimicrobial liner resists odor, mold, mildew and fungus. 
The Xtreme technology uses an insulated lid and there is extra insulation in the walls for longer ice retention. The fridge also has heavy-duty wheels that are built-in for easy and reliable transport. It has a leak-resistant channel drain that provides easy draining without even tilting the cooler. The cooler comes with Have-A-Seat Lid that supports up to 250lbs for a place to sit and rest. 
Coleman Xtreme 5 has large tow handles for easy pulling and also has comfort grip swing handles so that it can be carried easily. Made with rust-resistant, stainless steel spring lid strap, it helps prevent accidental closings. While your relaxation is ensured with the seat, you also have cup holders alongside molded into the lid that will keep you closer to your drink- so that you can enjoy to the fullest. With the ease of use, portability, and durability, The Coleman Xtreme 5 Wheeled 100 qt is a fairly good choice.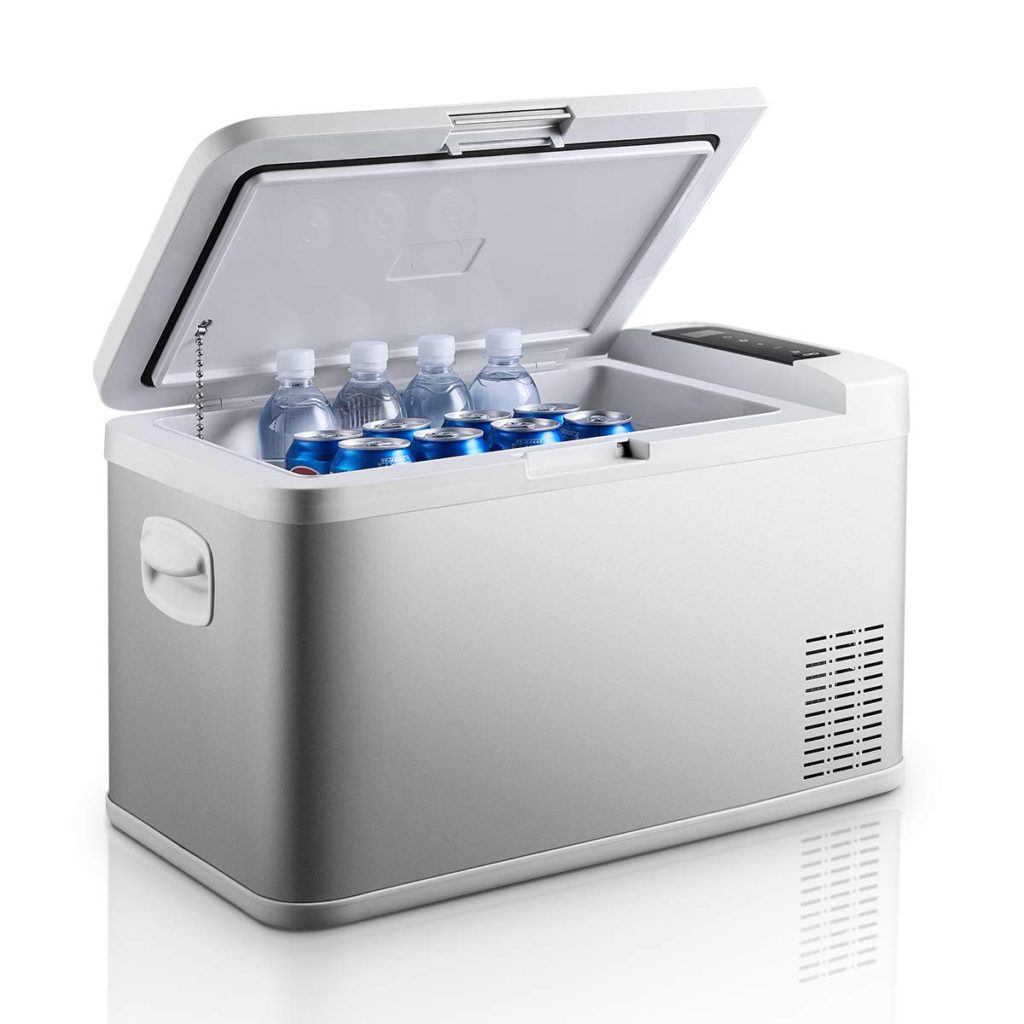 Ausranvik Portable Freezer is ideal for use in almost every ambiance. The Ausranvik portable fridges are designed to provide excellent cooling performance, even at   extreme ambient temperatures and with minimal power consumption, it could freeze down to -4°F (-20°C) and keeps the food frozen for a long time. This fridge can be used as both a refrigerator and a freezer. Weighing 29.8 pounds and 23 x 13 x 14 inches in size, you can place it a anywhere you like, whether it be the backseat of your van, or even the trunk.
The portable fridge comes with LED display and touch control making it a step ahead of all other fridges in competition. You can easily set the desired temperature ranging from -4 degree F to 68 degree F. it also comes with fast cooling and energy saving mode. There is also a USB port on the control panel where you can charge your smartphone or any other electronic gadget while it is plugged to the cigarette lighter socket.
Ausranvik 26-quart freezer woks on 12V/24V DC and 110V Ac power source. It's very easy to move the fridge from one place to another if need be. It comes with a memory function which makes it easier to change temperatures because you don't have to reset the temperature when you change the power source. The DC power cord and AC power cord are included when you buy the product. 
The fridge comes with a very smart feature of intelligent battery protection where you can yourself select the protection level- high, mid or low and control program will keep monitoring the car battery. The compressor will shut off automatically when the input voltage is lower than your setting, so the car battery will not run down.
The designers of this product made sure that the price you pay for it comes with value. There is also an energy-saving design inbuilt which makes sure that the fridge will not consume energy when it reaches the set temperature. And the insulation keeps the items frozen for 10 hours even when disconnected from a power source. The only visible drawback for Vanlife is that this product is quite pricey, but it definitely has its worth. 
What to look for while purchasing a Vanlife portable fridge. 
There are tons and tons of good-quality portable refrigerators that are suitable for the Vanlife, and it is hard to say which is the best one suiting your lifestyle. Before you chose the one for you, you need to make sure that you keep certain things in your mind and also on your checklist. Make sure that whichever refrigeration system you chose for yourself, it should be ideal for many applications. It should not only be portable but light-weight too so that you can move it from one place to another if needed, without any hassle. 
The fridge you decide to purchase should be easy to use with effective and understandable controls. Do not forget to make sure that the fridge is energy efficient otherwise it will leave a big hole in your pocket. Heavy-duty components are not compulsory but are very important to be kept in mind if you live a van life traveling through rough and bumpy roads. Another very prominent thing to remember is the source of power. you should check for the required power source before buying a ref. For one, there are models that run on propane gas.
You might want to consider it if you're looking for a portable unit that won't give additional work to the wiring of your car. On the other hand, there is a drawback to a propane mini-refrigerator. It might stop working if tilted to more than five degrees in angle. So, for this reason, many RV owners are going for an electric refrigerator. Pricing plays a very important role too. Never forget to compare prices. Refrigeration systems for vans aren't cheap, thus narrowing down your options and keeping an open mind is key. This will help you save time and money in a very efficient way.
As you know that finding the right size is very important, people tend to forget that knowing the specifications of your own vehicle while buying the fridge is very important too. It will definitely affect your decision and thus before buying you should know the complete layout and space of your vehicle and where exactly you want to fit your new appliance. Mapping out all this will make things easier for you. There must be enough space for the fridge you want to buy, or you will be surprised later to end up on the wrong one.
In addition to all of this, you should also figure out the features you expect or want at first and then try to compare them with the features that are available. If you decide to specifically buy a 12V fridge which is apparently the most popular among vanlifers, you should keep a few more things in mind. The first and foremost being the appropriate dimensions. Power cord location and lengths, handle width and ventilation should always be kept in mind. 
Second, is the direction of doors. This seems to be something that wouldn't affect your decision much, but it is a very important thing to consider. Whether a refrigerator opens on the top or with a side door makes a difference. The third is the warranty. Refrigerators that have longer warranties tend to last longer. Good customer support is also a key feature of refrigerator satisfaction. Not all RV repair shops will work on refrigerators that are so small. A refrigerator with components that are easy to find can make or break your decision.
Wrapping it up
Among dozens of models to choose from, if you're looking for the most advanced, efficient, modern technology, and cost-friendly according to the features offered, the Dometic models are highly recommended. When it comes or Overlanding or off-roading adventures in your Vanlife, the ARB 12V refrigerators prove to be the best. But if you are on a budget, Alpicool is the least expensive and worth the quality and Costway is just the exact budget fit.
We hope you've enjoyed this detailed piece on refrigerators and that it's helped you with the decision of which item you'd like to purchase, as always if you liked the article feel free to leave a comment or share it on social media! If you see something that's missing from our list reach out and we'll be sure to take a look at it and make sure it is added if it belongs!
JUSTVANLIFE
Discover How To Use The Power of Authority Marketing To Make You Money While You Adventure!

No Experience, Existing Product Or Technical Skills Are Required
DO YOU BELIEVE ADVENTURES ARE WORTH CHASING?