Discover How To Use The Power of Authority Marketing To Make You Money While You Adventure!

No Experience, Existing Product Or Technical Skills Are Required
DO YOU BELIEVE ADVENTURES ARE WORTH CHASING?
We're an affiliate.
We hope you love the products/services we recommend on Just Van Life! So you know, there is the possibility we will collect a commission should you make a purchase via any of our links. This will in no way affect the purchase price. Thank you for your support, we really appreciate it!
Introduction
Traveling in your RV opens you to diverse opportunities. There is the freedom to travel to new places, experience spectacular scenery, and roam the highways and byways at your leisure. Either you are a weekend wanderer, full-time van lifer, or enjoying your retirement on the go, it is vital to secure a means of protection for your RV, Van or Campervan from financial loss. Having to ensure your vehicle is a form of risk management, primarily used to hedge against the risk of a contingent or uncertain loss. 
Owning an RV can be a lot of fun and provide a new way to travel across the country, but it also requires a significant investment and should be treated as such. Many RVs can easily cost as much as a house to purchase, and even modest RVs can be an expensive purchase. When planning to buy a new set of house-wheels, it's essential to know whether or not RV insurance will be required for your recreational vehicle and budget those costs as well. Recreational vehicles, or RVs, include a wide range of motorhomes, from camper vans to bus conversions. Your van's insurance will depend on the class of your vehicle, how much you use it, whether you live in it full time or otherwise. 
RV insurance is similar to that of auto insurance as it covers risks such as collision, comprehensive, and liability coverage. With this, you can get additional protection for your personal belongings on board, equipment, and attached accessories. There are so many aspects to RV insurance. Nearly every driver in the US is required by law to purchase car insurance, which also includes that of the van, yet many do not even know how it works. RV questions are asked, such as what it covers, how much it costs, why it costs so much, how to file a claim, and much more. It is essential to learn the basics from an informed source. Save yourself some time and money by studying up on RV insurance and also ask your agent questions throughout your driving milestones. Many factors come into play, and laws can vary by state, making the process rather challenging at times. 
There are three classes in RVs. Class A represents models such as the luxury coach, converted bus, and motorcoach. These vehicles can be up to 75 feet long. While Class B includes the smallest class of RVs, they do not have a cab-over and can consist of van type designs, travel trailers, and camper vans. And the third, which is class C, includes vehicles that use a standard cargo van as the driving portion of the RV, and the camper portion extends over the cab area. This class covers fifth wheel vehicles.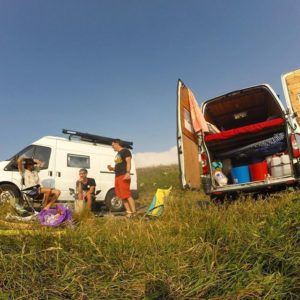 RV insurance protects you, especially as a recreational vehicle owner, from excessive out of pocket costs in the event of a loss or if you are at fault in an accident that causes damage, especially the bodily injury or property damage. More so, compensating you for a roadside breakdown is also included. RV insurance is essential coverage because of the large investment you've made in your motorhome. It is also critical because these are large vehicles that can cause significant injuries and significant damage to other cars and property in an accident.
There are different ways to know how RV insurance works. To understand this better, consider some accidents you could encounter with your RV while on the road. Your RV insurance would potentially cover you in the following ways; If you are at fault in an accident, your insurer will pay the claim up to the limits of your liability policy. Also, if another driver collides with but is uninsured and you have uninsured motorists coverage, your insurance agent will pay for your damages. More so, should in case your RV is disabled after a crash and needs to be towed, your insurance will cover some or all of the towing fee. Besides, if your RV is stolen, or it is damaged in a hail storm, your comprehensive insurance would provide coverage for your losses, after your deductible adds up to the limits you've selected in your policy.
It is essential to know whether RV insurance is optional or required; you have to be aware of the effects of going without RV insurance. Lots of RV owners leave their RVs parked out in the open yard, leaving them susceptible to storm damage, vandalism, and possible theft. If your RV holds a great deal of value, make sure to purchase full coverage RV insurance to protect against a potential loss. The amount of RV insurance you need depends on several factors, among which include the requirements of the state in which you reside, the class of motorhome you own, where you will be traveling, and whether you will cross state and country borders. And also, if you are using it part-time or living in it full time, and if you have custom features on your motorhome, which can result in higher repair costs.
Additionally, the amount of RV coverage you need will depend upon the assets you want to protect in the event of a liability claim or lawsuit. RV insurance is available through insurance agents, who will underwrite your policy through an insurance company. If you work with an independent agent, you'll get the help you need to review several RV insurance quotes in one place.
The following guidelines can make the process of determining whether or not you are legally obligated to have insurance a little bit more clear.
The fact that you're not legally obligated to have RV insurance doesn't mean that you shouldn't purchase it anyway. It is financially prudent to ensure that your investments are all protected, including those on the wheel, be it through insurance coverage or another financial contingency plan. Ensure you talk to your insurance agent before deciding if or not to skip RV insurance, just as you would before preceding car insurance coverage.
When is an RV Insurance Generally Required?
An RV requires the same amount of liability coverage needed for a car in most states at a minimum. Still, you will need a separate RV insurance policy if your RV is a motorhome, or you do not own your RV outright, that is, financed out of a loan, and if the RV is a rental vehicle.
The law requires motorhomes to have liability insurance while being driven on the road in most states. Full coverage can be optional based on whether you have the vehicle financed, but just because complete coverage is optional does not mean you should necessarily opt-out.
Compare the value of your RV to the likelihood of a loss to decide if your savings account can bear the cost of self-insuring its physical damage risk. If you live in your vehicle full time, it's fundamentally important to consider additional insurance coverage.
RVs that are financed generally require the financial lien-holder to carry full coverage because lenders want reimbursement on their loan in case of a loss. If you do not purchase full coverage, your lender could take out an insurance policy on the vehicle and send you the bill. Lender-purchased insurance typically comes with much higher premiums and no liability, so taking responsibility for your protection is a smart financial decision. 
Since rental RVs are your responsibility while in your possession, it's essential to make sure you have insurance coverage on the RV. Check your auto insurance carrier to see if coverage extends to a rental RV. If not, either the RV rental dealers automatically include insurance in the price of the rental or have short-term policies available for purchase. Also, check with your credit card company as some have special provisions that cover RVs rented with your card, much as they typically include car rental insurance if you book the vehicle using your card.
Loan-Free RV means you own the campervan outright without any financing. You will need to get insurance on the purchase of the van. This is straightforward as it is just covering the cost of the truck, just like the standard car insurance. This keeps you at least partially covered. When you contact your agent for the initial coverage, it would be a good idea to go ahead and discuss options for insuring it as a motorhome. This way, you are not scrambling to find insurance once your build is complete, and you already know what your insurance company will need. Insurance is not optional for motorhomes unless you live in a state that doesn't require RV insurance. 
If you're driving your RV on the road, you'll be required to carry the same state-mandated liability insurance you'd need to carry on a regular automobile. These requirements vary by state, but almost every state requires some liability coverage for damages you might cause to other vehicles.
If you purchase a new travel trailer outright with cash, insurance is optional because, again, there's no finance company involved. However, you would probably still want to carry full coverage on it. A total loss, such as fire or theft, would be devastating to most people without insurance to cover the investment-loss costs of your RV. The amount of compensation you receive will depend on the amount of damage, your deductible amount, and the limits set on your policy.
Depending on the insurance company you choose, your additional coverage options may include, total loss replacement coverage, campsite and vacation coverage, emergency expenses, towing and roadside coverage, full-timer coverage if your RV is your full-time residence, Uninsured and underinsured motorist coverage amongst many others. Either you use your RV occasionally or if you are living in the RV full-time, ensuring it is pertinent.
The cost of an RV insurance
The cost of RV insurance varies widely, depending on several key factors. Such as the class of the RV, that is, if your RV is a Class A, which is the most expensive coverage, then followed by Class C, or Class B RVs, which are the least costly to insure. Also, determined by either using your RV occasionally or living in it full time. The cost can also be determined by your driving history and record of accidents or past claims. More so, the limits you set on your policy, and as well as the deductible amount. And the additional riders and added coverage you want to add, such as coverage for your personal belongings such as towing and roadside assistance coverage.
For help determining how much RV insurance you will need, contact an insurance agent or company. They will help you learn about the requirements in your state as well as the specific risks you may face. 
However, when insurance is optional, your RV is only towable, but not drivable, you own your RV outright with no financing and live in a state where RV insurance or liability insurance is not required by law, and towable RVs with five wheels, pop-ups, and travel trailers. Liability insurance is generally extended from your car insurance policy to your RV when you are towing it. For instance, if your campervan somehow comes unhitched from your truck and damages someone else's property, your auto insurance liability coverage will cover the costs. Because liability is covered under your car insurance, the state does not require insurance on towable RVs.
For van lifers or campers who are concerned about how much RV insurance is needed. Well, this depends on different factors, and they include, the requirements of the state in which you reside, the class of RV you own, where you will be traveling and whether you will cross state and country borders, whether it's being used the part-time or in full time, or if you have custom features on your RV, which can result in higher repair costs. Besides, the amount of RV insurance you need will depend upon the assets you want to protect in the event of a liability claim or lawsuit.
Conclusion
A detailed analysis has been done on the basic things you need to know about RVs and Insurance. Before now, the majority of individuals do not concern themselves with insuring their vehicles, especially to those who financed themselves, that is, without rental or loan. Now, there is the idea of what to do and what not to do towards ensuring their vehicles to avoid loss or regret and to enable a very smooth and juicy ride.
JUSTVANLIFE
Discover How To Use The Power of Authority Marketing To Make You Money While You Adventure!

No Experience, Existing Product Or Technical Skills Are Required
DO YOU BELIEVE ADVENTURES ARE WORTH CHASING?