Discover How To Use The Power of Authority Marketing To Make You Money While You Adventure!

No Experience, Existing Product Or Technical Skills Are Required
DO YOU BELIEVE ADVENTURES ARE WORTH CHASING?
We're an affiliate.
We hope you love the products/services we recommend on Just Van Life! So you know, there is the possibility we will collect a commission should you make a purchase via any of our links. This will in no way affect the purchase price. Thank you for your support, we really appreciate it!
If the roof of your RV is not properly secured or sealed, then you could be at risk of water getting into your RV. This can lead to hundreds of dollars worth in water damage. To keep your RV in the best condition, and to save yourself hassle down the road, you will want to reseal the roof as soon as possible.
Luckily, resealing an RV roof is not that complicated, and you can do it yourself if you want to save some money.
Resealing An RV Roof
The first step is to ensure that your roof is clean, and there is no build up of dirt or grime that could get in the way. Then, you will want to repair any cracks or damage before you start sealing the roof.
You can use fiberglass repair tape to fix any torn or ripped areas of the roof. You should also seal anything that is coming through the roof such as vents or antennas, as this will save you time going back to seal them after you have done the roof.
The sealant you use depends on the material of your RV roof. Ensure that you research which sealants work best with your roof material before you start. However, most RV enthusiasts will prefer to use a liquid rubber product, or a self leveling lap sealant, as these offer the best results.
Resealing A Rubber RV Roof
Liquid rubber is often used for RV's with rubber roofs. If you want to use liquid rubber, then the process is simple. Once you have cleaned the roof, inspect the lap sealant to repair any issues. Then, remove any appliance covers and vent covers. Take tarps and tape them to the sides of your RV to protect any sealant from getting in unwanted places.
Then, with a mini roller or a small brush, apply the liquid rubber and sealant on all of the RV roof fixtures. With your paint roller, apply the rubber coating to the top of your RV to cover the roof. You may have to do two coats for the best results.
Resealing An Aluminum RV Roof
If you have an aluminum RV roof, then you may want to use roof sealing tape such as Eternabond. This tape can be placed over the seams and gaps of your RV roof. It is heavy duty, and works really well for repairs.
To reseal with this tape, you will again have to clean the roof of your RV before you start making any repairs to it. You will then need to seal all of the joints with a caulking gun, and use a metal RV roof coating that acts much like the rubber coating mentioned above. This can make your roof stronger and more resistant to rust.
Resealing A Fiberglass RV Roof
For fiberglass RV roofs, you will want to use a silicone sealant. Ensure the one you choose matches your fiberglass RV roof.
Fiberglass roofs need gentle cleansing first. Use a sponge and warm water to remove any marks or dirt. Then, you will need to leave it to dry out completely.
When dry, use a silicone sealant to repair the roof, as these are often particularly formulated to work best on fiberglass RV roofs. Then, use a gel coat to get that glossy fiberglass texture back on the roof. This can also keep your roof looking its best, and in the greatest condition.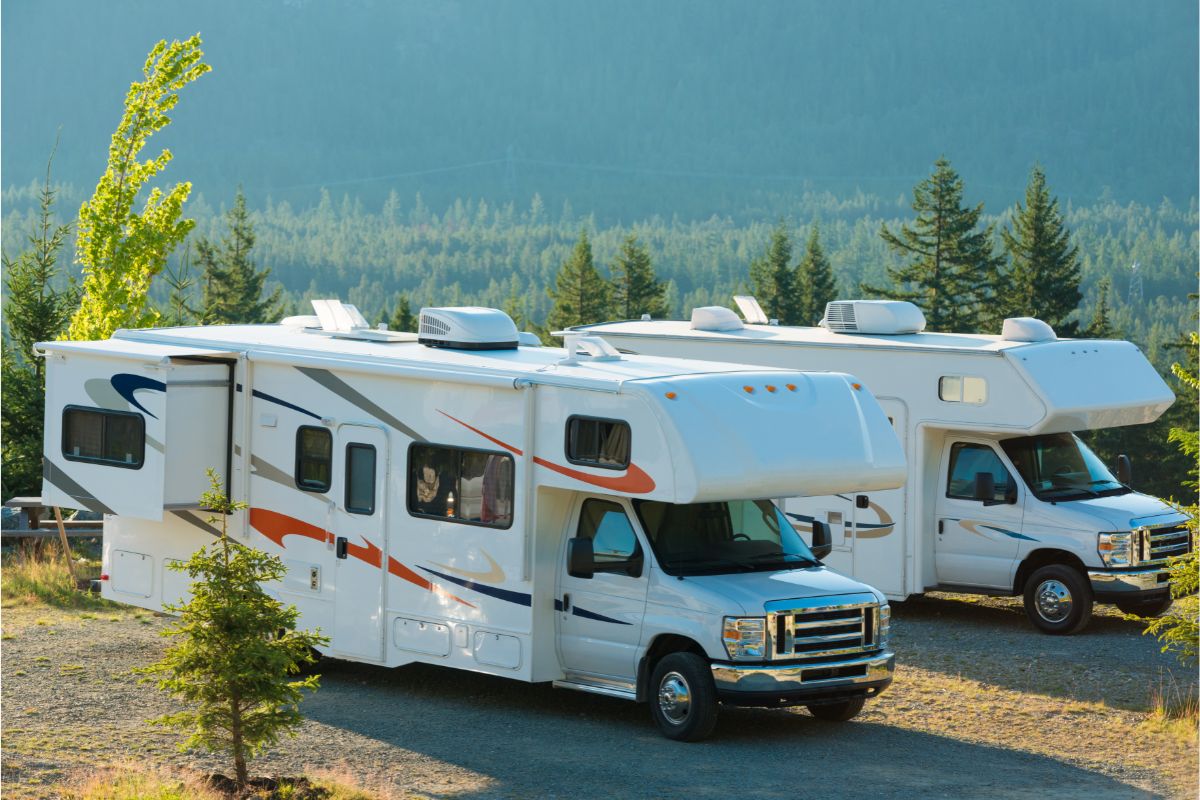 What Should I Use To Reseal My RV Roof?
The products you use for your RV roof depend on the type of roof you have. The best products for resealing your RV roof are either silicone sealants or lap sealants. Silicone sealants work well as they can be used on various materials, such as metal, stone, wood, granite, and more- yet this type of sealant offers great protection in even extreme temperatures.
If you are looking to reseal your roof, then you have a few options. You can choose an RV specific roof sealant, or an RV roof coating. Another good option is self-leveling lap sealant. This is one of the most common sealants that most RV enthusiasts will use. It does not crack or harden, and does an excellent job of sealing.
Alternatively, you could use a liquid rubber multi surface leak repair sealant if the roof has a larger gap. This sealant is long lasting, and is best for preventing leaks and adding protection around vents, pipes, roof edges, skylights and more.
For more extensive jobs, you may need to use a roof sealing tape along with some lap sealant for the best results.
How Much Will It Cost To Reseal My RV Roof?
On average, it costs anywhere from $200 to $1000 to reseal a camper roof, depending on the level of damage. However, if you plan on doing it yourself, then you are looking at spending from $200 on materials, whereas a professional could charge anywhere from $800 to $1000 or more to reseal your RV roof.
How Often Do You Need To Recoat Your RV Roof?
It is best to recoat the seal on your RV roof every two to four years, depending on the climate you live or drive in most often. Some climates will cause more damage and wear and tear on your roof. Resealing is vital as this will prevent any water leaks and other issues that could arise. In most cases, RV roofs need to be replaced every 10 years to avoid any issues.
Final Thoughts
To summarize, if your RV roof needs to be resealed, then you do not have to break the bank hiring someone to do it for you. You can reseal your RV roof yourself, as long as you know which sealants work best with your RV roof material.
Discover How To Use The Power of Authority Marketing To Make You Money While You Adventure!

No Experience, Existing Product Or Technical Skills Are Required
DO YOU BELIEVE ADVENTURES ARE WORTH CHASING?