Discover How To Use The Power of Authority Marketing To Make You Money While You Adventure!

No Experience, Existing Product Or Technical Skills Are Required
DO YOU BELIEVE ADVENTURES ARE WORTH CHASING?
We're an affiliate.
We hope you love the products/services we recommend on Just Van Life! So you know, there is the possibility we will collect a commission should you make a purchase via any of our links. This will in no way affect the purchase price. Thank you for your support, we really appreciate it!
The mid-sized option of the gang. These Hybrids between A and B's are usually under 26000lbs and built on a van or truck Ford Ram and Mercedes-Benz chassis. This means there the easiest to pilot and you only require a basic driver's license. The class has an attached cab that overhangs over the cab. The common misconception of this class is available floor space and amenities. Rest assured, you are losing very little by going the C class route. The vast majority of vehicles in the class cannot tow a car but when comparing bang for buck it becomes clear.
A favorite around campgrounds
This mid-sized option in some cases holds just as much floor space as an A-Class but half with half the price tag. The fuel consumption is better than A-Class and the best part! The C class has separate bathing quarters which B class cannot offer. It's easy to see why the C class has stood the test of time and although less sophisticated in certain circumstances, it continues to be an industry leader in sales. Let's check out a wide range of Class C RVs!
Immediate advantages of Class C motorhomes
The best mid-sized option when compared to B and Travel trailers
Amenities like the master bedroom and private bath
Fuel mileage – better than Class A
Innovative interior design concepts that offer functionality and practicality while saving floor space.
Can potentially sleep up to 6
The wide selection of options with models ranging from $80 000- $150 000
Overall size allows you ultra-luxury and movability within the majority of campgrounds and national parks.
A few Disadvantages of Class C motorhomes
Priced higher than the majority of B class
Fewer amenities than the A-class
Higher fuel use then B class
Although the mid-sized option size will prevent you from exploring areas via the vehicle.
The Cream of the Crop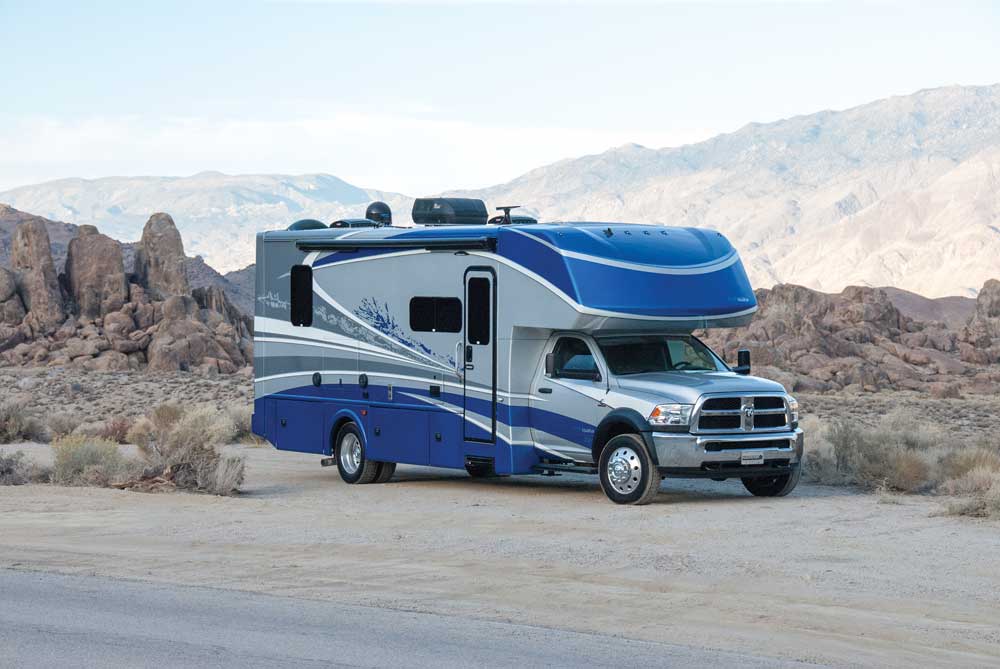 Dynamax Insata 5 30 FW
Make no mistake about this entry from Dynamax requires your full attention. Yes, the price point is at the high end of the scale within this class. Nonetheless, we move forward into the world of uncommon luxury and space utilization. The Insata is the hottest model on the market and after reading this you'll know why. First off, the model includes a full wall slide that features a sofa and dream dinette in the living area and a queen-sized bed in the sleeping quarters. The Insata carries a 350HP Cummings diesel engine with 750 lb-ft of torque. Multiplex wiring with full touch screen command center. LED-backlit panels and full Wi-Fi- Blue tooth Smartphone app control.
The exterior resembles a spaceship with front and rear LED clearance and marker lighting. Lighted acrylic entry grab handles make for a driver-friendly experience. The interior is where the magic happens. One would quickly see that not much was spared in the opulence department. With a combination of deluxe carpet and vinyl flooring through-out and a soft-touch vinyl ceiling, you're sure to get glances of astonishment. Led recessed ceiling lights are situated over the dining room offering up plenty of ambiance for romantic dinners. Hardwood shaker style cabinetry adorns the kitchen area and you can watch the latest movies and tv shows on a 39-inch LED TV with JBL 2.0 soundbar. A few of the fancier options include a 2-way refrigerator with ice maker, reclining theatre seats in place of the sofa and an in-motion t4 satellite which carries all major providers. The list is endless. It's no wonder the Insata 5 is the hottest selling class C RV on the market fusing the perfect pairing of luxury and power.
Coach House Platinum 3
Established in 1985, and family-owned. Coach House is known for its unique outer shell design and quality workmanship. The majority of RV bodies are joined together like a puzzle. Consisting of many pieces. Where those pieces join carry potential for leakage and defect. Coach House to the rescue. They've designed a hand laid one-piece fiberglass body. This outer armor reinforces the overall structure and prevents leaks and rattling on those beautifully paved roads…Where do our tax dollars go anyway? The result offers a stronger, more durable shell, which saves on fuel due to its aerodynamic shape. In regards to the chassis, we have a Ford Transit 3500. Powered by a 3.2 L I-5 power stroke turbo diesel. 350 HP and 350 ft-lbs of torque.
The Platinum 3 comes equipped with a 30 000 BTU furnace and 15 00 BTU ducted roof air conditioning with heat pump. The exterior is endowed with excellent bulk storage compartments. 110 v receptacles inside and out. The interior will satisfy the needs of any van or RV enthusiast. An MCD day/nightshade system offers privacy and soft light during the day and total darkness at night. Both floor plans offer twin beds and a rear 3-piece bath. The Platinum 3 comes with more standard features than any other RV in its class. The value is apparent. Everything from 2 LED TVs, Memory foam mattress, and in the bathroom a separate stand up shower and lavatory sink. The interior trim is draped in Cherry, maple or teak. It doesn't stop there; the standard safety features the Platinum boasts will keep you assured and safe. Everything from Rear protective skid wheels to heavy-duty trailer hitch. Working from home? Need not worry. Coach House has you covered. You'll be connected with HD TV antenna with Wi-Fi and cable TV jack. The evidence is conclusive. Coach House Platinum 3 is like no other in its class. With its sleek one-piece fiberglass body, exquisitely designed interior and a whole slew of standard safety and design feature the Platinum 3 is here to stay and is our go-to pick.
Coachmen Leprechaun 310 BH Ford
An industry veteran enters the ring. Since 1973 the Leprechaun class C has been chasing rainbows across the country. The benchmark for affordable, large compacity family campers. The model sleeps at 9! Over the years Coachmen has continually improved its engineering and safety features. Earning the trust and admiration of thousands of RV loving individuals and families alike. Your dollar will go along way with this purchase, the Leprechaun offers a backup camera, side awning and 50 gallons of freshwater off the lot! Aluminum framed doors with 2-inch sidewalls built with durable Azdel Superlite. Azdel is a composite material that's waterproof and mold resistant. It's 50% lighter than the average shell. It has a higher R-value, so if you're hoping for a quiet ride Azdel has you covered. Coachmen also have contracts with Ford and Chevy to build and modify all chassis in-house. This process maximizes quality control by cutting out any potential middleman.
The integrated entry step has allowed the Leprechaun to retain a lower living space, which allows a swivel cockpit seat selection. The attention to detail is obvious. The interior layout and floorplan options are designed with your family in mind. High gloss cherrywood cabinets will have you entertaining in style. Satin nickel cabinet hardware is another example of the fine details that Coachmen does so well. The ritzy jackknife sofa gives those afternoon naps a whole new meaning and Coachmen has you covered for Dinner, offering up a stylish booth dinette. Of course, safety is priority, the Leprechaun standard equipped with LP leak alarm, Smoke detector, carbon monoxide detector, and fire extinguisher. Oh yeah, the premium package offers an 80" residential Queen-sized bed. Stay connected with jacking tv antenna. Cozy up to the fireplace (model 240 FS). Stay connected with 24/7 roadside assistance with the purchase of a one-year warranty plan. Coachmen is an industry leader for a reason and now you know why the Leprechaun has stood the test of time and continues to deliver what the RV community needs and wants.
Renegade Verona 34VQB
We simply had to include this gem. The talk of the watercooler and campgrounds alike. Lavish, elegant and deluxe don't begin to describe what the Verona has to offer you. Renegade prides itself on continually delivering the functionality that families require. There's something for everyone in this RV. An entertainer's dream, the Verona enjoys an 18 cubic, ft Samsung French door refrigerator. With ice maker. Yes, you read that right. The interior is adorned with gorgeous maple hardwood cabinets and stainless-steel appliances. When its time to relax, sit back on your soft-touch leather recliners and pour yourself a cold beverage in from of your 34" LED TV.
Popular options available include stackable washer and dryer, theatre seating, Queen sized memory phone mattress and retractable powerhouse to wash the exterior of the vehicle. The main point is Renegade Verona is the top of its class. Upon examining the reason for this you'll see its simply safety and quality. The construction of the vehicle is impeccable. A 4 seasons machine, you will certainly stay warm with Verona's patented super sandwich floor and high-density foam insulation sidewalls and roof. The Armstrong plank flooring through-out is sure to give you that homely feel while you're out there in the open air!
We hope you enjoyed our look at some of the best Class C RV's on the market, we'll be publishing individual reviews of many of these vehicles in the coming weeks & months so stay tuned! (At some point this page will also be updated to feature a list of said reviews!)
JUSTVANLIFE
Discover How To Use The Power of Authority Marketing To Make You Money While You Adventure!

No Experience, Existing Product Or Technical Skills Are Required
DO YOU BELIEVE ADVENTURES ARE WORTH CHASING?