Discover How To Use The Power of Authority Marketing To Make You Money While You Adventure!

No Experience, Existing Product Or Technical Skills Are Required
DO YOU BELIEVE ADVENTURES ARE WORTH CHASING?
We're an affiliate.
We hope you love the products/services we recommend on Just Van Life! So you know, there is the possibility we will collect a commission should you make a purchase via any of our links. This will in no way affect the purchase price. Thank you for your support, we really appreciate it!
California is full of beautiful scenery. Of course, it is best known for its gorgeous beaches. However, California is also known for its amazing lake camping destinations.
This article will give you lots of information on the most beautiful lake camping spots in California. With this article to help you, you will certainly find a campground that best suits your needs!
Best Lake Campgrounds In California
Big Bear Lake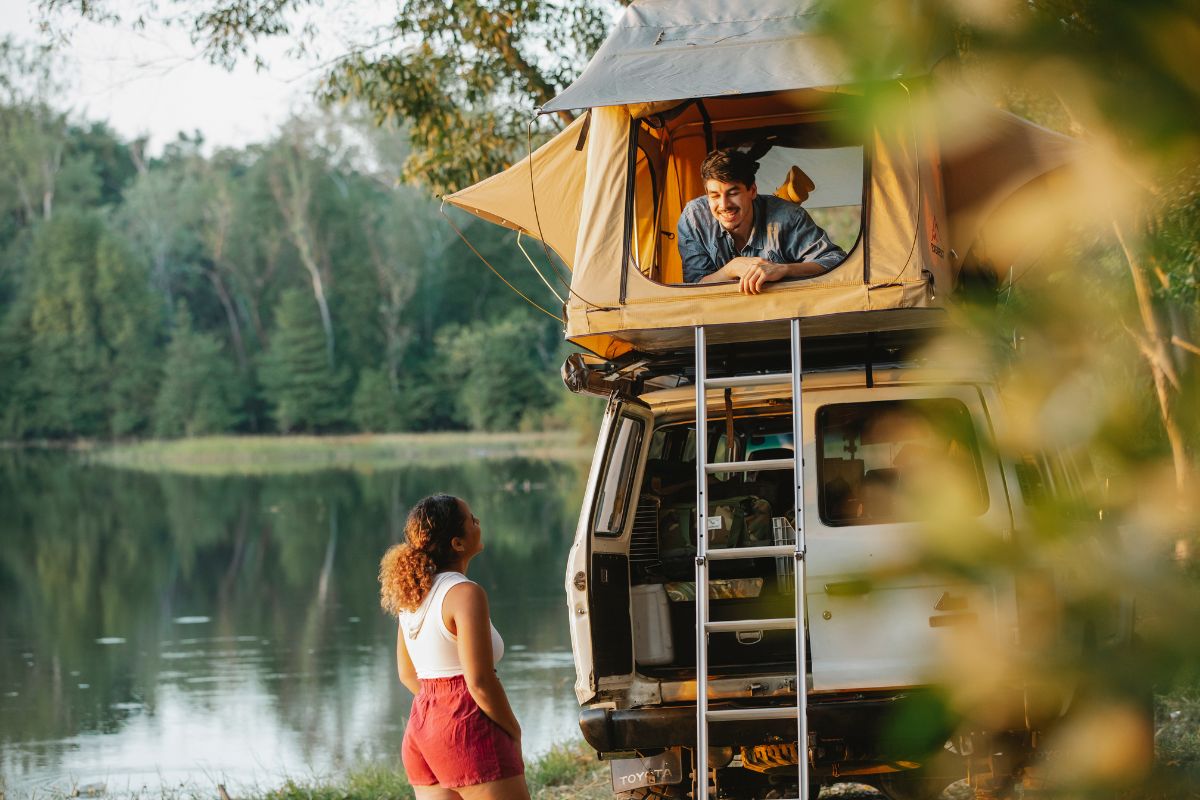 Big Bear lake is one of the best lake campgrounds in California. It is located on Big Bear Lake, and it is near the San Bernardino National Forest.
On Big Bear Lake, you can take part in lots of fantastic activities, making it one of the best sites for snowboarding, skiing, and fishing. As well as this, there are lots of available hikes to take part in. You can mountain bike in the area, too.
There are a few different sites for tents and RVs on this lake.
The Serrano Campground is very close to the lake. This site offers 109 pitches for tents and RVs. You can also have access to electricity on certain sites on this campground.
This Campground has sites for both tents and RVs. It is an excellent campground for the family as it has great amenities.
This is a much smaller site, featuring only 19 sites. Each site contains a picnic table and a fire ring on it. There are toilets available on this campground, but there are no showers or plumbing available. You will need to ensure that you have your water with you.
June Lake Camping
June Lake is another great place to go camping in California. There are many different campgrounds available, and they are all located near the Inyo National Forest.
Depending on the season, the activities that you can take part in in this area will change. In the winter, you can access the ski and snowboard resort near the lake. There are ski chairlifts and options to rent equipment nearby!
In the summer, you can enjoy some water sports on the lake. Swimming, sailing, canoeing, and hiking are all available.
You can also find lots of shopping, restaurants, and breweries in the area to make your holiday even more enjoyable!
Oh Ridge campground is a great place to stay near June Lake. It is located above June Lake, and there are 164 different sites to stay on. From this campground, you will have access to amazing views of the peaks of the Eastern Sierra Nevada mountains.
These campsites can accommodate tents, RVs, and trailers. The sites are large and spread out, so you will have plenty of space.
The amenities in this campground are great, as each site has a table, a grill, and a fire ring, as well as a storage locker. The site has drinking water, toilets, and a picnic area.
This is a small site that is located within walking distance of the lake. This makes it a great base to explore from. There is wifi on the site, which is available to use at a fee.
This site provides a full-service RV park. It is located among the mountains and you can enjoy the beauty of the area from this site. There are also lodging accommodations available on this site.
Lake Isabella Camping
Lake Isabella is another great place for you to visit in California. It is a beautiful lake that is near the Sequoia National Forest.
This area is one of California's best-kept secrets, as it is not very popular. In this area, you can enjoy lots of different outdoor activities, including fishing, hiking, camping, skiing, and windsurfing.
This location is home to various celebrations, including the Whiskey Flat Days and the Isabella Lake Fishing Derby.
This is a great campground that has plenty of room for campers. It has availability for 78 different family units.
This site has several great amenities, including toilets, showers, fire rings, and grills. There is no water access on-site, so you will have to make sure that you bring your own!
This is another great campground in the area. It is a popular site that doesn't take bookings, meaning you just have to show up and hope that you will be able to get a space.
This campground is great because it has toilets, no limit to the size of your RV, and options to open camp. This is a great place to stay if you want to see Lake Isabella.
This campground is great, and it can be found on the Western side of the lake. It is very popular with families because of the playground, toilets, showers, and water that are available onsite.
This campground is only open from April to September, and it is very popular. Ensure you book this campground in advance!
This site is great for RV owners, as there is no limit on the length of your RV. You can find lots of great amenities on-site, including showers, toilets, and an amphitheater.
Mammoth Lake
Mammoth Lake is another great place to camp in the area. It is located in the Mammoth Lake National Park, near the Inyo National Forest. This national park is home to a large cave system, and it has lots of different cave wildlife.
This cave was discovered 4000 years ago, but, despite lots of research, the explorers are yet to find an end to it.
This campground is located in the Sierra Nevada Mountains near Mammoth Lakes. It is a great location, as the campground is surrounded by a national forest that provides lots of great opportunities for the family.
There are plenty of outdoor activities available to those camping in the area, including hiking, fishing, and picnicking! This site is great for families of any age, as there are plenty of different activities for different ages available.
The Twin Lakes Campground is a great site to stay on. It offers amazing scenery and lots of fantastic activities. You can use this lake as a base for boating, fishing, and hiking. You can also view the waterfalls from this area. This site offers proximity to the town's amenities.
Lake Nacimiento
Lake Nacimiento is located 30 miles away from Paso Robles, California. It is a great place to go for those who enjoy water sports, fishing, and other water-based activities!
You can also swim in this lake in the Summer months. Lake Nacimiento requires you to pay an entrance fee, which allows you to use lots of different things. You can use the basketball court, a volleyball court, and a swimming pool.
If you are looking for water access, this is a great site for you. It is also near the marina and restaurants. This site has restrooms and showers available, and over 90 sites. When you are camping at this site, you are within walking distance of the pool, seasonal movie theater, and other sites.
If you camp in the upper part of the ground, you will have great views. You will also have access to water from more spaces.
This is a great campground, and many people choose it as their first choice. Most of the spaces have a fantastic view of the lake, and the amenities on site are great.
You can access fresh water on site, and there are chemical toilets available. This is a great site if you want to be away from the action, as it is very quiet and remote.
This is a great campground for tent camping groups. No large vehicles are allowed on site because it has very narrow roads and parking areas. Each site contains a table and BBQs for you to use, and the campground has toilets and showers on the site.
This site has fantastic views and there is plenty of shade on site. This site is perfect for mini-groups of campers, due to the way that it is set up.
You can't book a place on this campsite, so it works on a first-come, first-served basis. If you want to secure a place on the site, choose a quiet time to arrive, and ensure that it is before most of the tourists.
Final Thoughts
There are lots of great places to camp along a lake in California. This article has provided you with many options for campgrounds along a lake, so you're bound to find one on this list that suits you!
Whether you're looking for access to great watersports, or you're looking for certain amenities, there are plenty of options above!
Discover How To Use The Power of Authority Marketing To Make You Money While You Adventure!

No Experience, Existing Product Or Technical Skills Are Required
DO YOU BELIEVE ADVENTURES ARE WORTH CHASING?