Discover How To Use The Power of Authority Marketing To Make You Money While You Adventure!

No Experience, Existing Product Or Technical Skills Are Required
DO YOU BELIEVE ADVENTURES ARE WORTH CHASING?
We're an affiliate.
We hope you love the products/services we recommend on Just Van Life! So you know, there is the possibility we will collect a commission should you make a purchase via any of our links. This will in no way affect the purchase price. Thank you for your support, we really appreciate it!
Wisconsin is known for its beautiful rolling hills which are all the result of the Ice Age effectively skipping this region of the country more than 12,000 years in the past.
This means that while Wisconsin has anything but flat terrain, it is still a super popular location for camping, and a camping trip here will certainly be an unforgettable experience.
This region is bordered by some amazing scenery like two of the Great Lakes being both Lake Michigan and Lake Superior, both of which being close some amazing camping spots themselves.
The state also touches the Mississippi River as well. Because of this, finding a stunning waterfront camping spot in Wisconsin will not be a difficult task.
There is also a good chance that if you are camping in Wisconsin that you will be camping in a shaded forested pocket which is very common throughout the state.
There are plenty of different types of camping spots around the state, from state parks to some privately owned locations, there are loads to choose from.
But with so much choice, it can be quite overwhelming, because of this, we have put this list together to help you work through some of the best choices of camping spots in Wisconsin.
So, if you want to camp in Wisconsin, but you are unsure where to go, just keep reading!
Best Spots For Camping In Wisconsin
We have included a massive variety of options to choose from, so do not worry about not finding something to pick. All of these choices vary quite widely, so make sure to closely read our descriptions so you have an accurate impression of our picks.
Rock Island State Park
To get to this state park is an amazing journey in itself and definitely makes this trip worth going. You will have to go through the peninsula of Door County and go past both Lake Michigan as well as Green Bay.
After this you will have to take a ferry to Washington Island and after this a car-free ferry to the island this campsite is located on.
This is a beautiful rustic location, so you will want to pack light to carry all your equipment and 40 sites are available. There is also a fire ring as well as picnic tables. There are also some stone buildings to visit as well as the Pottawatomie Lighthouse. 
If you want to do some touristy activities there are some gift shops found on Washington Island's lavender farms which will sell some great presents to give if you want some to take back.
Peninsula State Park
This is an astounding state park taking up 3776 acres which all hug around Green Bay making for some amazing views.
This is a much more spacious option than our previous choices having 468 campsites available as well as being quite close to civilization making this a much less adventurous option.
There is also an amazing 8 miles of shoreline to explore as well as a beautiful lighthouse to admire. For entertainment there is even a theater company local which give some amazing performances.
We recommend visiting the Blue Horse Beach Cafe which serves an amazing breakfast all day which you can not miss!
Devil's Lake State Park
This is known mostly by rock climbers for being one of the best options to stay at if you are an enthusiast of this activity.
The quartzite bluffs go up an amazing 500 feet and there is also a lake taking up a massive 360 acres which is great for paddleboarding or swimming depending on preference.
If you are a fan of hiking this spot also has over 30 miles of trails, and you will not struggle to find a spot to stay with 423 sites available over the massive 9217 acres of the park.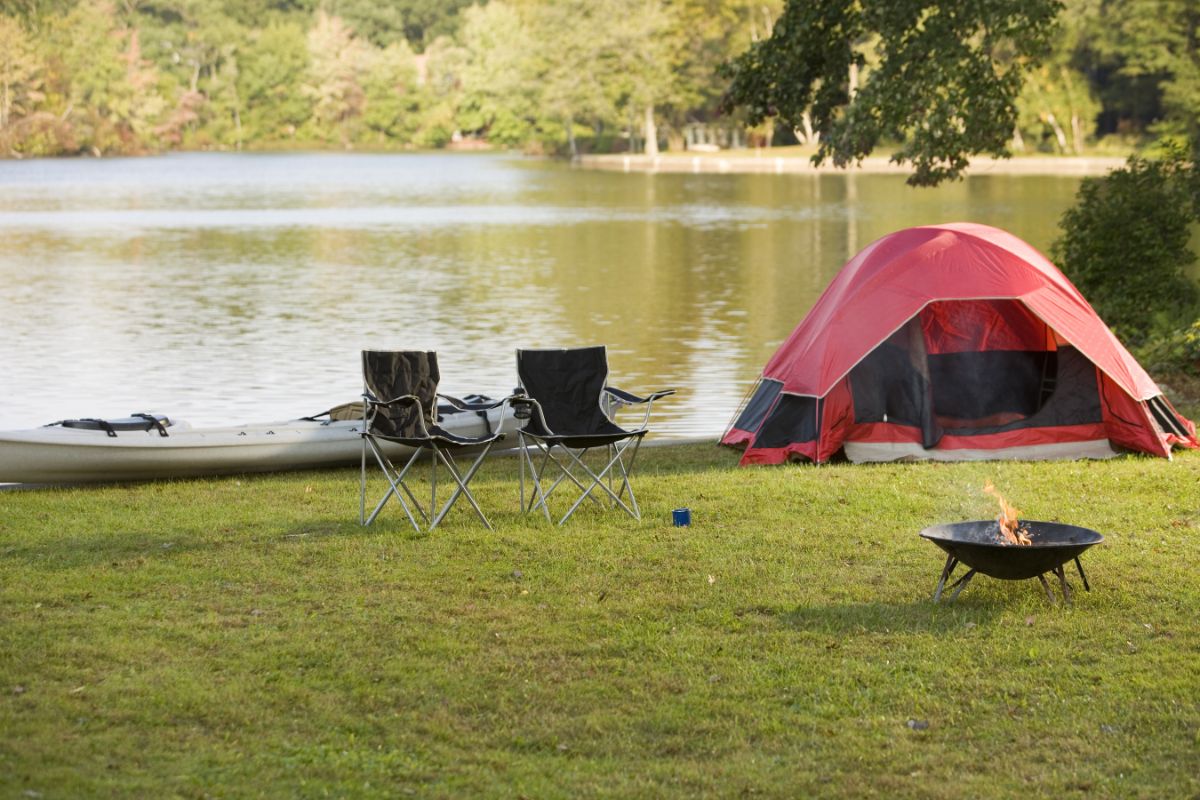 Camp Kettlewood
This camping ground gives you the option for bunking in a 1957 Holly or a 1977 Airstream for some unique options. The site is close to the Southern section of the Kettle Moraine Forest which was formerly a Girl Scouts campsite.
There are some amazing options for glamping available if you want to try this more luxurious option. These spots include options which can sleep up to 8 people and all include mattresses.
But, of course you still have the option of traditional camping in the 'Prairie' for a more rustic experience. This spot is near the Rushing Waters Fisheries which is an amazing spot for trying some delicious local smoked salmon.
Wyalusing State Park
This spot is close to both the Mississippi and Wisconsin Rivers giving it some amazing views with amazing bluffs as well as options for some fun fishing or unique birdwatching.
This spot has 114 sites available and there are even dorms if you want something a little more organized which if you book far enough in advance can hold up to 108 people.
This spot is also close to the Sunrise Orchards which are only open between August and December which is located within Gay Mills where you can try some delicious Honeycrisp apples, or even better, apple-cider donuts.
Cooper Falls State Park
If you love seeing amazing natural sights when you are camping, then look no further than the waterfalls which are located at Copper Falls.
You can find this spot located just by the Bad River Reservation and it is an area spanning 3068 acres over part of Bad River. This spot has also been on the register of Historic Places since 2005, so if you want to indulge in local culture this is a great choice.
There is so much to see here with the trout fishing, hiking, and even more!
Summary
Hopefully this list has given you an accurate impression of all the amazing spots available to camp at in Wisconsin.
While we covered some of the best choices available, if you have not found something here which interests you, there are some other amazing options available, so do not feel too limited by the options shown here!
Discover How To Use The Power of Authority Marketing To Make You Money While You Adventure!

No Experience, Existing Product Or Technical Skills Are Required
DO YOU BELIEVE ADVENTURES ARE WORTH CHASING?