Discover How To Use The Power of Authority Marketing To Make You Money While You Adventure!

No Experience, Existing Product Or Technical Skills Are Required
DO YOU BELIEVE ADVENTURES ARE WORTH CHASING?
We're an affiliate.
We hope you love the products/services we recommend on Just Van Life! So you know, there is the possibility we will collect a commission should you make a purchase via any of our links. This will in no way affect the purchase price. Thank you for your support, we really appreciate it!
Part of the reason why Arkansas is so popular for camping is because of the astounding natural beauty which is present here! There is so much to do to indulge yourself in the nature of Arkansas, but the best way to do this is through camping.
Arkansas is known as the natural state and this is because of all of the rivers, lakes, as well as state and national parks present.
Because of this, it is not a stretch to say that Arkansas is one of the best spots to camp in the whole of the country. This is made even more true with the almost year-round moderate temperatures meaning that there are not strict camping seasons where the conditions will be viable.
If you want to see some of the best of nature in the US, then coming to Arkansas is a must, with the beautiful lakes, the lush habitats, and the cliffs and waterfalls all contributing to some amazing conditions. 
As well as camping, there are also plenty of other activities available to do in the state which are perfect to do while on a camping trip, for example, rock climbing, golfing, ATV riding, horse riding, hang gliding, fishing, and there is even diamond hunting available too.
Because of all there is to do in Arkansas, and with how popular camping is here, there is a massive array of camping spots available to go to, and this amount of choice can be quite overwhelming.
Because of this we have narrowed it down to just a few of the best spots so you can choose which suits you best.
So, if you want to go camping in Arkansas, but you do not know where you want to do this, keep reading!
Best Camping Spots In Arkansas
We have chosen a wide variety of options for camping spots, so make sure to read through them carefully so you can get an accurate impression of what each camping spot is about!
Petit Jean State Park
This spot is by the Petit Jean Mountain which is famous for its amazing natural beauty and the ancient geology present.
This state park will only take about an hour and a half to get to from Little Rock, so you do not have to worry about it being too far out of the way.
At Petit Jean there are 125 sites available for camping, as well as 26 pull-thrus which will give you both electricity and water hookups. If you want, there is also the option for some group facilitiesa available as well.
There is even the option to rent out camping equipment which is something rarely offered. If you want a great spot for a family trip, this is one of the bets options with plenty of fun activities near by as well!
Lake Ouachita State Park
This is a massive state park and within it you will find over 1000 different campsites as well as 200 different islands.
One of our favorite spots for camping in this park is Denby Point, where you will find 67 sites, and 58 of these will have the option for electrical hookups. This is also going to be one of the best spots for fishing as well as getting great views of the wildlife.
This spot will be found on the southern side of the lake. This lake has more than 600 miles of shoreline for you to explore so, if you love lakeside camping this is a great option!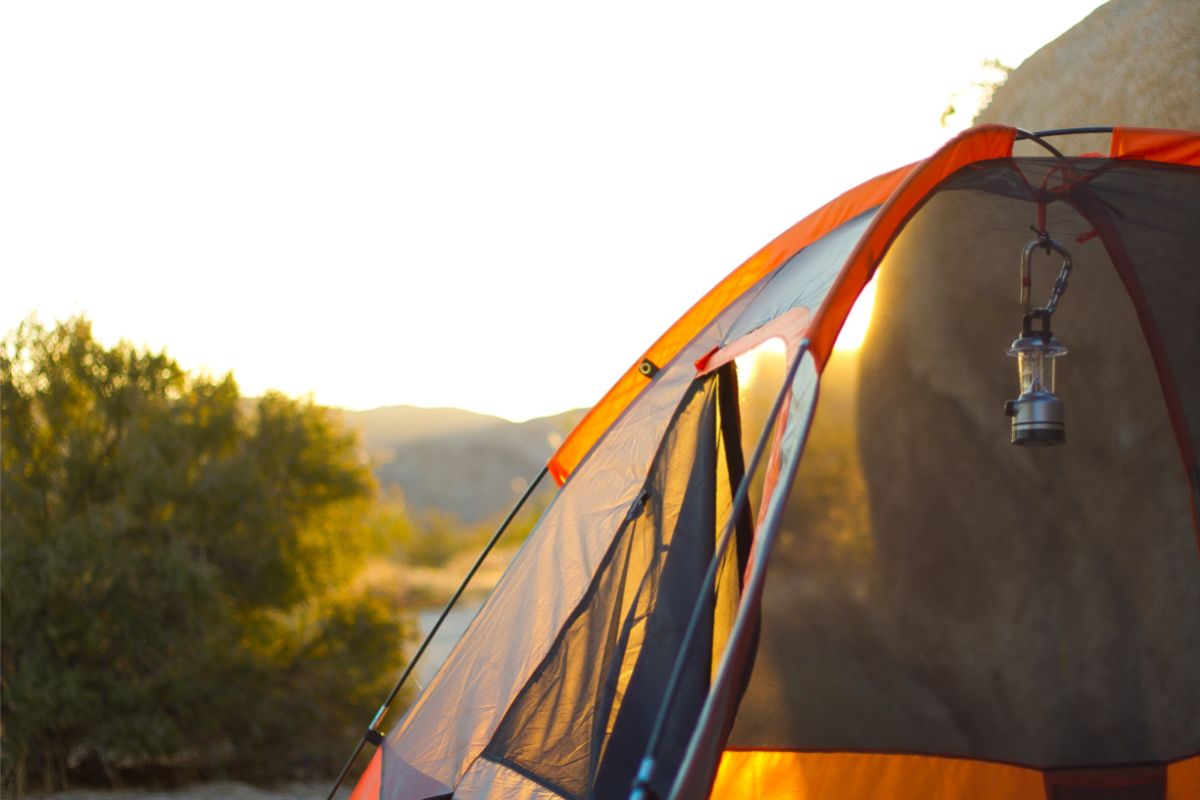 DeGray Lake Resort State Park
This state park is unique for being the only state park in Arkansas which is also a resort park. This location will be found close to Bismarck which is close to the Ouachita Mountains.
It is by the DeGray Lake which is a massive 13,800 acres and the site offers 113 different sites for you to choose from, some of which with water and electrical hookups as well.
There is a great variety of options for where to camp either on the shore or in the woods, and if you want, you also have the option to rent a yurt.
This spot, as you can imagine, is amazing for both water sports and fishing, as well as golf with an 18 hole course located here too. There are also plenty of trails for hiking and biking available as well!
Mount Magazine State Park
If you have not heard of it, Mount Magazine soars 2753 feet up above sea level and it is known for being the highest spot in Arkansas. So, you can find some amazing hikes around this spot, as well as hang gliding if you want to try something more adventurous.
This is also an amazing spot for wildlife watching with the biodiversity here being astounding. It is also worth noting that this spot also has one of the highest densities of black bears so make sure to be careful when visiting.
You will find this mountain about 2 hours from Little Rock, so it is not too difficult to get to!
Buffalo National River Park
If you are unaware, Buffalo National River Park is under the National Park Service. This is a smaller spot with only 14 sites available, all of which range in style with some being more rustic while others have electrical hookups as well.
One of the most fun things to try if you manage to get a spot here is to take part in the float trip along Buffalo River. The river runs over 100 miles long and you can get float equipment to rent to enjoy the river at your own pace!
Summary
Hopefully this list has given you an accurate impression of some of the best spots for camping in Arkansas.
Even if you could not find a spot here which suits your taste, there are still plenty more options for camping in Arkansas since this is one of the most popular states for enjoying the outdoors!
Discover How To Use The Power of Authority Marketing To Make You Money While You Adventure!

No Experience, Existing Product Or Technical Skills Are Required
DO YOU BELIEVE ADVENTURES ARE WORTH CHASING?