Discover How To Use The Power of Authority Marketing To Make You Money While You Adventure!

No Experience, Existing Product Or Technical Skills Are Required
DO YOU BELIEVE ADVENTURES ARE WORTH CHASING?
We're an affiliate.
We hope you love the products/services we recommend on Just Van Life! So you know, there is the possibility we will collect a commission should you make a purchase via any of our links. This will in no way affect the purchase price. Thank you for your support, we really appreciate it!
When it comes to the "Mighty 5" parks in Utah, Zion National Park is considered to be one of the state's premier camping destinations.
As a result of the park's relatively low elevation, temperatures from the fall through the spring are typically higher here than they are at other parks such as Bryce Canyon and Capitol Reef.
The area closest to the South Gate is by far the most popular spot for camping. The two largest campgrounds in Zion National Park are located in this region, which is also the area that holds so,e of the park's best features, attractions, and stunning landscapes.
A few RV sites can be found in the town of Springdale, which is located just outside the entrance gate. Just outside the gate, and farther down the road, there is a charming campground at the picturesque Coral Pink Sand Dunes State Park.
Begin your camping adventure by checking out this list of the top 6 very best RV and camping sites that you should try at Zion National Park
A Few Things To Note First
Campers who are coming with recreational vehicles (RVs) should be advised that to drive through the tunnel on the Zion-Mount Carmel Highway, they will be required to pay a small price and receive a permit.
Because the tunnel does not have sufficient space for RVs to pass through while other vehicles are traveling through it, traffic in the opposite direction must be stopped whenever a vehicle that is over a certain size enters the tunnel, which is why a fee was implemented.
It's also essential to keep in mind that recreational vehicles are not allowed to pass through the tunnel during the night or before 8 in the morning. On the NPS website, specific transit times are listed for each route.
Best Campgrounds In Zion National Park
South Campground is without a doubt the most desirable location for camping in Zion National Park. Large trees with a dense canopy of leaves offer welcome relief from the sun's rays.
Large campsites are separated by a decent distance from one another, so you'll be able to enjoy being in one of the most breathtaking areas of the Southwestern United States in peace.
This site is located near the park's south entrance, just outside of Springdale. If you camp within the park's boundaries, you won't have to deal with the morning rush to get through the entrance gate and into the park itself.
This campground also gives you the benefit of staying within the park while also being close enough to town that you can run in and grab anything you may have forgotten
This campground begins its season on March 1 and stays open until late November, though making reservations in advance is strongly encouraged. There is a 14-day window in which reservations can be made before arrival.
Although there are no connections available at the campground, there is a dump station and drinking water available. The facilities include toilets with running water.
There are 117 sites available in the South Campground, and each site may accommodate a maximum of two tents or one camper/RV, and up to six people. There are four group sites available, and each one may accommodate up to 15 people.
This RV park is hard to beat when it comes to convenience because it's located directly outside the park's south gate in Springdale. Additionally, the Zion National Park Visitor Center is within walking distance of this campsite.
The campground is equipped with a large space for recreational vehicles as well as a section that is set aside for tents. The stop for the park shuttle is directly in front of the main entrance.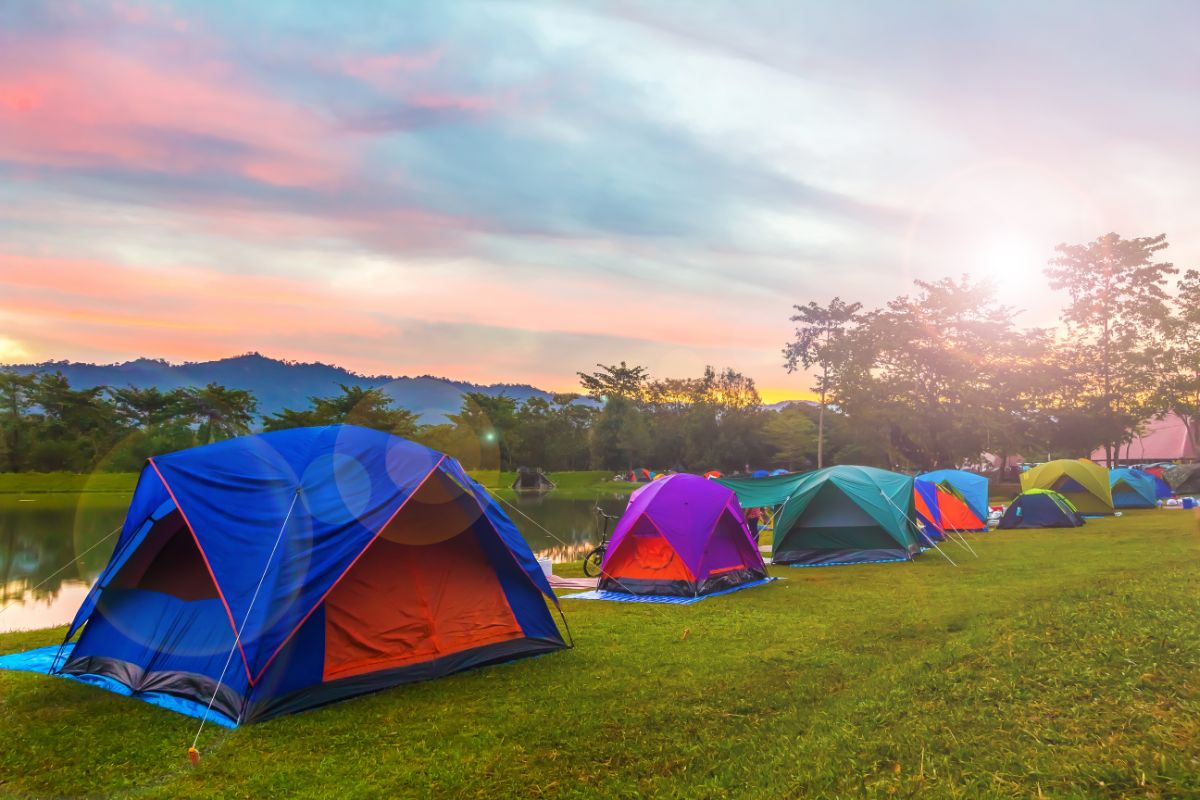 Large trees provide some shade, and the scenery is breathtaking. A coin-operated laundromat, showers, and a heated pool are all available on-site.
You can get some information on swimming and river tubing, in addition to other activities in the area, from the front desk of the visitor center.
Online booking is available for this campsite, so be sure to book in advance to get your spot. On this campsite, pets are allowed in the portion reserved for RVs but are not welcome in the section reserved for tents.
Watchman Campground is another beautiful and convenient option in the area, and it's not far from South Campground. There are fewer huge trees, which means there is less shelter, and most of the campsites are in full sun, so you should try to bring your own shade.
This lack of cover has a benefit though, as you'll be able to see the stunning views of the mountains that are in the surrounding area.
This camping spot is open all through the year and takes advance bookings so you can plan well ahead. Reserving a site can be done up to six months in advance, and if you want to guarantee yourself a spot, you should do so as early as possible.
Approximately 95 of the campsites have electric hookups, 69 of the campsites are designated exclusively for tents, and 18 of the tent sites have walk-in access. In addition, six group locations can host anything from nine to forty individuals.
The Zion River Resort is a well-liked RV park because of its well-kept grounds, beautiful shady sites, asphalt parking pads, fire pits, and grassy areas.
This resort is around twenty minutes away from Zion National Park and can be found in the town of Virgin, which is situated between the towns of Hurricane and Springdale.
This RV park provides everything you could possibly require, including full hookups, pull-through sites, tent sites, a pool, WiFi, showers, restrooms, and designated spaces for your pets. If you don't feel like driving all the way to Zion, the resort has shuttles available for a small cost.
The campground at Coral Pink Sand Dunes is one of the nicest you'll ever visit. This park is regarded as one of the finest examples of Utah's state parks, and the sand dunes alone are reason enough to make the journey there.
This site is around a 40-minute drive from the eastern gate of Zion National Park so if you still want to visit this park be prepared to travel.
Nonetheless, if you are seeking a place to camp on the eastern side of the park, you consider staying here because it's one of the most beautiful spots in the area.
All of the campsites are arranged in a single loop, and they are surrounded by juniper and pinon trees, so guests will have plenty of privacy. Each of the 34 sites has a pull-through parking space, a picnic table, and a grill at its disposal.
It's also important to point out that this location has a beautiful group site that is equipped with a contemporary BBQ and has the capacity to accommodate between 25 and 50 people.
You are able to make a reservation for a site here up to four months in advance. Because of the park's elevation of 6,000 feet, visitors should come prepared for cool evenings even during the summer.
In addition to that, although the campground is somewhat shielded from the wind, it may get rather windy here.
The Lava Point Campground is the most isolated and smallest of all the campgrounds in Zion National Park.
This site is almost 4,000 feet higher than South Campground as it's situated on Kolob Plateau at an elevation of 7,890 feet. The temperatures are a good deal lower here in the mountains so be prepared to wrap up warm!
There are six backwoods campsites at Lava Point, which are scattered among a mixture of aspen and pine trees. It will take you around an hour and a half to get here from the south entrance, which is located back through the town of Virgin.
The campground operates on a first-come, first-served basis, and RVs longer than 19 feet are not allowed to stay there.
There are picnic tables available, but there is no running water. It's best to have an idea of the road conditions before setting off on your journey to the campground.
If all of the spots in this area are taken, you might want to consider going further on to Kolob Reservoir. Along the water's edge, impromptu camping is permitted and does not cost anything.
Summary
Camping in Zion National Park is a great way to experience the park. If you want to have an amazing camping experience at Zion National Park, then you should pay a visit to some of the campsites above.
Remember that if you're coming in an RV you can only do so at certain times of day, you have to pay a fee, and you should perhaps call ahead so park staff can prepare to let you through.
Discover How To Use The Power of Authority Marketing To Make You Money While You Adventure!

No Experience, Existing Product Or Technical Skills Are Required
DO YOU BELIEVE ADVENTURES ARE WORTH CHASING?