Discover How To Use The Power of Authority Marketing To Make You Money While You Adventure!

No Experience, Existing Product Or Technical Skills Are Required
DO YOU BELIEVE ADVENTURES ARE WORTH CHASING?
We're an affiliate.
We hope you love the products/services we recommend on Just Van Life! So you know, there is the possibility we will collect a commission should you make a purchase via any of our links. This will in no way affect the purchase price. Thank you for your support, we really appreciate it!
South Carolina is the perfect place to get back to nature and enjoy a camping trip. Whether you want to relax on the water's edge with a good book or do something more adventurous, there is something to suit everyone.
We have put together this list of the best campgrounds in South Carolina to help you find the perfect spot with everything that you need. Keep reading to start planning your next camping trip.
This modest but beautiful state park is 318 acres in size. Within the park is Lake Russell, a great spot for fishing and swimming.
There are three different camping grounds on the shoreline of the lake, two of which have electrical hookups and drinking water. There is enough space for RVs and tents. Whichever campground you choose, you will have the use of restrooms and showers.
You can reserve spaces on the campground online or on the telephone. Pets are allowed in most areas around the campground, so you can bring your furry friend on the adventure with you.
Anglers will be glad to know that you can catch bass, crappie, bream, walleye, stripers, and catfish in Lake Russell. If you plan on going fishing during your stay, make sure you get a South Carolina fishing license.
The lake benefits from a boat ramp and a lit marina with 36 boat slips which are available to rent.
The state park has some great facilities like tennis courts, picnic shelters, a playground, a basketball court and even access to wifi. There are also some great spots for bird watching around the park.
The Andrew Jackson State Park is a popular day trip for local residents, but is also an ideal place for a camping trip. The 360 acre park has 25 spaces for campers, each with water and electrical hook ups.
The sites have a gravel covering on the floor and are big enough for RVs but also suitable for tents. The campground has restrooms and hot showers, so you can enjoy a few luxuries during your stay.
There is also a primitive camping area for groups of up to 50 people. This area is used for organized camping events.
The area is half a mile from the restrooms and has its own picnic tables and fire rings. There is a dump station for all guests to use, and pets are allowed in most outdoor areas.
There is an 18 acre lake in the park which is great for boat fishing or even fishing off the pier. The bream are catch and release, and you can also expect to catch bass, catfish and crappie.
If you don't have your own boat you can rent one, so everyone has the opportunity to get out onto the water.
There are great trails in the park for hiking and biking, as well as picnic shelters for taking in the beautiful views. Keep an eye out for birds, as there are plenty in the park. There is also a playground for children to use.
This 640 acre state park includes a section of Lake Jocassee, a large spring fed reservoir with crisp and clean water from the Appalachian Mountains.
It is a very popular place to visit due to the beautiful scenery and the range of activities on offer. You can get out into the lake for canoeing, kayaking, and boating.
There are boats, canoes and kayaks available for rental. You can also swim in the lake, but there is no lifeguard so you will need to be careful. Another great water activity you can do is scuba diving, as the water is impressively clear.
Lake Jocassee is very popular with anglers who come for the various types of bass and trout as well as other species of fish.
You can use one of the four boat ramps to get out onto the water. There are also private lake tours available if you want to see the park from the water.
There is a lovely hiking trail through the park, with lots of places for bird watching along the way. The park is also very popular with geocachers, and there are several geocachers located within the park.
There are two sheltered picnic areas that are available on a first come first serve basis. There is also a playground, and a shop that sells gifts, limited groceries, and fire wood. Some areas of the park have wifi access.
There are two separate campgrounds within the park that are both located close to the shoreline of the lake. There are restrooms and hot showers available for guests to use.
There are spots for RV campers with electrical and water hookups. There is also a designated tent area. Please check the rules for how many vehicles are allowed per camping spot.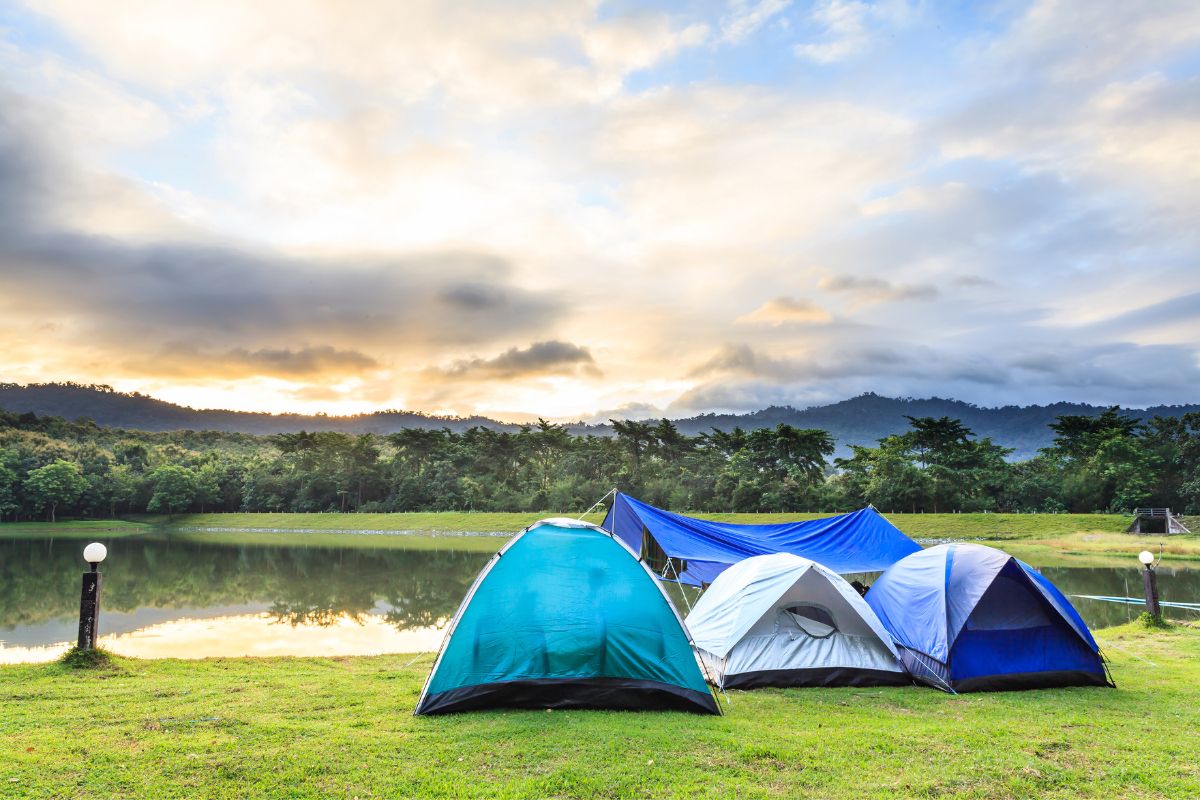 James Island County Park is 643 acres of space that is ideal for family camping trips. The camping ground has 124 spaces and 10 additional cottages that are available for rental.
There is so much to do in the park that you will want to come back again. You can go fishing or crabbing in the tidal creeks, or take a stroll through one of the open meadows. If you love hiking you can hit the trails – the paved paths are also great for biking and skating.
James Island County Park has its own dog park, an 18 hole disc golf course, a climbing wall, a splash zone water park, a playground and a sand volleyball court. There are also lots of great picnic areas and sheltered areas, some with grills.
You don't have to bring lots of equipment with you to have fun during your camping trip. Within the park you can rent bikes, kayaks, stand up paddle boards and pedal boats to help you explore the park and have fun.
Hunting Island is a tropical barrier island with 5000 acres of land. The state park located on the island is the most popular state park in South Carolina with more than a million visitors a year, but don't let that put you off. There are so many reasons to visit this park and plan a camping trip here.
The park consists of five miles of pristine beaches, as well as mashland, forest, an ocean inlet and a saltwater lagoon.
As you can expect from this variety of habitat, there is plenty of wildlife to see – both land and animals and marine wildlife. You can book a dolphin watching cruise if you want to get a better look at the marine wildlife.
If you love history then you will definitely want to check out the Hunting Island Lighthouse. It was first built in 1859 but had to be re-built in 1875 after it was destroyed during the civil war.
It then had to be relocated in 1889 due to beach erosion, so the lighthouse was moved over a mile inland to keep it protected.
You can swim in the ocean off the island, but there are no lifeguards on duty so this is done at your own risk. Alternatively, the lagoon is a great spot for water activities like fishing and kayaking.
You can also fish in Johnson Creek or off the pier into the Fripp ocean inlet. Some people even choose to go surf fishing on the beach.
Other activities you can try out during your trip are hiking along the 8 mile trail, or exploring it on a bike. There are three shorter trails if you fancy a shorter walk – perfect for spotting wildlife and immersing yourself in nature.
If you have the right permit you can also have equestrian access to the beach for horse riding. The island is popular with bird watchers and even geocachers – you certainly won't run out of things to do!
The park has a playground for children and lots of family-friendly picnic spots including some that are under shelter.
There is also a gift shop that sells snacks, drinks, souvenirs and groceries. The lighthouse has its own gift shop that is open seasonally.
There are 100 camping spaces in the park across two separate campgrounds. Each campground has drinking water and restrooms, laundry facilities and electrical hookups.
There is also a designated walk-in tent area for people who aren't RVs or prefer a more natural style of camping. There is no power or water to this area, but there are tent pads, picnic tables and fire rings.
There is also a separate primitive camping area that is only available for large group bookings.
Summary
This list of the top 5 campgrounds in South Carolina is a great place to start when it comes to planning your next camping trip. Whether you want a range of water activities, the best hiking trails, or some convenient facilities, you will be able to find the ideal option.
Discover How To Use The Power of Authority Marketing To Make You Money While You Adventure!

No Experience, Existing Product Or Technical Skills Are Required
DO YOU BELIEVE ADVENTURES ARE WORTH CHASING?