Discover How To Use The Power of Authority Marketing To Make You Money While You Adventure!

No Experience, Existing Product Or Technical Skills Are Required
DO YOU BELIEVE ADVENTURES ARE WORTH CHASING?
We're an affiliate.
We hope you love the products/services we recommend on Just Van Life! So you know, there is the possibility we will collect a commission should you make a purchase via any of our links. This will in no way affect the purchase price. Thank you for your support, we really appreciate it!
With many people enjoying the great outdoors, one of the very best places to go camping in all of the United States is Lake Michigan. On the shores of this lake are beautiful sandy beaches that could rival any ocean view, and you and your family can make memories on these dunes that you'll treasure forever.
Lake Michigan is the only one of the five Great Lakes that is found only in the United States. The other 4 cross into other territories like Canada and Mexico.
Both the eastern and northern coastlines of Lake Michigan are bordered by the state of Michigan. The western coastline of Lake Michigan is formed by Illinois and Wisconsin, with Indiana serving as the lake's southernmost point.
Because Lake Michigan is so large, there are plenty of campsites to choose from if you want to spend a weekend surrounded by nature. Whether you want to stay in a state park, a campsite, or an RV park, here are the very best places to camp around Lake Michigan.
State Park Campsites
Camping in one of the state parks that surround Lake Michigan is among the most enjoyable ways to take in the region's breathtaking scenery. Because there are so many options for campgrounds, we thought it would be helpful to highlight some of the best ones below.
Don't pass up the opportunity to bring a piece of Petoskey history back home with you! When you stay in one of the campsites in Petoskey State Park, you'll have access to an entire mile of beach on Lake Michigan, but the best part is that you may unearth a one-of-a-kind piece of fossilized coral!
This state park has two separate campgrounds, each of which is equipped with a dump station. Consider staying at the Petoskey-Dunes campsite if you have a small RV or are interested in pitching a tent.
This shady campground offers 20 and 30-amp service to its guests at each of its 80 modest campsites. Even though the campsite is not right on the shore, there is a little path that leads out to the beach.
Petoskey-Tannery Creek is a second camping area. On the shore of Lake Michigan's Little Traverse Bay, you'll discover this campground that has 100 spacious campsites.
Each of the sites is equipped with both 20 and 30-amp service and can handle recreational vehicles that are up to 50 feet in length. In addition, there are a few sites that are equipped with 50 amp service.
The Grand Haven State Park may be found in the town of Grand Haven, which is a popular vacation destination.
It's only a short drive away from the various businesses and restaurants in the area, as it's situated exactly on the shore of west Michigan.
Camping in this area would be quite enjoyable for you if you want to be close to the sandy beaches of the lake. The beach encompasses all of this park's 48 acres.
It doesn't matter which of the 174 campsites in this park you choose, you'll always be within walking distance of the water and have a clear view of Grand Haven's famous red lighthouse.
Grand Haven State Park has rustic campsites that cost around $20 per night and are perfect for those who want to camp on Lake Michigan.
Campers who require 50 amp service will pay $37 per night in addition to the nightly rate of $33 for 20 and 30 amp service. In addition, there is a dump station and water hookups available at the park.
Private Campgrounds
You have the option of camping at privately owned campgrounds in addition to the state parks that are available to you.
The following campgrounds are great options to consider if you want additional conveniences and activities that are appropriate for families.
During the camping season, you will be able to take advantage of this 8-acre campground. For your enjoyment, Stony Haven has a variety of amenities, including a children's playground, a convenience store, a fishing pond, and river tube rentals, among other things.
You'll also be only 2 miles away from all the excitement of Lake Michigan.
Place your RV at one of the 48 available campsites that offer full or partial hookups. There are sites available with 20, 30, and 50 amp service, as well as a bathhouse and a dump station, which will make it easy to take care of your personal needs.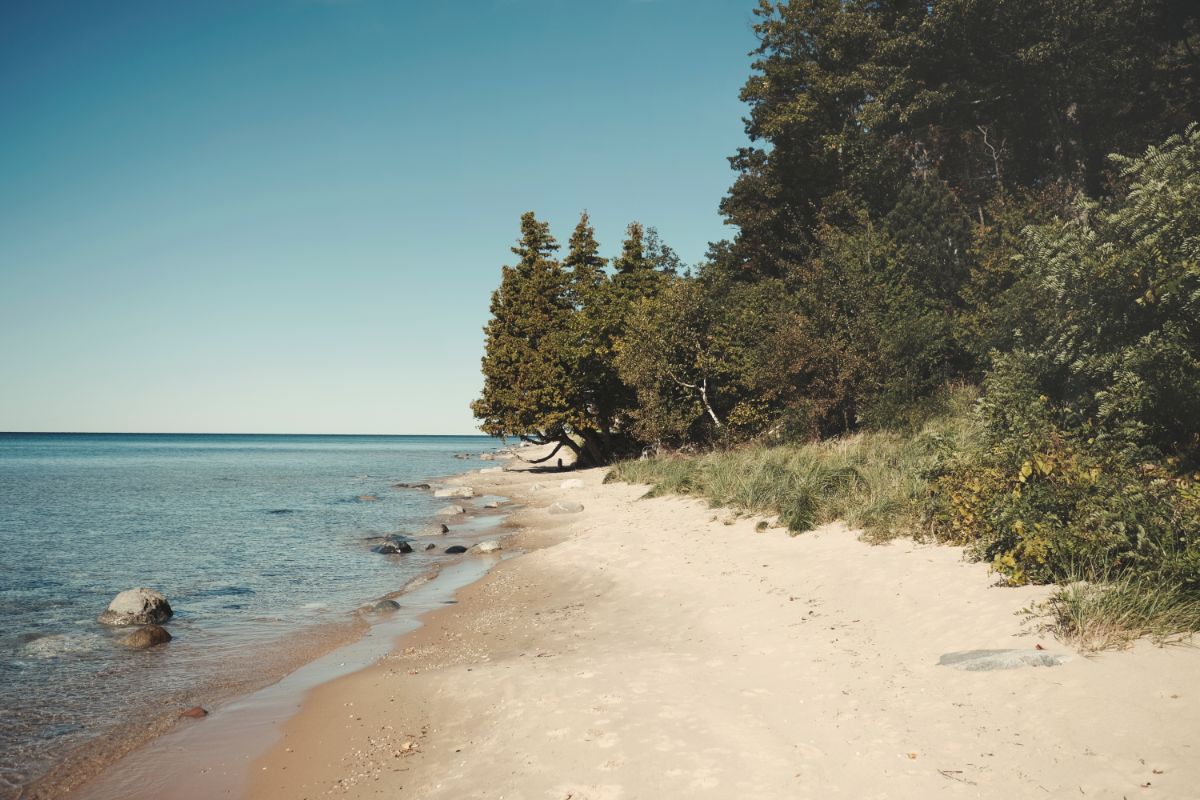 In addition, there are 16 rustic tent sites and numerous small cabins available for rent at Stony Haven. The nightly rate for a rustic site is $25, while the nightly rate for an RV site starts at $35 and can go up to $50, depending on the hookups.
The nightly rate for renting a cabin starts at $80. There is a mandatory minimum stay requirement of two nights for all reservations.
The campground at Dune Lake is ideal for families. On one of their onsite courts, adults and children alike can engage in a fun game of basketball, badminton, horseshoes, or volleyball with one another. A round of mini-golf at the campground's course costs just $2.
If you choose to camp here, you'll only be five minutes away from Lake Michigan. If that seems too far, then you'll be happy to know that this campground features a swimming beach on the shores of Dune Lake, where younger children can enjoy swimming in an environment that's suitable for their swimming skills.
In addition to a dump station, RV campers will find water and electrical hookups with a capacity of 30 amps at 50 of the 80 available sites. The cost of a night at a primitive site is $30, while the cost of an RV site with contemporary amenities is $35.
The website for the campsite calls this location "One of God's wonderful places," describing it as having "cool green trees, warm dunes, and a gorgeous shoreline."
When you stay at Lake Michigan Camp And Retreat, you'll have access to an entire half mile of the Lake Michigan shoreline. If you enjoy shopping and dining, the charming village of Pentwater will be just a short drive away from where you will be staying.
There are 100 spots available for RVers and campers with tents. The RV sites offer hookups for water and power service of 30 amps, however, there are no hookups for sewer.
However, a brand-new and upgraded dump station is available at the campground. RVs with a length of fewer than 35 feet are permitted for a nightly charge of $36.
Thus campsite also rents out platform tents, so if you're searching for a camping adventure that's a little out of the ordinary, you may stay there.
Each tent is equipped with four sleeping cots that have mattresses for added comfort. The nightly rate for platform tents is $56.
RVers who wish to camp at unique locations like wineries, breweries, and farms can sign up for a membership with Harvest Hosts.
You'll need to be completely self-sufficient and ready to live off the grid to camp in these spots because they are not recognized campgrounds.
Here are a few Harvest Hosts campgrounds that you should try around Lake Michigan.
Since its founding in 1973, Fenn Valley Vineyards has been producing wines of the highest caliber. Their grapes come from vineyards that were planted less than five miles away from the coast of Lake Michigan.
This meticulously chosen location guarantees that the temperatures will always be just right for producing perfectly ripe grapes.
The available wines range from well-known varieties, such as their traditional chardonnay, to lesser-known, specialized fruit wines, such as their blueberry wine. They also have a wide selection of hard ciders in cans.
There are just two RV spaces available for use by members of Harvest Hosts, so make sure to make a reservation in advance if you wish to park your RV among the vines.
On the Leelanau Peninsula, directly to the north of Traverse City, is where you'll find Brengman Brothers Winery. Because of its location around one mile inland, the winery is ideally suited for camping and provides convenient access to Lake Michigan.
Along with their enthusiasm for wine, the Brengmans have a deep-seated commitment to providing warm and welcoming service to their guests.
While you're there, you should pick up a bottle (or several!) of wine from their incredible variety to enjoy when you're home.
You're sure to find a vintage at Brengman Brothers that you will adore, regardless of whether you are a purist who enjoys a conventional red or you prefer sparkling wines.
Summary
Camping on and around Lake Michigan will be an enjoyable experience for everyone and is something you should give a try if you love being in the great outdoors.
You won't be short of first-rate options, whether you choose to experience this natural beauty from the peace and quiet of a state park or the opulence of a private campground or host. Either way, you won't be disappointed. Choose any of these sites and have a great time camping!
Discover How To Use The Power of Authority Marketing To Make You Money While You Adventure!

No Experience, Existing Product Or Technical Skills Are Required
DO YOU BELIEVE ADVENTURES ARE WORTH CHASING?