Discover How To Use The Power of Authority Marketing To Make You Money While You Adventure!

No Experience, Existing Product Or Technical Skills Are Required
DO YOU BELIEVE ADVENTURES ARE WORTH CHASING?
We're an affiliate.
We hope you love the products/services we recommend on Just Van Life! So you know, there is the possibility we will collect a commission should you make a purchase via any of our links. This will in no way affect the purchase price. Thank you for your support, we really appreciate it!
Going camping with friends and family can be quite an adventure. Escaping the humdrum of city life and going out into the great outdoors can be a liberating, relaxing, and almost spiritual experience.
As more people look to reconnect with mother nature, the camping and outdoor activities industries have boomed in popularity.
The US is home to some of the most diverse and outstanding landscapes in the world, and the state of Michigan is no different. It is host to some truly spectacular scenery, with visitors being able to explore mountains, hills, valleys, plains, coastlines, and of course the great lakes.
Michigan is a popular place to visit for all kinds of activities, camping being a major draw for the tourism industry.
Michigan has both an Upper and Lower Peninsula, each of which has its own climates and landscapes. The Upper Peninsula is covered in forest and the western area is rather mountainous.
The most iconic being the Porcupine Mountains, some of the oldest mountains in the world that can rise to an altitude of almost 2,000 feet.
The Lower Peninsula is much flatter than the Upper, particularly the eastern and south-eastern shorelines. The southern and central areas are home to rolling hills, whilst further north the land becomes more elevated.
There are tons of great places to camp when visiting Michigan, and this article will take a look at some of the very best.
What Is The Best Time Of Year To Camp In Michigan?
The weather in August is perfect for camping as it's dry and warm, though there will be more tourists around, so going late summer may suit those seeking a more peaceful trip.
Many of the state parks in Michigan are open all year round, meaning those brave and hardy cold-weather campers can get their fill of the outdoors throughout the seasons.
During winter, it's popular to stay in cabins and yurts as well as tents, as these offer more protection against the cold.  Although cold-weather camping is an option, for most, camping during the summer or autumn is a far more comfortable and appealing idea.
What Is The Weather Like In Michigan?
The climate of Michigan is quite unique amongst north-central states due to the Great Lakes. These mighty bodies of water help to cool the hot winds of summer and warm the cold winds of winter.
The lakes also add to the humidity of Michigan, with it being one of the most humid states in the country. The winters can be bitterly cold and freezing, especially in the north of the state.
Best Campgrounds In Michigan
A fabulous location covering almost 50,000 acres in the Upper Peninsula that consists of statuesque waterfalls, picturesque lakes, and beautiful undisturbed woodlands. Amongst this natural wonder, visitors will find over 40 miles of hiking trails as well as a breathtaking 13 lakes to swim, boat, and fish in.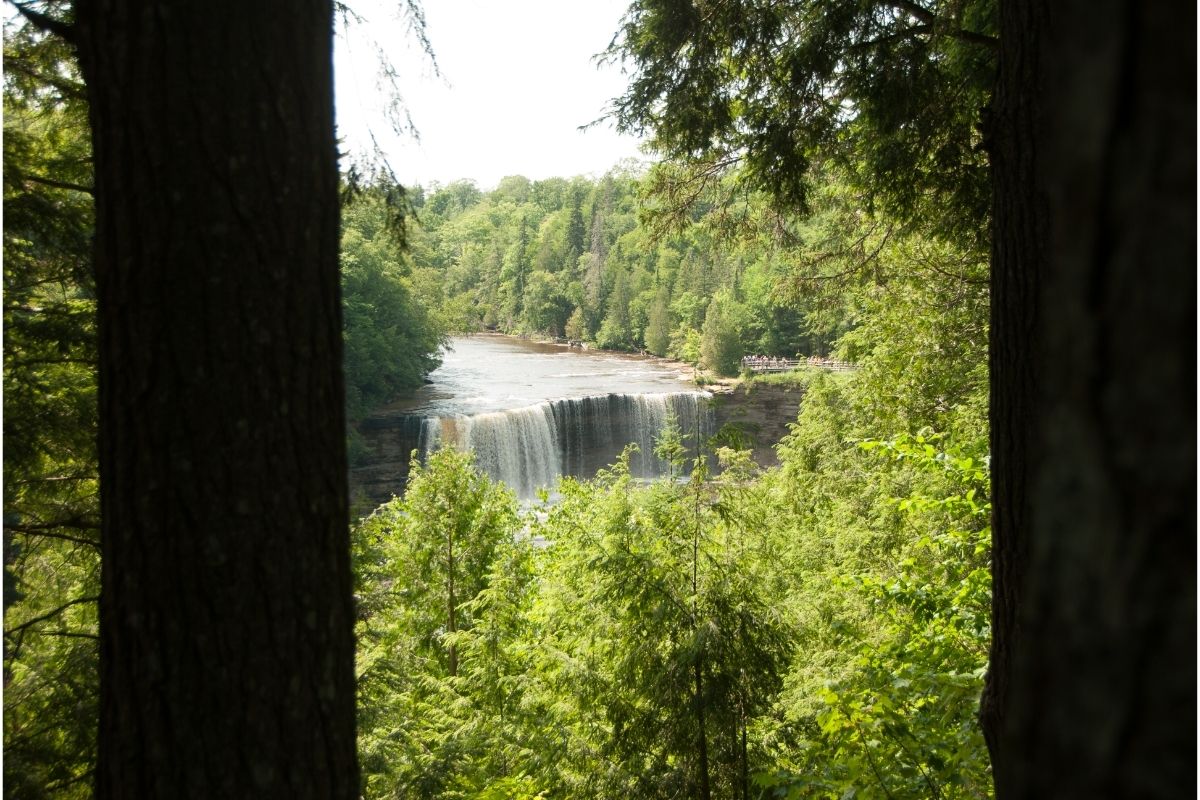 The largest waterfall in the park spans over 200 feet across and 50,000 gallons of water per second drops over the 50 feet falls. Recommended campgrounds include Rivermouth Pines, Backcountry Camping, and the Lower Falls modern Campground.
A diverse and gorgeous landscape of lake shoreline, dense forests, beech-maple trees, and gigantic sand dunes. Visitors have some great campground options that offer a variety of settings and activities.
Recommended campgrounds include Platte River, D.H. Day, White Pine, and those on the North and South of Manitou Island. Campers have the option to go rustic or remain on the periphery of civilization with closer access to local towns and amenities.
An area steeped in history, as seen in the shipwrecks and architecture from another time.
A stunning park covering over 1,300 acres of sensational landscapes, lush forests, and beautiful bodies of water in Higgins Lake and Marl Lake. Guests may engage in a variety of activities across the lakes, including recreational boating and fishing.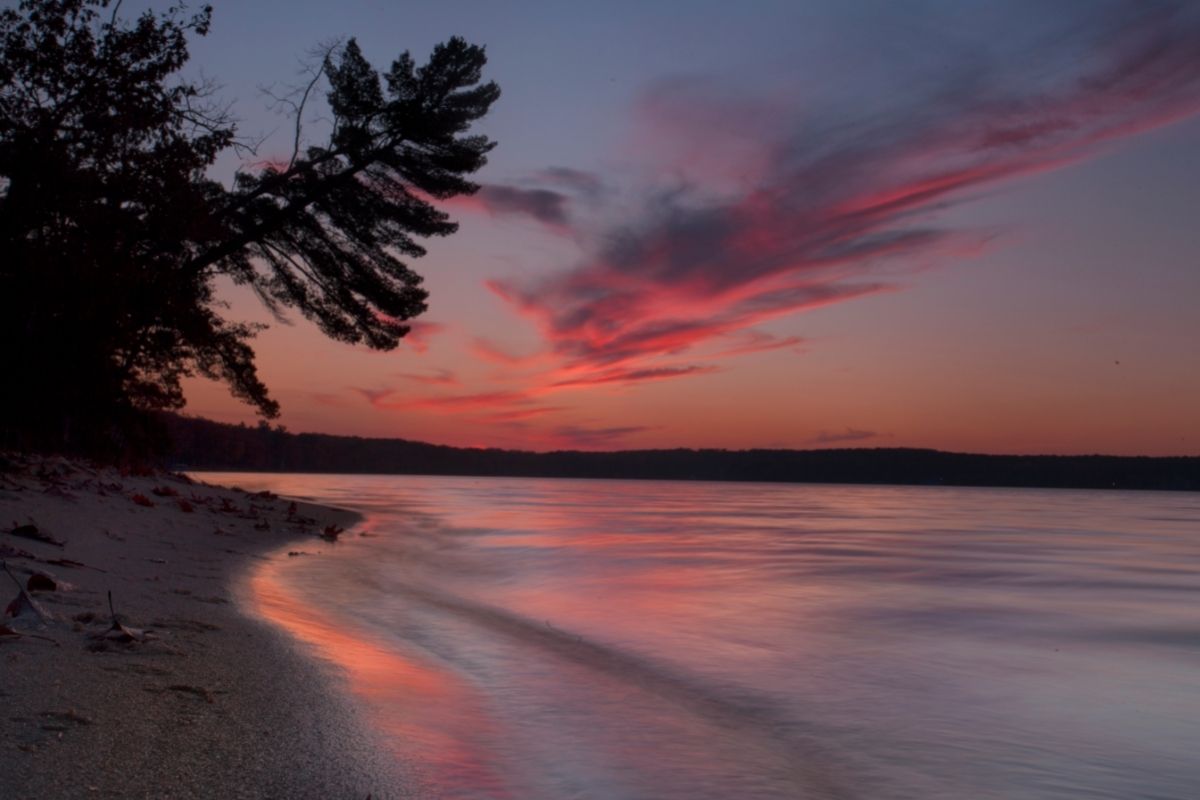 There are over five miles of woodland trails to explore, with 700 acres of fresh pine, oak, and maple trees. Visitors can choose to camp at either the Mini Cabin or the Modern Campground.
At the Mini Cabin guests have mains electricity and the structure will comfortably sleep five so for groups this is a less outdoorsy option.
Magnificent sandstone cliffs, vibrant forests, and sandy beaches adorn the coastline of the Central Upper Peninsula. Adventurous guests enjoy hiking along the coast and through the forests, seeking out the diverse wildlife that lives in the region.
Take to the waters of Lake Superior with kayaking trips or enjoy capturing some prize fish. Visitors can find comfortable camping facilities for both tents and RVs at one of the three popular campgrounds.
Little Beaver, Twelvemile Beach, and Hurricane River offer diverse scenery, with sandy beaches, a range of hiking trails, and the historic Au Sable Light Station.
The sensational Porcupine Mountains in the Western Upper peninsula cover 60,000 acres of stunning and varied landscapes. Explore ancient forests on the more than 90 miles of hiking trails and traverse the rivers and streams to discover fantastic waterfalls.
This is Michigan's largest state park, with a healthy choice of camping options available throughout the park. Campers can stay in a variety of lodgings including yurts, as well as have access to both rustic and modern campgrounds.
Both those looking to relax and those who wish to get their hands dirty can find a suitable campsite and experience here.
Nestled between Hamlin Lake and the shoreline of Lake Michigan, visitors can find a landscape that's visually breathtaking. An incredible range of biodiversity can be found throughout the forests, sand dunes, miles of beaches, boggy wetlands, and marshes.
Visit the historic and iconic Big Sable Point Lighthouse or explore the more than 20 miles of trails.
Visitors can choose between Ludington Beachwood, Ludington Cedar, or Ludington Pines campgrounds as a base for the massive range of activities available. Campers are spoiled for choice with all manner of experiences including hiking, water sports, fishing, and nature trails.
Final Thoughts
Listed above are just a few of the awesome campgrounds dotted around the great state of Michigan, so you're not limited to these alone; however, the grounds discussed here today are considered the best of the best.
So, if you're looking for a truly magical time reconvening with Mother Nature, they should be your top destinations.
Discover How To Use The Power of Authority Marketing To Make You Money While You Adventure!

No Experience, Existing Product Or Technical Skills Are Required
DO YOU BELIEVE ADVENTURES ARE WORTH CHASING?