Discover How To Use The Power of Authority Marketing To Make You Money While You Adventure!

No Experience, Existing Product Or Technical Skills Are Required
DO YOU BELIEVE ADVENTURES ARE WORTH CHASING?
We're an affiliate.
We hope you love the products/services we recommend on Just Van Life! So you know, there is the possibility we will collect a commission should you make a purchase via any of our links. This will in no way affect the purchase price. Thank you for your support, we really appreciate it!
Camping is a very popular way for people to experience the great outdoors, get some fresh air and exercise and enjoy some social activities with their friends or family members. It allows you to see some amazing sights and record some brilliant memories.
One of the most iconic National Parks you can go camping at is the Shenandoah National Park, but with so many campgrounds in its vicinity – where is the best place to camp?
Luckily, we've got this handy list that outlines all the best campgrounds in the Shenandoah National Park. So, if you're ready to plan an unforgettable camping experience – then read on and discover more!
Best Campgrounds In Shenandoah National Park
Without any further delay, let's dive into the best campgrounds in the Shenandoah National Park! We hope you enjoy this list.
We kick off our list of the best campgrounds in this beautiful National Park with this superb place that everyone will love. This is the place to go if you're someone that is fond of wildlife and beautiful scenery.
Loft Mountain is actually the largest campground in the whole of the National Park, but even with its glorious size, it provides a gorgeous feeling of serenity and coziness. It's actually located on the iconic Loft Mountain, so be sure you dress accordingly – it can get cold!
Just a short walk from the campsite, you'll have some stunning views of the famous Blue Ridge Mountains, and this is one of the best things to see, especially during sunrise and sundown.
Another great thing to note, this campsite is available to pass if you are on the Appalachian trail! Everything you want can be found here, including all modern amenities like toilets, showers, picnic tables etc. You can even take your pets and have a roaring fire!
This is a campground to choose if you're hoping for a bit of seclusion from the rest of the world. Along Skyline Drive, you will find this place which despite its large size, feels right at home – but offers plenty of space away from other campers.
There's nearby waterfalls which are home to a lot of natural wildlife, giving you a lot of photography opportunities and places to feel calm and peaceful. If you want to get more active though, there's plenty of ways you can do that.
With over 500 miles of trails, all of which loop around the National Park – meaning hiking is very popular. In actual fact, it's so popular that advanced booking is recommended very strongly.
There's excellent facilities at the campground, including toilets, showers, running water and picnic tables. Your pets are allowed too and you can happily have a fire when the busy day is said and done.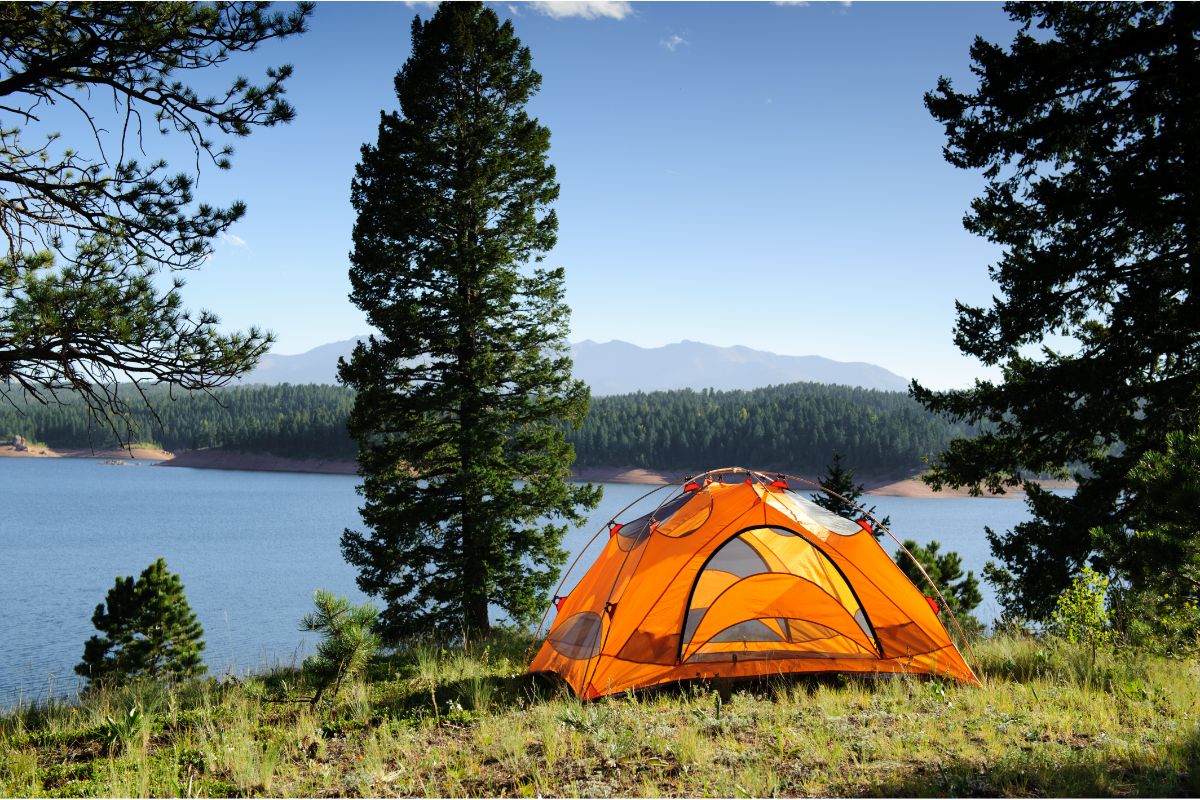 Near the National Park, there's a unique type of campground known as Adventure Outpost. There's over 300 acres of camping areas surrounded by forestry. If you don't want to bring your own camping gear – luckily, this place has got you covered.
Tents on platforms are available, and each campsite comes with its own fire pit and picnic table, so you can feel as comfortable as possible when you're on your trip. Luckily, you can use any firewood in the nearby area for your fire too!
There's plenty of staff on hand if you need some help, and they even help to keep the whole area clean and friendly – including the modern amenities like the toilets and bathroom areas.
Due to the set-up, this is one of the best places you can take your family. It's incredibly safe and welcoming and you've got a lot of places to take some amazing photos and record your memories which will last a lifetime.
Speaking of family friendly areas, Mathews arm is probably one of the most chosen campgrounds by families in this National Park. It is situated in the midst of a lot of tall trees and mountain sides – which look picturesque during the fall and winter seasons.
Despite its small size, it has a lot to offer your family – and you will find that everyone around here is so friendly and welcoming. The area is super clean and there's a lot of room for your furry friends to frolic around!
Located along the Southern Fork of the iconic Shenandoah River, you can come across this family friendly and family run campsite which is situated on 6.5 acres of land. While this campsite isn't the most packed full of amenities or modern facilities, it has a lot to offer.
Those hoping for some privacy when they're camping should look at staying here, and definitely people hoping for an authentic camping experience should consider it too – there's no toilets or running water facilities on offer.
However, there is some water nearby – the beautiful river, where you can camp next to. If you want to do something fun, why not rent a kayak from the owner and go upriver? You can even fish and catch some fireflies!
There's plenty for you to get involved with here, and it's ideal for seasoned campers who want some time away from the modern world.
Along Skyline Drive, another amazing campground can be found. It's not too far from Loft Mountain's campground, so you will have access to very similar things that that campground has to offer.
The pitches around are big and comfortable because they're grassy. Because of the large oak trees which shelter the camping area, you won't wake up cooking in the morning sun! Luckily though, if you do get too hot – there's a store nearby for a cooling drink.
This is a campground that is ideal for plenty of people, but if you're going with your family – you'll find this place is perfect for everything you're hoping for.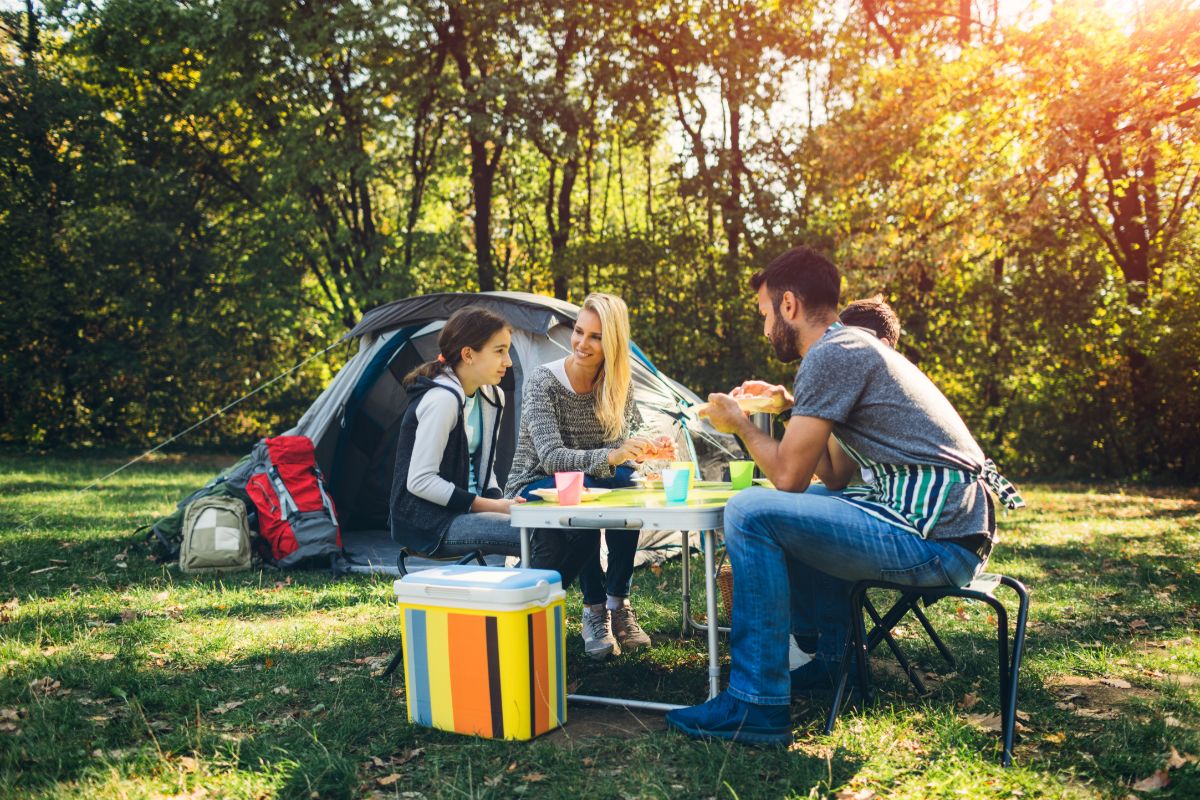 Located in Rappahannock County lies a 200 acre place known as Over Jordan Farm, which is home to Bean Hollow Grassfed. It's a working farm but it offers some camping opportunities to families and singletons.
There's plenty of places to explore and you'll get to see all of the wildlife in the farm, along with natural wildlife around the area. It's one of the coolest places to camp due to the surrounding trees – but there's a bonus.
As you're on a working farm, there's plenty of food on offer to cook, completely fresh! If you're someone that likes to have eggs in the morning, then you can't go too far wrong with this option!
If you're a particularly active person who loves stunning views – then we wholly recommend this camping area. You'll instantly spot the glorious visuals of the East and West Fort Valley, but then you'll notice they have a basketball court and even a soccer field!
There's large meadows to walk along, plenty of opportunities for activities and for your furry friends to run around, a beautiful pond nearby and a lot of places to discover in the surrounding areas.
This is an ideal choice if you are taking your kids who just cannot sit still, or if you are someone that gets restless really easily. Not to mention it's going to be your pets' perfect vacation spot too!
Right at the base of the Blue Ridge Mountains, you have an option to camp in this picturesque spot. While the amenities are pretty basic, you can find things like rentable kayaks and lots of fishing areas.
The plots are very well maintained and well kept with a lot of space around for you to stretch your legs. However, we wouldn't say that this is the best place for kids – so if you're looking for a family friendly location, you might want to look elsewhere.
Having said that, if you're single and looking for a place to get away from everything and collect your thoughts – then this is the place for you.
What To Remember
There's a few things that you should try to remember when you're looking to camp in some of these camping spots. The first thing to think about is what sort of camping experience you are looking for.
As we have seen, some areas are ideal for family retreats, whereas others are more for someone on their own. You should also check to see if these areas are pet friendly too, and whether or not you need to take your own water.
As always, remember safety with your fires, first aid kits should be taken with you along with suitable clothing and emergency contacts.
Final Thoughts
And that's it! These are the best campgrounds in Shenandoah National Park. We hope you've enjoyed our comprehensive list. Happy camping!
Discover How To Use The Power of Authority Marketing To Make You Money While You Adventure!

No Experience, Existing Product Or Technical Skills Are Required
DO YOU BELIEVE ADVENTURES ARE WORTH CHASING?