Discover How To Use The Power of Authority Marketing To Make You Money While You Adventure!

No Experience, Existing Product Or Technical Skills Are Required
DO YOU BELIEVE ADVENTURES ARE WORTH CHASING?
We're an affiliate.
We hope you love the products/services we recommend on Just Van Life! So you know, there is the possibility we will collect a commission should you make a purchase via any of our links. This will in no way affect the purchase price. Thank you for your support, we really appreciate it!
 One of the most challenging parts of van life is actually one of the most common challenges that many people face even in the household. How we store everything that we need and own in the small space that we live in is one of the most difficult questions to answer and problems to solve. These days however there are so many different products that help us stay organized and condense all of the things that we have with us that we need to live our best van life. Today we're going to take a look at some of the best products you can buy to help you better store everything you need correctly and safely. Keeping your van clutter-free and looking organized while still being able to find everything you need when you need it.
8) CCidea Clothes Organizers Storage Bag
Storing your clothing shouldn't be such a chore. With the CCidea Clothes Organizer, you can store all your clothing neatly in these storage bags. They'll make sure your clothes stay organized, wrinkle free and safe from harm during travel. They're made from high quality material and can fit a lot of articles of your favorite clothing! You can assign one or two for dirty laundry as well, or just devote it all to keep your clean clothes smelling fresh and looking like you've just washed them! 
The van life can sometimes be a bit of a clutter, especially since it takes a lot of supplies to keep yourself running smoothly while on the road. Since you'll be living in a van, however, you can make use of every single object for more storage. This includes the car seat! The Car Seat Storage Device from MZTDYTL is a great way to have that little extra organized storage room in your van without needing to make a new place for another box. This piece goes right onto your van's car seat and can hold a lot of small objects that you might otherwise not have a spot for. 
Space is already so limited in your van, so it's important to use every single bit of it you have! If you haven't totally redone your car doors, you can use them for storage space as well with the LAS Brand Car Door Storage Bags! This is a great way to keep all the smaller objects and everyday use items in a safe and organized spot in your van without needing to dedicate a whole box or shelf for them.These won't work for EVERY person's van, so be sure you check if this particular brand will fit onto your door. 
5) Portable Organizer for Small Objects
It's so often that we plan for the large items we need storage room for that we always neglect the very small objects! Whether it be nails, paperclips, buttons or just something very valuable to use, we need to have a dedicated place for these items to stay safe! Besides just risking these items being ruined, it's important to have a place where we won't constantly lose these items because of how small they are. The portable Organizer from Plano Molding is the perfect way to keep all your tiny valuables safe and organized in your van! 
4) Prandom Folding Storage Cubes
When it comes to storage space in your van, sometimes it's better to go with a very simple solution. The Prandom Storage Cube can be folded up when not in use and put away somewhere for when you need it. When it's folded up, the cube basically takes up no space at all, meaning you can have several of these laying under your car seat or bed and not have to worry about it cluttering your living space. When you unfold it, it becomes a pretty large box for all your valuables and is very sturdy! The handles are made out of stainless steel, while the outside looks fancy and feels soft! While it's a bit on the expensive side, it's a very stylish solution to your storage needs! 
Amazon's basic Storage Cube can be folded up just like the Prandom brand's cube can. However, these cubes are much lighter weight and cheaper in comparison! The main downside is that these particular storage cubes are more flimsy and not as well made. They can be folded up and stored away until they are needed, so they don't constantly take up precious space in your van. If you aren't concerned about how your storage containers look and you can store them in a safe place, then these are terrific ways to keep your items out of the way and well organized! 
2) Foldable Storage Bag for Car Seat
If you need more space and haven't utilized your passenger seat in your van yet, then the Driver Auto Products Collapsible Storage Bag is the perfect way to do just that! This bag can fold up into 3 different modes to maximize storage space efficiency! With it's collapsed mode, you can store the bag itself away until you need it. Half mode allows you to just keep it somewhat open for small amounts of items and transporting groceries. With open mode, you can keep this storage container completely open at all times for all your everyday needs!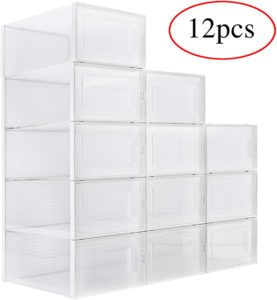 1) Shoe Storage
If you're going to be adventuring on the road and into the great outdoors, chances are you'll be tracking some dirt into your van over time. To mitigate the amount of a mess you make, it's a good idea to have a way to store your shoes away after each trip outside! With the WAYTRIM Shoe Containers, you can keep your shoes safe inside a plastic container while also mitigating how much dirt comes in from putting your shoes on the floor of your van! It may take up a bit of space, but the storing of your outdoor shoes is very important for maintaining a clean and organized van space! 
Wrapping things up…
Keeping your van clutter-free and organized should not be as hard of a task as it actually is. The products that we have listed and talked about though make it much easier to make your van space feel open and look great! It's not just about being clutter free, of course, as it is also about properly storing your belongings in a way that keeps them safe from being ruined or lost!
Discover How To Use The Power of Authority Marketing To Make You Money While You Adventure!

No Experience, Existing Product Or Technical Skills Are Required
DO YOU BELIEVE ADVENTURES ARE WORTH CHASING?