Discover How To Use The Power of Authority Marketing To Make You Money While You Adventure!

No Experience, Existing Product Or Technical Skills Are Required
DO YOU BELIEVE ADVENTURES ARE WORTH CHASING?
We're an affiliate.
We hope you love the products/services we recommend on Just Van Life! So you know, there is the possibility we will collect a commission should you make a purchase via any of our links. This will in no way affect the purchase price. Thank you for your support, we really appreciate it!
You can't live just on canned food and instant noodles, right? You're not also working hard on your vanlife to end up eating fast food, so we are here to help you with this. Living this lifestyle can be healthy, diverse and very tasty. Being on the road makes it possible to purchase directly from family farmers, not to mention the diversity of new ingredients and recipes that we are learning from fellow travelers.
You have the opportunity, you have the ingredients, now all you need is the perfect grill to make it possible! We brought here a list of the best, from the most affordable to the newest and most complete releases on the market. Whether coal, propane or electric, you will definitely find the perfect one for you on this list.
Types of grills
There are basically three types of grills that you can choose from electric, charcoal or propane.
They all have positives and negatives: while coal provides smoked flavor and wonderful meals in summer it may not be the best choice for cold regions and is definitely a huge no-no during winter.
Propane is practical for all seasons as it provides a continuous flame and allows greater control over the cooking of food. Propane tanks of all sizes, as well as accessories, can be easily found from supermarkets to convenience stores.
The electric grill is the favorite of small vans 'owners. It is the perfect choice for those who are hungry but still want flavor and the sensation of cooking decent and tasty food.
Portability and performance
Living the van lifestyle, we know that as important as managing money is managing space. Before purchasing the grill, you need to consider how much space you have to store and handle it. Regarding portability there are two types, tabletop model and car style model. The first ones are generally lighter and more portable while the second types are heavier and require more storage space.
Another factor to be considered is performance. This detail will interfere with your diet, time and is the difference between having a successful meal or not at the end of all the effort. While the ones that prepare the most delicious foods, charcoal grills are, on the other hand, the ones that require the most expertise and the most susceptible to time variations.
It can be frustrating to have that barbecue by the lake and end up eating bread and jam after hours of struggling to grill the food on a windy day.

For smoke flavor lovers, the tip is to have a charcoal grill as a second option, using propane or electric for everyday life. The propane grill is also affected by wind or weather, however, it maintains the flame even on snowy or rainy days, as long as it is covered. Another advantage is the possibility of using cookware in a much shorter cooking time than would be necessary with charcoal, increasing the range of options for meals.
The electric grill has the disadvantage of consuming energy from your battery/generator, however, it is not affected by climatic variations or the wind.
Surface
Now, before choosing your new grill, one last consideration must be made: what is the ideal surface size for me? That beautiful retro style small charcoal looks perfect for your 70s style van, but will it be enough to feed the group you travel with?
And that beautiful car style grill with stove, side tables, and shelves may seem very handly for all occasions, but does it fit in your small and cozy home?
Consider your daily needs and your space. But remember to also reserve a space for utensils and a small pantry with spices. Dried spices can be very tasty and have a long life. Label them and make your kitchen an organized cozy little space. Now that you have an idea of what you're looking for, let's go to the list of the 20 best grills you can find. One of these items will surely be perfect for your space and lifestyle.
Let's start with the "must to have" for lovers of a good grilled meal! This small and powerful grill serves up to 6 people. With a surface of 118 square inch this indoor grill comes with a convenient window, which means that you comfortably watch your food without losing any heat.
This beauty can cook either meats or veggies without losing flavor and juice. No more eating spiceless food on rainy and cold days because you cannot fire up your outdoor grill. The Hamilton Beach Searing Grill has a high searing heat that locks in juices and flavors, and the lid closes to give you signature grill marks. 
If you are tempted but worried about the mess that you have to clean and started to wonder if that nice meal is worth the time you'll have to spend brushing and washing we got you covered! The grill comes with an extra-large drip tray that catches all the extra juices so they don't spill on your counter. The Indoor grill hood, plate, and extra-large drip are all removable, with means that you don't have to feel as tasting food you cooked two months ago because you couldn't clean it completely.
If you don't have time to waste and like to be in full charge of the amount of heat this is also the perfect choice. You can seal at 450 degrees or use adjustable temperature dial to grill at a lower heat for optimal grilling results.
If you are one of those who think that outdoors life is complete with the smell of smoked food but you don't need to cook for a large group, this is your perfect match! This small, charming and portable grill is the difference between a simple meal or that special moment worthy of a TV show episode.
The 150-square-inch chrome plated cooking rack gives a spacious cooking surface is able accommodate lots of food at one time while still distributing heat evenly and efficiently. This means that you can have both your tasty steak and your partner's spice veggies ready at the same time.
If you are not a specialist on the charcoal world and is worried about all those people sharing how they spent two hours struggling with wind and extra smoke to have, by the end, a raw steak and burnt eyebrows don't give up yet. This grill features a Dual venting system, giving you the ultimate charcoal management and temperature control.
It is very light and compact enough to take anywhere, measuring 14.5 x 14.5 x 15 inches and weighs only 2lbs., giving you no extra work out just to have a nice meal. It is also great for small and side tables and has a convenient mess-free ash catcher for safety and ease.
Still talking about portables for one or two people, let's move on to the first propane option. This grill will take your cooking experience to the next level.
Made with both, body and grid stainless steel, this potent and very well-designed grill has Two 10,000 BTU burner design, which delivers the perfect amount of heat for grilling and searing. The dome thermometer will help you to master the art of cooking with no open and close every 30 seconds. Also, the push ignition is easy to manage, setting you free of burned fingers and dozens of matches around the table.
Are you already in love but feeling worried about how to manage carrying all this steel? Don't worry, the Pit Boss is only 27 pounds. Let's be honest here if you're living a Vanlife this is just a little bit of fun for your arms, right? And you don't have to be concerned about your back, the folding legs will make it easy for you to have your food on the exactly right spot!  Enough of curved cooking.
I don't even know where should I start with this one! It's only me or can you see yourself in front of the lake preparing a spicy mix of veggies and a beef soup while waiting for that amazing sunset to come?
This grill is just the perfect choice for everyone! No matter if you are living out of the grid for a couple of years or is just about to start, this one will bring you happiness in every meal.
Built with a heavy-duty grill box, durable cast iron grill grates, and the whole unit has a strong powder coat finish, which means that it's gonna be with you for a long time and won't waste your time with that endless cleaning process. The wind block panels help shield burners from wind and adjust for various pan sizes, giving you control and great options for many occasions. It is easy to transport, set up and clean. The adjustable burners give you precise control for both grill and stove. It has detachable legs, offering ideal cooking height and great stability on almost any terrain.
If you're not fully convinced yet just think about all great Instagram pictures that the orange surface will offer with the flames and all the colourful food. Even a bowl of simple rice will look like just have been made by a professional chef!
If you liked the previous option but need something even more compact for the interior of your van this is the right choice for you. Perfect for small spaces, also propane and offering both a grill and a stove, this friendly grill will meet your needs.
It also has the 2 in 1 design, giving you the freedom to use both, grill and stove at the same time and have your rice and steak done for the perfect match. The wind blocks are very handy, allowing you to cook outside and control your flame or inside and not burning in front of the heat. After all, the whole point of Vanlife is about enjoying and not suffering, right? These wind blocks can also be used as side tables, giving you no excuses for spread spices and veggies all over your home.
Worried about performance and the extra budget for fuel? We got you. The Perfect Flow & Perfect Heat technology provides consistent performance even in extreme conditions, as also more efficient cooking with less fuel.
Customers say that it's a "must-buy for camping" and a great choice for sear steak and grill chicken breasts. It heats very fast and keeps the heat steady for consistent cooking.
Some days you just want that delicious hamburger, fast-food style and a lot of barbecue sauce, don't you? This option was made so that you don't give up just because you don't want to spend an hour until your hunger is satisfied.
This charcoal grill prepares up to six burgers and is perfect, compact and lightweight for grilling on the go. Convenient carrying handles save your hands and make your meal a happy time, not a painful work anymore. Its rectangular shape fits perfectly in the back of most cars.
The porcelain-enameled lid and base retain heat and won't rust or peel, which means that you will always have a fast, well-done burger that looks fantastic enough to shoot that IG photo many times. The lid locks help with portability and dampers allow you to easily control the temperature inside your grill. Medium rare? Done!
If you don't like hamburgers but love this grill, don't worry: it's also great for cooking fish, veggies and anything your imagination asks for. Grilled fruits and ice cream are a great choice for summer, don't you think?
If you need a grill for more than two people and you can have more storage space pay close attention to this one. It features sturdy quick-fold legs and 2 wheels for a hassle-free setup, takedown, and transport so that taking your grill on a camping trip or to a tailgate is easy.
The Instastart ignition button provides matchless lighting, and you can select your heat with the enhanced temperature control of 3 independently adjustable burners (outer left, inner, outer right). It offers a range of grilling power from 3,250 to 20,000 BTUs and 285 sq. in. of cast iron grill grates coated in porcelain, so you'll wow everyone with an array of perfectly cooked meats, seafood, or veggies every time.
With two sliding side tables to keep utensils and sauces handy, cooking with this grill is just as convenient as traveling with it. It also offered in five different colors, making easy to match with your van as they're just made together.
Not sure about it yet? It is easy to clean and if you want to have even more meal options you can buy the stove grates or griddles, turning your grill into a full stove for many occasions and every kind of meal that your group asks for. Bacon and eggs and even pizza, veggies or paella, this grill will bring that chef inside you back to life!
If you like to grill but also miss that homemade stews and baked pasta this one is for you as this grill is also a slow cooker and a hot pot, giving you an endless amount of options for your days outside.
Who said that you have to give up on your grandma's beef stew secret recipe just because you're not living in a house anymore? Make her proud and keep the family tradition alive with this incredibly easy to set and use the grill.
Feeling like having a soup but want to save yourself the trouble of spilling all over your home sweet home? Not a problem. This 3 in 1 grilled has a deep capacity of 4 quarts, allowing for even the heartiest of soups and stews to be prepared in here with no fear of spillage. The dimensions of this product are 15. 9 x 14. 2 x 7. 6 inches.
The friendly design offers for even the most inexperienced beginners the opportunity to enjoy cooking outside with comfort and flavor. It is also easy to clean and the lid will help you to not have the roof full of tomato sauce by the end of the day.
Bonus: it grills perfectly as well. The temperature control allows you to prepare that delicious barbecue chicken without losing any juice.
Do you want to make your grilling experience lighter and pretty as your minimalist new home? This one is perfect for you. Weighing just 10 pounds, the Cuisinart Grillster is a streamlined, lightweight portable grill that can be taken anywhere. The steel grill features a locking lid, a large carrying handle, and folding legs that collapse neatly for storage. Take it to the beach, the mountains or inside. It can be enjoyed anywhere.
The handsome design features a porcelain enamel cooking grate that distributes heat evenly. The small footprint makes it ideal for use on a small table. Clean up is easy because the porcelain-enameled grate is dishwasher safe, which eliminates the hassle of having to scrub it after use.
The Cuisinart Grillster is perfect for quick meals, offering a great size for burgers, steak, seafood, vegetables chicken or fruits. The hinged lid rotates out of the way to access the grate, and it only needs a 1-pound propane canister. The compact size is perfect for times when there's no need for the large grill. It is easy to set up and light with a twist-light ignition knob.
Once you're finished cooking up some of your favorite foods, you'll still have time & energy to come back to the road or just grab your favorite book and chill.
Do you have that small and perfect corner to fit your grill and is still struggling to find the perfect grill? This might be your perfect match. The Secura portable electric grill has a reversible, non-stick, cooking plate measuring 15.5"x11.5", about 180 square inches; a super large cooking surface saves you cooking time and allows easy movement of food around while you grill or BBQ.
Removable glass lid prevents splatter and retains heat (extra moisture vents from sides keeping food crispy) while you barbecue. It comes with a removable heavy-duty tri-ply cooking plate with the heating element sandwiched between the grill plate and griddle plate. Grill and Griddle 2-in-1, one side serves as a griddle, the other side as a grill, saving your cabinet space.
Grease channels help drain excess oils and fats away from your food and collect in the drip tray. The drip tray is removable and disassembles easily for cleaning.
If you're planning that trip to Alaska but isn't willing to give up your tasty meals during the cold nights you should definitely check out this one.
This electric indoor smokeless grill that lets you create classic favorites without worrying about gas, propane, or smoke. If you love cooking up some steaks, burgers, or hot dogs, this grill will let you prepare your favorite food in the comfort of your cozy and warm van.
Designed with advanced airflow technology and an indoor smoke extractor, each smokeless grill gives you the same authentic bbq grill quality without all the hassle or mess. And with non-stick interchangeable grill and griddle plates, it offers even more recipe versatility all of your favorite grill recipes at breakfast, lunch, dinner, and even dessert. Each electric smokeless grill is designed with a drip tray that catches any excess fats, oils, or liquids and features removable parts to make it easier to watch by hand. No more soaking & scrubbing those filthy outdoor grill grates!
Feeling like you need a bunch of new ideas to enjoy the best of this little baby has to offer? Don't worries, it comes with a Complementary Grilling Recipe Book.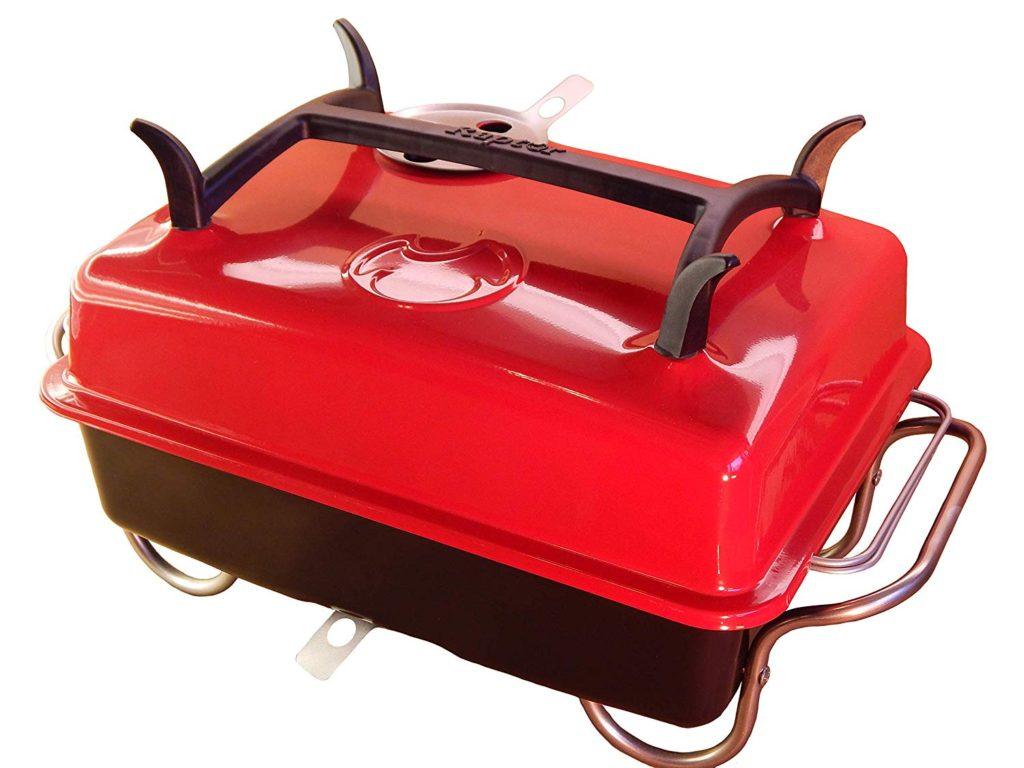 Do you want to cook with a charcoal grill without having your hands dirty? This one is for you!
Raptor allows you to light, cook, and clean your charcoal grill while keeping your hands clean.
No need to ever touch ash or charcoal throughout the life of your grill. Quickly and cleanly prepare the Raptor grill for cooking with any lighting method you choose. In fact, the Raptor works great with a charcoal chimney for the best charcoal flavor, which means that you'll have a smoky flavor without the smoky face.
The Raptor goes from cooking to room temperature in about an hour allowing your Raptor to be ready for transport faster than any other charcoal grill on the market.
Rapid cool down means the Raptor is the best option for a travel and tailgating charcoal grill. No need to leave your grill outside of your car to get stolen or wait around for it to cool.
The Raptor's rectangular shape and offset lid designed to provide excellent results whether you are grilling hamburgers or slow smoking ribs for maximum smoke flavor.
While the Raptor is small enough to be portable, it features a large 230 square inches (18" x 13") of cooking surface capable of cooking up to 16 hamburgers at once making it ideal for a large family or group tailgating.
If take smoked food seriously you should definitely give this one a chance. The Char-Broil American Gourmet 18-inch Charcoal Tabletop Grill is a compact and portable charcoal barrel-style grill, ideal for tailgating, camping, or grilling on the go.
The company has been America's favorite grill brand since 1948 and you can easily see why. They are always improving the style but keeping what made them successful and they definitely invest in keeping the design as simple as possible.
The slide-out charcoal drawer makes loading the charcoal quick and easy, and when grilling is complete, slide out the drawer for mess-free ash removal. Side carrying handles make this portable charcoal grill easy to transport when you are on the move.
It can be used as a stand-alone portable charcoal grill or can be mounted to the side of the Char-Broil 24-inch or 30-inch charcoal barrel grills creating an offset smoker where this tabletop grill becomes the firebox. Note- once mounted as a firebox, this unit cannot go back to being used as a tabletop grill.
This is everything that you need to turn that summer evening into the perfect bbq day.
It's not because you're living outdoors that you have to give up on nice meals, right? I can't emphasize enough how much a right grill can make your vanlife better.
The griddle is ready to go with every easy push, take headaches away from cooking, have more time enjoying your food. The ring-shaped burners are controlled by 3 powerful stainless steel ring-shaped burners, that heat up fast and offer even heat distribution. The commercial-grade stainless steel control panel makes sure the professional quality, for increased durability.
It has a portable design, which provides convenience for outdoor life. The side removable grease drip cup is helpful for grilling last long time. It is also convenient and easy to clean.
The thick, cold-rolled steel surface of the Cuisinart Gourmet Two-Burner Gas Griddle functions like a restaurant griddle except in a portable size. Now you can make breakfast in the places you enjoy the most. It features a built-in hose for 20 lb. LP tanks, and has two burners for more control. Ideal at poolside, for picnics, camping, tailgating and more.
With two burners for more control, they are independent and can produce 20,000 BTUs of heat, which is plenty of power to cook any meal. A twist ignition makes it super-easy to light, and a dial for each burner gives the same kind of control as a professional-grade griddle. It's all the flexibility you want in griddle.
Although the Cuisinart Gourmet Two-Burner Gas Griddle is compact and portable, it has a roomy 285 square inch cooking surface which is enough to cook a steak meal for family and friends.
Customers' reviews go through 4 to 5 stars, describing as fast cooking, instructions easy to follow, great quality of the components, easy to clean compared to other grills and a great value.
Do you want to cook all your meals in a quick and tasty way? Coleman Fold N go, Instastart Grill, is the best option for you.
Cheap, beautiful and perfect for all occasions, you can cook breakfast, lunch and dinner on a grill that folds up smaller than a briefcase. The large cooking surface gives you the space to prepare dishes for the entire camp. Just hit the Instastart push-button ignition and dial in your heat with the adjustable burner. The PerfectFlow technology keeps the heat steady on the 6,000-BTU burner. It's also easy to clean. A removable tray collects the grease while you're cooking, and the grate is easy to remove.
Small enough to fit in any space but strong to provide great and fast meals, the Weber Q1000 Gas Grill is the right choice for those who are looking for style and heat.
The grill has the same great performance and sleek styling but adds new aesthetics that are both functional and fun, including larger grip handle and control knobs, ergonomic side handles, sturdy front, and rear cradles.
Split grates allow for a grate/griddle cooking combination: Just replace one of the grates with the Q 1000-series compatible griddle (sold separately) and experience a delicious alternative way of preparing breakfast, lunch, and dinner on your grill. Durable, but lightweight, this super-portable grill is the perfect road companion. Used on the go, it runs on disposable LP cylinders.
Reliable starts are assured with the simple-to-operate push-button ignition. Burgers, brats and dogs are easily handled, but a large variety of other foods may also be cooked at any temperatures from low to high. Just dial-in the proper heat setting by adjusting the infinite control burner valve.
More people choose to use gas grills rather than charcoal because of ease of cleaning, reliability, and portability; less oil and less smoke gives you a hygienic and environmentally-friendly experience. The compact size is perfect for RVs. For those who love barbecue, it is definitely a good choice.
This gas grill is made of durable and heat-resistant stainless steel. With two stainless-steel pilot plates, each burner allows simultaneous grilling. The combustion system is powerful, so you can effortlessly increase temperatures; heat up every second and cook efficiently. It has fast ignition, which means that you can enjoy the delicious taste of barbecue in just 10 minutes. It has a stable performance even in cold or windy weather, giving you the control of your diet anywhere, anytime.
This gas grill meets your different cooking, roasting, baking, and lid baking needs, all are possible. The lid baking enables temperature circulation in the oven to heat the ingredients evenly, fully retaining the moisture and nutrition of the food. Simple assembly procedure to set up and prepare a barbecue in less than 10 minutes without the use of tools or matches.
If you are one of those people who still brings to mind the delicious family meals prepared in a George Foreman and would like to bring those memories closer to your daily life this is the right grill for you.
The George Foreman Indoor/outdoor grill has room for over 15 servings of delicious meats, veggies, kabobs, desserts, and more! Plus, it's right there in the name and it's totally true you can use this grill just as easily outdoors as you can use it inside your home. It's made possible by the removable grill stand that's sturdy on the patio and can be removed for countertop grilling.
Add in the removable grill plate and the patented fat-removing slope, and you've got the power to create large, tasty portions of everyone's favorites with simple cleanup, to boot. What-and where-will you grill?
Do you think we saved the best for last? You got it! This unexpected, cute, small and retro style charcoal grill can give you the best memories of the road you are about to record.
This versatile portable charcoal grill is a great way to grill your food wherever you are. Just unfold the case and follow the simple instructions and you'll be cooking in no time! The grill can accommodate cooking for 2 people. Convenient mess-free ash catcher. Locks and closes securely for easy and safe transport.
But beware: this baby will inspire you with beautiful photos for social networks enjoying a delicious meal wrapped in your blankets enjoying a beautiful starry night.
Conclusion
Selecting the best portable grill for your purposes is difficult to ascertain. We hope that our step-by-step process and our comparative review will help you. First sort out how and where you will predominantly use your grill, and then use our guide to connect you with the best tool for your job.
Amazon offers great deals and you can get even better discounts when buying other products that will help a lot in your outdoor life.
Stainless steel utensils are durable, practical and can be used for a variety of foods without holding on to smell or taste.
Another important point is fuel: if you choose coal, remember to keep a reasonable stock, especially on long trips. In addition to reserving a space for the grill, you should also keep a damp-proof corner for your charcoal, so you won't be surprised when you cook and find all your fuel wet. If you choose propane, remember to store safely and always check that the tanks are locked. If you choose the electric grill, be extra careful with the battery life.
As we are not talking about a simple camping trip, but an outdoor lifestyle, you need to keep in mind that having the right grill is only part of the meal preparation process.
There is no point in having the best grill on the market if you don't make a meal plan that suits your lifestyle and diet.
Preparing a weekly schedule can be very handy when you have hundreds of miles to go and you don't know exactly the quality and price of the food you'll find ahead.
Keep a reasonable stock but avoid waste. Enjoy each food and seasoning at every meal, play with the mixes and have fun creating your own recipes.
If you don't want to end up having stomach problems and using your grill just for grilled cheese have an open mind for vegetables and protein sources that fit your budget and eating style. Being vegetarian or vegan on the road is no problem as long as you don't forget to keep your sources of protein, right?
Remember that eating can be stressful or fun, nutritious and tasty or just junk food on the road. Vanlife is also about being autonomous about your body, controlling what you eat is a big part of that.
Talking to other friends and asking for references about the products they already have is also always a great request, but don't let the experiences of others stop you from trying something new. Remember to build your own story.
Try new spices, have fun searching recipes and cooking channels on YouTube and find yourself having more than just meals on the road, but worthy memories of what you struggled to achieve.
Thanks for reading our list of the best grills available on the market, we hope this has helped you with your future barbeques and made the decision process that much easier!
JUSTVANLIFE
Discover How To Use The Power of Authority Marketing To Make You Money While You Adventure!

No Experience, Existing Product Or Technical Skills Are Required
DO YOU BELIEVE ADVENTURES ARE WORTH CHASING?